Everything You Know about Indians Is Wrong (Indigenous Americas) (Hardcover)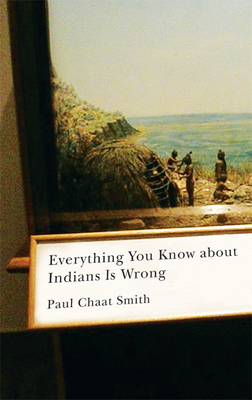 Staff Reviews
---
Co-director of the National Museum of the American Indian, Paul Chaat Smith, humorously dispels stereosypes about indigenous people living in what is now considered the US. Unlearning these harmful cultural myths is central to Chaat Smith's writing. The Americans exhibit (online) is perfect to pair with this book.
— Hazel
Description
---
In this sweeping work of memoir and commentary, leading cultural critic Paul Chaat Smith illustrates with dry wit and brutal honesty the contradictions of life in "the Indian business." 

Raised in suburban Maryland and Oklahoma, Smith dove head first into the political radicalism of the 1970s, working with the American Indian Movement until it dissolved into dysfunction and infighting. Afterward he lived in New York, the city of choice for political exiles, and eventually arrived in Washington, D.C., at the newly minted National Museum of the American Indian ("a bad idea whose time has come") as a curator. In his journey from fighting activist to federal employee, Smith tells us he has discovered at least two things: there is no one true representation of the American Indian experience, and even the best of intentions sometimes ends in catastrophe. Everything You Know about Indians Is Wrong is a highly entertaining and, at times, searing critique of the deeply disputed role of American Indians in the United States. In "A Place Called Irony," Smith whizzes through his early life, showing us the ironic pop culture signposts that marked this Native American's coming of age in suburbia: "We would order Chinese food and slap a favorite video into the machine—the Grammy Awards or a Reagan press conference—and argue about Cyndi Lauper or who should coach the Knicks." In "Lost in Translation," Smith explores why American Indians are so often misunderstood and misrepresented in today's media: "We're lousy television." In "Every Picture Tells a Story," Smith remembers his Comanche grandfather as he muses on the images of American Indians as "a half-remembered presence, both comforting and dangerous, lurking just below the surface." 

Smith walks this tightrope between comforting and dangerous, offering unrepentant skepticism and, ultimately, empathy. "This book is called Everything You Know about Indians Is Wrong, but it's a book title, folks, not to be taken literally. Of course I don't mean everything, just most things. And 'you' really means we, as in all of us."
About the Author
---
Paul Chaat Smith is associate curator at the Smithsonian's National Museum of the American Indian. He is the coauthor, with Robert Warrior, of Like a Hurricane: The Indian Movement from Alcatraz to Wounded Knee.
Praise For…
---
From Publishers Weekly
In this acerbic collection of essays, Comanche cultural critic and art curator Smith (Like a Hurricane) riffs on the romantic stereotypes of Indian as "spiritual masters and first environmentalists," as tragic victims of technology and civilization, as primal beings brimming with nomad authenticity, their every artifact a gem of folk art. Such tropes, he complains, hide the riotous complexity of the modern Indian experience, which he visits in pieces that explore his grandfather's Christian church, Sitting Bull's savvy manipulation of his media image (he had an agent) and the author's own Comanche forebears, who were both "world-class barbarians" and avid adopters of the white man's gadgetry. These loose-limbed essays range all over the landscape, from Hollywood westerns to the 1973 siege of Wounded Knee to (somewhat obscurely) the contemporary Indian art scene. Smith doesn't entirely square his view of Indians as "just plain folks" with his advancing of a unique Indian cultural perspective, but his keen, skeptical eye makes such ironies both amusing and enlightening.