Just In Case You Want to Fly (Hardcover)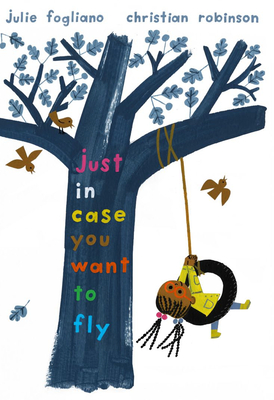 $18.99

Probably On Our Shelves Now! Wait for us to confirm availability.
Description
---
A message of love, support, and empowerment, from bestselling author Julie Fogliano and Christian Robinson, Caldecott Honoree and creator of the New York Times Bestseller You Matter.

just in case you want to fly
here's some wind
and here's the sky

Funny and sweet, told with lyrical text and bright, unexpected illustrations, Just in Case You Want to Fly is a celebration of heading off on new adventures--and of knowing your loved ones will always have your back when you need them.

A joyful, inclusive cast of children fly, sing, and wish their way across the pages, with everything they could ever need--a cherry if you need a snack, and if you get itchy here's a scratch on the back--to explore the world around them. Bold illustrations created by Christian Robinson, creator of You Matter, bring out the humor and warmth of the poetic text, teasing out new meanings and adding delightful details that will have you turning the pages again and again.

Julie Fogliano and Christian Robinson, the creators of the award-winning When's My Birthday?, have teamed up again to create a perfect book to share with the little ones you love--to give them everything they need to go out into the world, and reassure them you'll always be waiting to welcome them home.

Whether it's for big milestones like graduations or holidays, or quiet bedtimes and cozy moments together, Just In Case You Want to Fly is made for sharing, with gentle humor and sweet reassurances.

A Bank Street Best Book of the Year - Outstanding Merit
About the Author
---
Julie Fogliano is an author of bestselling children's books, including A House That Once Was, illustrated by Lane Smith, When Green Becomes Tomatoes, illustrated by Julie Morstad, and And Then It's Spring and If You Want to See a Whale, both illustrated by Erin E. Stead. She lives in the Hudson Valley in New York.

Christian Robinson is an acclaimed creator of You Matter and Another. He's the illustrator of numerous children's books, including Gaston by Kelly di Puchhio and the New York Times bestseller Last Stop on Market Street by Matt de la Peña, which won the Newbery Medal as well as a Caldecott Honor. He also illustrated School's First Day of School by Adam Rex, recipient of seven starred reviews and a New York Times Bestseller. His wordless picture book Another was named a New York Times / NYPL Best Illustrated Children's Book. His previous collaboration with Julie Fogliano, When's My Birthday? received five starred reviews and was named a 2018 Boston Globe-Horn Book Honor Book.
Praise For…
---
★ "the words offer reassurance that you're free to leave home knowing there are loving arms ready and waiting for your return. In striking paint and collage artwork, Robinson uses a simple, flat perspective that employs the colors of burgundy, tan, black, and gray with punches of red and blue on pure white backdrops and to present sweet pictures with a multicultural cast of children. . . . A charming assurance about letting go of the things you love from the creators of When's My Birthday?"—Booklist, Starred Review

★ "Done in paint and collage, the artwork utilizes simple shapes and textured brush strokes to depict an appealing cast of diverse children and an array of whimsically rendered animals and everyday objects. Striking a dream-nurturing balance between the commonplace and the magical, this lovely picture book is perfect for sharing one-on-one at bedtime or anytime."—School Library Journal, Starred Review 

★ "Just In Case You Want to Fly is humorous and heartwarming, with rhythmic, rhyming verses. Children of all ages will appreciate its uplifting words of encouragement, given with just the right amount of whimsy.  If you'd like to sing a song or enjoy a cup of tea; if you're in need of a good joke or a good cry; this book's got you covered."—Foreword Reviews, Starred Review

"The rhyming text . . . sprinkles in some welcome, gentle silliness. 'Here's a joke / if you want to laugh' (while, in the illustration, 'bye, son!' says a large…bison to a small one). . . . Robinson's trademark sense of play, evident throughout the spare, geometric illustrations, enhances—and occasionally winks at—the text's sense of wonder. The story ends with a young person asleep in bed, a pair of grownup hands tucking the child in, with several of the illustrations' motifs (giraffe, toothbrush, teacup, and others) reappearing as decorations on the child's blanket. It's a refreshingly down-to-earth ending for a rather high-flown bedtime book."—The Horn Book


"The team of Fogliano and Robinson (When's My Birthday?, BCCB 9/17) returns here in another poetic flight of fancy, in this case a sprightly lyric of love and support. . . . Robinson's familiar earthtoned paint and collage art balances crisp, geometric forms with softly streaked and dabbed textures; interpretations of the text are inventive . . . and open it up rewardingly and imaginatively, while the multicultural cast of kids in groups and small scenes roots the whimsy in the domestic."—The Bulletin of the Center for Children's Books

"Cheery rhythm and singing rhyme ask to be read aloud: 'here's a rock to skip and a coin to wish/ and a fork/ and a spoon/ and a cup/ and a dish.' Robinson's simple angular figures champion the low-key and the handmade (a cityscape with tall buildings and low vehicles resembles paper cutouts). . . . Robinson extends classic picture book scenes of play and home life to show all sorts of children finding magic in all kinds of places."—Publishers Weekly

"Simple and nurturing, this will likely be loved by many a parent-child pair."—Kirkus Reviews