School Zone Math Basics Grade 2 Workbook (Paperback)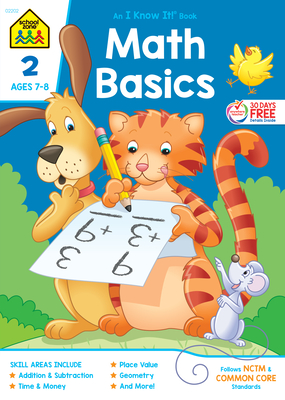 $4.49
Email or call for price.
Description
---
Playful animal friends make math adventures more fun. Creative activities that teach and reinforce early math skills, plus, colorful illustrations and an Award Certificate for completion help keep children motivated. The Math Basics 2 workbook is aligned with the Common Core State Standards for Mathematics, a comprehensive and progressive set of learning objectives created to help students succeed in math. At the bottom of each workbook page is a cross-reference to the Common Core grade level and "domain" or skill area that the activity practices. The workbook is also consistent with Principles and Standards for School Mathematics, a publication by the National Council for Teachers of Mathematics (NCTM), and it is compatible with Singapore math pedagogy. The lessons are planned in learning sequence; skills introduced in one lesson build on those taught in previous lessons. It's a perfect way to introduce, review, and maintain essential math skills.
About the Author
---
More than 40 years ago, long-time educators James Hoffman, Ed.D., and his wife Joan Hoffman, M.A., began a retail supply outlet for teachers, then soon identified a need for at-home learning materials to help parents support and supplement their children's classroom instruction. School Zone fast emerged as the market leader in workbooks and flashcards for preschoolers through sixth graders. School Zone remains family-owned, focused on excellence, and committed to the community. We continually update our products with new features and content, reflective of changing standards, evolving teaching methods, and overall best practices.