When You Never Said Goodbye: An Adoptee's Search for Her Birth Mother: A Novel in Poems and Journal Entries (Hardcover)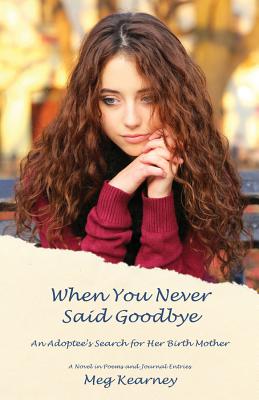 $17.95
Email or call for price.
Description
---
Against the odds, eighteen-year-old Liz McLane, adoptee and aspiring poet, searches for her birth mother in this sensitive and daring novel told through her own accessible and moving poems and journal entries.  
A student at NYU in Greenwich Village, Liz McLane is pursuing her dream of becoming a poet and, at the same time, determined to find her birth mother, no matter what the results may be. Through her journals, Liz records her struggle to navigate adoption bureaucracy and laws.  In spare and poignant poems, she confides her fears and her prayers.  Could her birth mother be the unknown guitarist in Washington Square Park, who sings a soulful song in a strangely familiar voice?  Against a backdrop of college life—classes on Alice Munro and Billy Collins and an active social life—and with the help of her sister, friends, and a private investigator, Liz summons the courage to face the truth about her mother and herself.   
This is an unforgettable novel full of heart that addresses the primary questions all adoptees must answer for themselves: who was the woman who gave me life, and why did she decide to give me away?  Based on author Meg Kearney's own experiences.  
About the Author
---
Meg Kearney is the author of The Secret of Me and The Girl in the Mirror. She has written two prize-winning poetry collections for adults and a critically acclaimed and popular picture book for children, Trouper  (Scholastic). Before becoming founding director of the low-residency MFA at Pine Manor College (Chestnut Hlil, MA), Kearney was Assoc. Director of the National Book Foundation, sponsor of the National Book Awards, for 11 years.
Praise For…
---
Meg Kearney takes you into the heart of this story and holds you there.  I loved everyone I met in these pages and felt every moment of deep love and deep loss.  When You Never Said Goodbye is a gift to the world, a book you'll want to read slowly, savoring both the eloquent writing and the brave, beautiful story.

— Jacqueline Woodson, author of Brown Girl Dreaming, 2014 National Book Award winner

...poet Kearney draws 18-
year-old Liz McLane's years-long search for her birth mother to a close.. Liz's first-person account
unfolds in a series of sincere and succinct (often no longer than a page) journal entries, haikus, villanelles,
letters, and more. While the search itself no doubt fuels the narrative, Liz's flourishing friendships,
depictions of an ever-bustling Big Apple, and dogged devotion to her craft of poetry add considerable
depth to the already gripping journey... suggested reading, including guides to poetics as well as
adoption registries, clinch this one's status as both an enlightening resource and an all-around sparkling
story of self-discovery.
— Booklist (Starred Review)

Through journal entries and varied styles of poems, Kearney sensitively
conveys Liz's journey of discovery; the answer she's been seeking,
though unexpected, brings her peace of mind.
— Publishers Weekly

Thoughtful and brimming with justified teen angst, Kearney's fast-paced
tale offers illuminating insights into the perils and rewards of
self-discovery.
— Kirkus Reviews