The Bumpy, Lumpy Horseshoe Crab (Hardcover)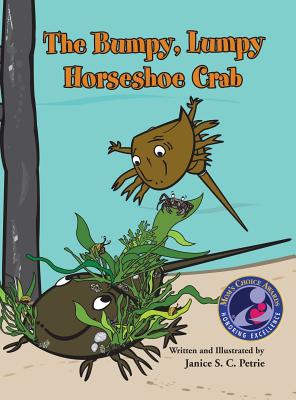 $14.99

Usually Ships Within a Week
Description
---
As low tide comes and the salty water slips away, a sleek little horseshoe crab learns how taking critters and creatures for a ride could save his life
The Bumpy, Lumpy Horseshoe Crab is a horseshoe crab adventure with a happy ending. This picture book has a whimsical, rhyming style, and portrays horseshoe crabs exhibiting behaviors that they commonly use in real life. It's the perfect choice for a family read-aloud for children 3-10 years old. It also is a great tool for teachers who are studying marine life, tidepools, or coastal sea animals. The fun, colorful, simply drawn illustrations are expressive, and bring each sea creature to life. Although two horseshoe crabs are the central characters, periwinkles, limpets, barnacles, and green and Jonah crabs are also portrayed in the story. At the end of the story, there are pages containing information about horseshoe crabs and other sea animals that appear in the story.
The Bumpy, Lumpy Horseshoe Crab is the first book in Petrie's sea animal series. Did You Make the Hole in the Shell in the Sea? and Something's Tugging on My Claw are two award winning books that complete Petrie's three book rhythmic, rhyming, and colorful series.
About the Author
---
Janice S. C. Petrie has been enchanted by the sea for as long as she can remember. She became a certified SCUBA diver while in high school, and spent many years exploring coastal waters. Her fascination with marine invertebrates grew while working for the New England Aquarium as an Outreach Specialist. Since then, she's spent years caring for these fascinating sea animals, and teaching children and adults about the habitats and sea life commonly found near the shore. The material covered in her children's stories are topics commonly taught by Petrie in her popular sea animal programs. Petrie has experience in all facets of the sea, having worked as an assistant plant manager of a large, Gloucester/Boston seafood company. As a certified teacher, grades K-8, and a Reading Specialist, all ages, Petrie has earned her Bachelor of Science and Master of Education degrees in the field of education, with a concentration in reading. Petrie also holds a Bachelor of Arts degree in Art, with a graphic design concentration. Because of her background in developing integrated curriculum units for elementary and middle schools, Petrie has available on her website, free, downloadable curriculum packets for each of her children's books.
Praise For…
---
In Petrie's educational children's book, a horseshoe crab learns that an apparent fashion statement is actually necessary for survival.
As a young horseshoe crab wanders the seafloor, "flapping his gills" and "gliding with ease," he notices something peculiar—a fellow horseshoe crab who's a bit older, with bits of seaweed, barnacles, and other sea fauna encrusting her shell. The youngster is shocked that his female counterpart would choose to mar her shell this way—why not be light and free? Upon closer inspection, he sees that she has periwinkles, limpets, barnacles, and seaweed covering her sleek outer shell. Although the younger horseshoe crab is bewildered at the idea of weighing oneself down on purpose, he quickly learns why it's smart. As the sea retreats and the tide gets low, the female horseshoe crab buries herself in the sand, disguising her shell and avoiding the watchful eye of predatory birds. From the air, she just looks like a bunch of seaweed in the ocean. Without anything to hide behind, the younger horseshoe crab is quickly snatched into the sky by a sea gull, but the crustacean manages to fall from its grasp by twisting and turning. After this near-death experience, he understands the wisdom of collecting creatures to live on his carapace, and he's soon lumpy, bumpy, and, most importantly, safe. Petrie once served as an outreach educator for the New England Aquarium, and her knowledge of and passion for marine life is apparent throughout this colorful work. Readers don't need to have a deep interest in marine biology to love this book; it's so engrossing and engaging that the fact that it's also educational is just an added bonus. Children won't just learn about horseshoe crabs: after the story is over, the last pages offer a glossary of the sea creatures mentioned within, including limpets, Jonah crabs, and barnacles. Petrie's bright illustrations are also a delight. Overall, this work is sure to inspire further under-the-sea exploration at bedtime and beyond.
A fun marine adventure that's fit for everyone.—Kirkus Reviews

I received this wonderful children's book on Wednesday and couldn't wait to read it to my first graders at Brophy Elementary School. The students extremely enjoyed this story as a read aloud as they had touched and felt a horseshoe crab when we went to the Aquarium. The rich vocabulary and rhymes kept students highly engaged. Although my students knew it was a fiction story, they appreciated the non-fiction elements including the glossary, diagrams, and facts throughout the book. They wondered whether the author was an expert on horseshoe crabs. Some direct quotes from my students include: "I like this book because it tells us about real life in the ocean," "I think it is a good book and I hope the author writes another book about a seahorse," "The pictures are cool! How did she make them? Maybe with markers."
–Amy Cheever, First Grade Teacher, Brophy Elementary School, Framingham, MA

Fourth graders study the ocean biome each year in connection with Maine Studies. We discuss plants and animals, their life cycles, which includes food chains and webs. The students learn about the adaptations that animals utilize to survive. This book would fit right in with this unit of study. The illustrations are wonderfully colorful. The use of rhythm and rhyme in the text makes it a fun read. I particularly liked the factual information included in the back of the book.–Sally MacLaughlin, Fourth Grade Teacher, Ella P. Burr School, Lincoln, ME

The illustrations are wonderful and the story is fun and informative. It will be particularly helpful to the fourth grade as they study Maine habitats and creatures.–Cheryl Leonard, Principal, Viola Rand School, Bradley, ME

I am a third grade teacher and read this book to my class. The vocabulary is wonderful, "debris." Being from Maine I figured the children were aware of what a horseshoe crab was, but NO. The book is sure to bring on much discussion. Fabulous! A must read! –Debra Hardy Timberlake, Third Grade Teacher, Livermore Falls, ME

I like the rhyming, and the bold words are in all the right places to emphasize words that hold a child's interest. The pictures are bright and entertaining, with the back section of the story being very educational, while still understandable to a young child. The story line is wonderful with a young horseshoe crab learning how to survive in his habitat. I would read this book to any group of children and I think they would all be entertained. Children that frequent the beach would be especially excited by this book and would probably look for more books by this author. The story moved me because it involved learning an important life lesson with a happily ever after ending!–Heidi Caswell, para-professional elementary school teacher, NH

I read "The Bumpy, Lumpy Horseshoe Crab" to my class of 2-3 year olds. They really liked it, especially the part where the seagull swooped down and grabbed the horseshoe crab and then she wiggled free and fell back into the water. We had to look at those few pages and talk about them again and again! I also read the story to my 7 year old and she really liked the story as well. –Michelle Lewis, Preschool Teacher, Concord MA

Thank you so much for The Bumpy, Lumpy Horseshoe Crab. It is our new FAVORITE BOOK!–Jackie Young, Parent of a six and four year old.