Larry Miller Time: The Story of the Lost Legend Who Sparked the Tar Heel Dynasty (Paperback)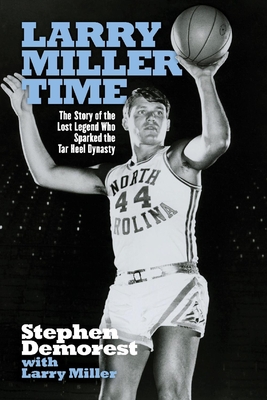 $19.99

Usually Ships Within a Week
Description
---
LARRY MILLER is the tough-as-nails, fun-loving, working class bad boy who in the 1960s saved young North Carolina coach Dean Smith's job by winning his first two ACC titles and a trip to the National Championship game. A two-time All American, Miller is still the only Tar Heel ever named ACC Player of the Year twice. He was also the first heartthrob of the modern ACC before moving on to become "the Joe Namath of the ABA," setting the pro league's All-Time Single Game scoring record. And then he simply disappeared.

Now, for the first time, North Carolina's foundational player shares priceless stories from the locker rooms, road trips, parties and fights of the teams that established Dean Smith's Tar Heel legacy… and from the raffish early days of modern pro basketball.

It's all here: The charm of yesteryear's tiny Catasauqua, Pa., where a high school hero's blue collar hunger made him the most coveted recruit in the nation… The bribes dangled by unscrupulous colleges… The mysterious pills that caused young Larry to skip his H.S. All America Award banquet… The time he risked getting thrown out of college to save a buddy… The party at Kentucky that was so wild Coach Smith threatened to yank the entire team's scholarships… The game that so impressed Pat Conroy that he later wrote in My Losing Season, "I will never forget the dark fire of Larry Miller" – unaware that just hours later Miller almost fell out of a thirteenth-floor window in a girls' dorm… The night he upstaged Mitch Ryder & the Detroit Wheels in concert… How Coach Smith negotiated a monster pro contract for him… Why Larry skedaddled from UNC one credit shy of graduation to escape a Duke frame-up… The flower power years in LA, playing 1-on-1 with the great Jim Brown and his staff of naked Swedish girls, dating Clint Eastwood's secretary, winning "The Dating Game," and the scuttlebutt behind Wilt Chamberlain's claim of bedding 20,000 women… The chaotic management of the ABA and the dark side of colorful coach Bones McKinney… Wild times with the early creators of NASCAR, and how he "stole" a night honoring Richard Petty… The jinxed playboy pad where Miller and others nearly died… How he outsmarted his vindictive draft board… Decades of Dean Smith's letters still coaching his most beloved and wayward player… and much, much more.

Larry Keith of Sports Illustrated calls Larry Miller Time "the great untold story of Carolina basketball… a fascinating tale with an unexpected ending."

Coach Roy Williams says, "Larry Miller was one of those mythical figures to me… he was one of my heroes."

Charles Scott claims, "Larry was the winner who made Coach Smith a winner. Like Bill Russell started the Boston Celtics tradition, Larry Miller is the tradition that Carolina talks about. Everything starts with him."

Featuring over 40 vintage photos and original interviews with teammates Billy Cunningham, Charles Scott, Big-10 commissioner Jim Delany, Coach Williams, and many others, Larry Miller Time is a candid, immersive narrative for every follower of UNC and classic basketball lore, and a Brigadoon of America's good old days.
About the Author
---
STEPHEN DEMOREST is a six-time Emmy Award winner and recipient of the Writers Guild of America Award as head writer of the CBS daytime dramas Guiding Light and As the World Turns. He has also written for All My Children, General Hospital, One Life to Live, and Another World, and written a script for Law & Order.

As managing editor of the iconic rock magazine, Circus, he interviewed and profiled scores of major rock stars, reviewed the first Talking Heads and Ramones albums for Rolling Stone, flew with Led Zeppelin, and landed the first adult at-home interview with nineteen-year-old Michael Jackson. His work has appeared in The New York Times, New York Daily News, Saturday Review, Travel & Leisure, Andy Warhol's Interview and other publications. He is a Tar Heel by marriage, and LARRY MILLER TIME is his first sports book