Anne Frank's Diary: The Graphic Adaptation (Pantheon Graphic Library) (Hardcover)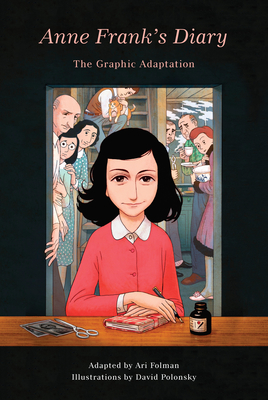 $25.00

Probably On Our Shelves Now! Wait for us to confirm availability.
Description
---
A timeless story rediscovered by each new generation, The Diary of a Young Girl stands without peer. This graphic edition remains faithful to the original, while the stunning illustrations interpret and add layers of visual meaning and immediacy to this classic work of Holocaust literature.

"[A] stunning, haunting work of art..."—The New York Times Book Review

For both young readers and adults The Diary continues to capture the remarkable spirit of Anne Frank, who for a time survived the worst horror the modern world has seen—and who remained triumphantly and heartbreakingly human throughout her ordeal.
 
Includes extensive quotations directly from the definitive edition; adapted by Ari Folman, illustrated by David Polonsky, and authorized by the Anne Frank Foundation in Basel.
About the Author
---
ANNE FRANK was born in 1929 in Germany. Her family moved to Amsterdam in 1933, and she died in the Bergen-Belsen concentration camp in 1945.

ARI FOLMAN is a director, screenwriter, and film score composer. He has written for several successful Israeli TV series and was the director and writer of the Oscar-nominated Waltz with Bashir, as well as The Congress, and is working on an animated feature based on The Diary of a Young Girl to be released in 2019.

DAVID POLONSKY graduated from Bezalel Academy of Art and Design, Jerusalem. His illustrations have appeared in most of Israel's leading newspapers and magazines and he was the art director and lead artist for the Oscar-nominated Waltz with Bashir. He has illustrated a number of children's books, and received the Israel Museum Ben-Yitzhak Award for the Illustration of Children's Books in 2004 and 2008. Since 1999 he has taught animation and illustration at Bezalel Academy of Arts and Design.
Praise For…
---
"[A] stunning, haunting work of art. . . . The comedy of the Diary—one of the book's most charming and often overlooked aspects—shines in this form. . . . There are so many wonderful juxtapositions of text and imagery that it feels cruel to focus on only a few, but another consistent standout is the way the graphic novel conveys Anne's fantasies and emotions—so crucial to the Diary. . . .  This graphic adaptation is so engaging and effective that it's easy to imagine it replacing the Diary in classrooms and among younger readers." —The New York Times Book Review

"Mr. Folman has succeeded in capturing the humor and vitality of the diaries—the hilarious sarcasm, the passionate declarations, the contemplative self-reproach—without a trace of retrofitted sentimentality. He owes much to David Polonsky's sublime illustrations. Every one of Anne's flights of fancy finds a thrilling and ingenious visual representation. . . . A wonderful, full-page composite image of Anne in her many moods—dreamy, snarky, silly, pensive, outraged or lovesick—is a reminder that the diaries are less about a life's senseless destruction than about a brilliant young woman eternally coming into being." —The Wall Street Journal

"Anne Frank's Diary: The Graphic Adaptation is a masterpiece. Writer Ari Folman and illustrator David Polonsky have produced a vibrant, sensitive portrait of the icon who hid with her parents, sister and four others for two years in the annex of the building in Amsterdam that housed her father's business. Through text and images of seamless intelligence, Anne emerges as a wryly sophisticated, maturing young lady. . . . Folman expertly balances Anne's exterior and interior observations. While not minimizing her terrifying circumstances, he focuses more on her wisecracks than on her fears. . . . Polonsky's extraordinary imagination and draftsmanship propel Anne's revered diary. . . . This graphic novel is a valuable extension to all the literature that has emanated from Anne Frank's diary." —Hadassah Magazine

"In the handling that Folman and Polonsky give it, what happens is nothing short of a revelation . . . nothing has ever quite captured the strange, stubborn delicacy, the forlorn wistfulness, of the diary like this before . . . a genuine work of art." —Christian Science Monitor

"Anne Frank's immortal journal gets a new visual energy from David Polonsky's breathtaking artwork. The story is devastating as ever, with Anne's romantic yearnings, adolescent rebellion and razor-sharp wit still shining through." —Family Circle

"How does one breathe new life into a tale that is now so familiar that it risks losing its power to shock and instruct? Folman and Polonsky, the duo behind the film Waltz with Bashir, use the right tools to show us how it's done. Some may ask why Anne Frank's story needs a graphic adaptation, but the beauty of these pages provides the answer. It gives readers a strong visual idea of what Anne's secret annex behind a bookcase was like, where she struggled to make sense of her short and tragic life. Another panel shows a hypothetical wedding day that will break your heart all over again."  —Lindsay Pereira, HuffPost

"Ari Folman, the Israeli director of Waltz with Bashir, takes the moving words of Anne Frank's The Diary of a Young Girl and, with his Bashir art director David Polonsky, creates an engaging, poignant coming-of-age journey. With its cartoon style, imaginative storytelling and teenage Anne's wide-eyed mood swings, this adaptation leans kid-friendly." —USA Today

"I wanted to dislike Anne Frank's Diary: The Graphic Adaptation because books about Anne usually feel opportunistic or simplistic. But this comic-book version, authorized by the Anne Frank Foundation, is a monumental achievement. In large part that's because it wears its importance lightly. . . . [I]t captures Anne's teenage-ness: her love of drama, her rabid jealousy of her perfect sister, Margot, her appreciation of the physical comedy provided by the tacky van Daan adults. She feels like a real person, not a symbol. And there's so much humor in these illustrations! Polonsky draws kinetically, varying panel size and bringing in little jokes and references from art history and advertising. He draws Anne with mobile, animated features and huge eyes. Folman nimbly provides historical context the original diary lacks; this version clarifies what was happening in the outside world as Anne was writing. But Folman also includes several full pages of unfiltered, unillustrated diary pages, showing real respect for Anne's writerly voice. In an afterword, Folman says he only used 5 percent of the entire original diary; it feels like much more." —Tablet

"Folman and Polonsky have reclaimed Anne Frank in all of her humanity, and they allow us to witness for ourselves her beauty, courage, vision and imagination, all of the qualities that make her life and early death so heartbreaking. And, in doing so, they have elevated the tools of the comic book to create an astonishing work of art." —Jewish Journal
 
"Folman and Polonsky . . . focus on illuminating its humor, insight, and supporting cast in this spirited graphic adaption . . . Anne, drawn with large dark eyes, blooms like the hardiest, loveliest weed—a moody teenager whose wit, self-awareness, and rich fantasy life take center stage . . . The beauty of Anne's life and the untarnished power of her legacy—here further elevated by Folman and Polonsky—are heartening reminders of the horror of her fate." —Publishers Weekly, *starred review

"[W]itty, ironic, even snarky—Anne's writing has an acerbic sense of humor. This adaptation is first and foremost a remembrance of that Anne, who, despite living a life marred by tragedy, tried by indignities, always held true to herself. Light touches of historical context, woven in through diary entries, provide necessary background without coming across as overly didactic. The whimsical nature of Polonsky's illustrations . . . are unexpectedly moving: though we never lose sight of the gravitas of Anne's story, these forays into fantasy, which show Anne escaping from the harsh present into a future that will never come, serve to remind us of the truly human face of genocide. This is an exceptionally graceful homage to a story that deserves to be told for years to come." —Booklist, *starred review

"A superb offering to read alongside the original, this adaptation lets its narrator's voice soar."  —School Library Journal

"Evocatively crafted, this comic brings Frank's world to life for all ages but takes care to respect and prioritize the primacy of her story in her own words." —Library Journal

"'Even deep sleep brings no redemption,' she writes. 'The dreams still creep in.' Those dreams bring out the best of the illustrations amid the depictions of the everyday confinement in which Anne, her family, and others are hiding. A different format distills and renews Frank's achievement." —Kirkus Reviews

"Emphasizes the visual nature of Frank's text . . . Bring[s] renewed vigor . . . Powerful . . . points us to the very gap, between what we, her readers, can imagine for her of her missed future, and what she would never have the opportunity to live through." —Women's Review of Books

"Folman highlights Frank's passionate, almost moral commitment to independence, her anthropologist's eye, her unique psychological insight and her profound understanding that pessimism devalues life . . . Above Polonsky's elegant illustration of the adult Frank, Folman's version of Frank's text makes for a piercing epigraph." —The Forward

"The wide range of Folman and Polonsky's graphic ideas is mesmerizing. . . . Most strikingly of all, Polonsky takes the abundance of metaphors in the diary text literally and creates unforgettable panels that establish an expressive dimension and enable us to see the quality of Anne Frank's writing in a fresh light." —Frankfurter Allgemeine Zeitung (Germany)
 
"A masterpiece." —Il Mattino (Italy)
 
"The illustrations display a serene, impressive objectivity, and when Folman and Polonsky give rein to their imaginations to provide a pictorial dimension for Anne's feelings, they do so in an admirably skillful and charming manner . . . unfailingly striking an admirable balance that is poignant at every turn. The result is a remarkable reading and visual experience." —Frankfurter Neue Presse (Germany)