Dear Reader: A Novel (Paperback)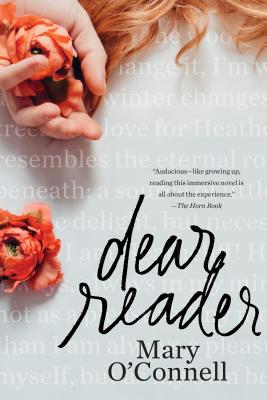 $22.99

Usually Ships Within a Week
This title is a nonreturnable book, so please make sure it is the right one!
Staff Reviews
---
A special teacher can change the way you think or read, a first love can affect the ways we move through adulthood, and fiction can alter how we view the world around us. Dear Reader is both playful and intense, sure to satisfy Brontë enthusiasts of all ages and modern bookish types!
— Johanna
Description
---
"Imaginative, exhilarating, genre-bending, and one of the best YA novels of the year." —BookRiot

"An audacious tale. Like much classic literature and like growing up, reading this immersive novel is all about the experience." —The Horn Book

An IndieNext Pick!

Gilmore Girls meets Wuthering Heights in Mary O'Connell's Dear Reader, a whip-smart, poignant, modern-day take on Emily Brontë's classic novel.

For seventeen-year-old Flannery Fields, the only respite from the plaid-skirted mean girls at Sacred Heart High School is her beloved teacher Miss Sweeney's AP English class. But when Miss Sweeney doesn't show up to teach Flannery's favorite book, Wuthering Heights, leaving behind her purse, Flannery knows something is wrong.

The police are called, and Flannery gives them everything—except Miss Sweeney's copy of Wuthering Heights. This she holds onto. And good thing she does, because when she opens it, it has somehow transformed into Miss Sweeney's real-time diary. It seems Miss Sweeney is in New York City—and she's in trouble.

So Flannery does something very unFlannery-like: she skips school and sets out for Manhattan, with the book as her guide. But as soon as she arrives, she meets a boy named Heath. Heath is British, on a gap year, incredibly smart—yet he's never heard of Albert Einstein or Anne Frank. In fact, Flannery can't help thinking that he seems to have stepped from the pages of Brontë's novel. Could it be that Flannery is spending this topsy-turvy day with her ultimate fictional romantic hero, Heathcliff, reborn in the twenty-first century?
About the Author
---
MARY O'CONNELL is a graduate of the Iowa Writer's Workshop and the author of the short story collection, Living With Saints, and the YA novel, The Sharp Time. Her short fiction and essays have appeared in several literary magazines, and she is the recipient of a James Michener Fellowship and a Chicago Tribune Nelson Algren Award. She lives with her husband and her three children in Lawrence, Kansas.
Praise For…
---
An IndieNext Pick!

"Audacious. Like much classic literature and like growing up, reading this immersive novel is all about the experience. Bookish readers will be entranced—and perhaps inspired to seek out the source text." —The Horn Book

"Dear Reader is so real, even the magic of books is literal. It's imaginative and exhilarating and genre-bending and one of the best YA novels of the year." —Book Riot

"Illuminates the complex chaos of life and love, demonstrating that seemingly inconsequential choices and people can have lingering effects. The use of Wuthering Heights intensifies the impact of Flannery and Miss Sweeney's corresponding journeys; even readers who haven't read the classic will find significance in the parallels." —Publishers Weekly

"I loved Dear Reader—the wild romance of it, the joy in the language, and the celebration of the imagination that the whole book is. It's like a book dipped in love, and I can't think of another quite like it." —Alison Umminger, author of American Girls

"Dear Reader breaks the YA genre wide open. Captivating, intelligent, and the most exquisitely written of this year or any year." —Wendy Lawless, New York Times bestselling author of Chanel Bonfire

"Imaginative, fresh, and sometimes wickedly funny, and a book with real compassion at its core. I loved everything about it." —Laura Moriarty, New York Times bestselling author of The Chaperone

"In a world of Apple stores and texts, can literature still be a guide to life? Mary O'Connell's Dear Reader sends its heroine, Flannery Fields, on a daring mission to find out. Armed with a dog-eared copy of Wuthering Heights and O'Connell's intoxicating, funny, and genre-bending prose, she discovers that reading remains the key to understanding the human heart, even in modern day New York. And readers of this novel will discover an unforgettable testament to the power of imagination, friendship, and our enduring capacity for self-discovery." —Whitney Terrell, author of The Good Lieutenant

"I am broken-hearted that these characters aren't my real-life friends." —Katrina Leno, author of The Lost & Found