Ariadne: A Novel (Hardcover)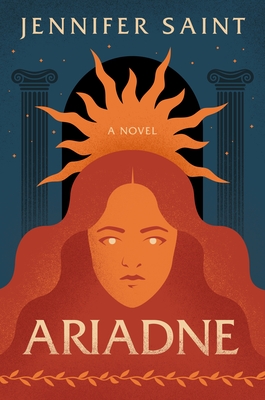 $27.99

Usually Ships Within a Week
Staff Reviews
---
I LOVE Ariadne! So so so good. This book inspired a deep dive into mythology and it has been such a welcome diversion. Ariadne was the Minotaur's half-sister and helped a thankless Theseus in his quest to slay her half-brother. Looking to step away from your regular reading? Look no further!
— Keebe
Description
---
A mesmerizing debut novel for fans of Madeline Miller's Circe.

Ariadne, Princess of Crete, grows up greeting the dawn from her beautiful dancing floor and listening to her nursemaid's stories of gods and heroes. But beneath her golden palace echo the ever-present hoofbeats of her brother, the Minotaur, a monster who demands blood sacrifice.

When Theseus, Prince of Athens, arrives to vanquish the beast, Ariadne sees in his green eyes not a threat but an escape. Defying the gods, betraying her family and country, and risking everything for love, Ariadne helps Theseus kill the Minotaur. But will Ariadne's decision ensure her happy ending? And what of Phaedra, the beloved younger sister she leaves behind?

Hypnotic, propulsive, and utterly transporting, Jennifer Saint's Ariadne forges a new epic, one that puts the forgotten women of Greek mythology back at the heart of the story, as they strive for a better world.
About the Author
---
Due to a lifelong fascination with Ancient Greek mythology, Jennifer Saint read Classical Studies at King's College, London. She spent the next thirteen years as an English teacher, sharing a love of literature and creative writing with her students. She is the internationally bestselling author of Elektra and Ariadne.
Praise For…
---
A Most Anticipated Book (Bustle, Buzzfeed, PopSugar, Goodreads)
IndieNext Pick

"A page-turner…If you like Madeline Miller's Circe and Son of Achilles, you will eat up Ariadne, a retelling of yet another engrossing and horrifying classic Greek myth."
—Glamour

"Beautifully written and nuanced, Ariadne explores the bonds between women and their epic quest for agency in patriarchal Greek society."
—BuzzFeed

"The story broadens, forks,spins, and braids through the perspective of multiple narrators, and the resultis fascinating and unpredictable…A great read."
—Chicago Review of Books

"Circe fans would do well to take note."
—Bustle

"If you loved Madeline Miller's Circe, then you have to check out Ariadne by Jennifer Saint."
—PopSugar

"Saint's immersive novel thrusts the reader straight into the heart of Greek mythology with this wonderful reimagining of the story of Ariadne."
—The Independent (UK)

"A lyrical, insightful re-telling."
—The Daily Mail

"Energetic and compelling."
—The Times (UK)

"Captivating…Saint's mesmerizingly beautiful prose makes Ariadne a fascinating read."
—The Nerd Daily

"An illuminating read."
—Woman & Home

"Relevant and revelatory."
—Stylist (UK)

"A beautiful epic…In a world ruled by temperamental, petulant gods, Ariadne is a shining beacon of female strength and courage—making this a story that's impossible to forget."
—CultureFly (UK)

"Enchanting…Saint expertly highlights how often the women of this world pay the price for the actions of the men around them. Lovers of mythology should snap this up."
—Publishers Weekly

"Complex—and bold…Fans of Madeline Miller's Circe will enjoy this faithful retelling that centers the often-forgotten women of Greek myth."
—Booklist

"Ariadne is a shimmering tapestry of two sisters bound by deceit and the shadows of family history. One marries a hero, the other a god. As their lives criss-cross through girlhood and womanhood, the secrets that their husbands keep become a monstrous backdrop to their relationship. With a fresh voice and keen insight, Saint adds flesh and bone to an ancient myth, drawing the reader into an uneasy world of ever-afters."
—Yangsze Choo, New York Times bestselling author of The Night Tiger

"An ancient story of love and sisterhood reimagined, Jennifer Saint's Ariadne is a truly masterful debut—compulsive, absorbing and lyrical. Saint breathes new life into the forgotten women of Greek mythology with a novel that's both incredibly absorbing, and full of heart."
—Katie Lowe, author of The Furies