Cold the Night, Fast the Wolves: A Novel (Hardcover)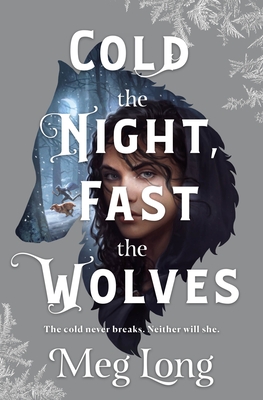 $18.99

Usually Ships Within a Week
January/February 2022 Kids Indie Next List
---
"Sena is a tough loner on a rough planet. When she crosses the wrong gangster, she'll live only if she can heal his prize fighter wolf Iska. Hop on for a freezing cold, terrifying ride with a blazingly warm, you-can-breathe-now end."
— Kay Wosewick, Boswell Book Company, Milwaukee, WI
Description
---
A lone girl determined to survive. The feral wolf she must learn to trust.

Only one chance to escape their icy planet: a race across the deadly tundra.

Seventeen-year-old Sena Korhosen hates the sled race, especially after it claimed both her mothers' lives five years ago. Alone on her frozen planet, she makes money any other way she can--until she double-crosses a local gangster.

Desperate to escape, Sena flees with his prized fighting wolf, Iska, and takes an offer from a team of scientists. They'll pay her way off-world, on one condition--that she uses the survival skills her mothers taught her to get them to the end of the race. But the tundra is a treacherous place. When the race threatens their lives at every turn, Sena must discover whether her abilities are enough to help them survive the wild, and whether she and Iska together are strong enough to get them all out alive.

As the girl and the wolf forge a tenuous bond and fight to escape ice goblins, giant bears, and the ruthless gang leader intent on trapping them both, one question drives them relentlessly forward: Where do you turn when there is nowhere to hide?

Cold the Night, Fast the Wolves is a captivating, breathless debut about survival and found family that delivers a fresh twist on classic survival stories.
About the Author
---
MEG LONG was born and raised in Louisiana and originally wanted to be a spy. Instead she somehow found herself teaching overseas in China and Malaysia before ending up in Colorado, where it snows entirely too much. She taught middle and high school for eight years before jumping to the tech industry as a content writer. When not reading or writing, she's kicking things at her Muay Thai gym with her boyfriend, playing video games, or obsessing over Sailor Moon fanart. Cold the Night, Fast the Wolves is her debut novel.
Praise For…
---
*An Indie Next Pick*

"The perfect winter read might just be this inventive and atmospheric debut." —Buzzfeed

"Fast and furious...The worldbuilding is intricate, and the icy setting is so detailed that readers will feel the need to bundle up as they speed through to the exciting and satisfying conclusion." —Kirkus Reviews

"Long skillfully navigates her resourceful heroine through a treacherous, chillingly described tundra setting. Sena's growing bond with Iska, and her relationship to the natural world and struggle for survival, aptly explore themes of corporate greed, environmental care, and personal resilience." —Publishers Weekly

"Whether Iska is helping Sena cross a wasteland or thawing her heart, the bond between girl and wolf is lovely and touching. Readers will root for them as they're swept along on their wild ride." —BookPage

"Vivid, dangerous, and absolutely exhilarating, Cold The Night, Fast The Wolves imagines a world teeming with predators both animal and human, telling a captivating story of survival alongside a heartwarming bond that grows between girl and feral fighter-wolf." —Chloe Gong, New York Times bestselling author of These Violent Delights

"Wholly unique and unexpected, this cut-throat story of survival kept me on the edge of my seat. Cold the Night, Fast the Wolves is a beautifully written, dangerous debut that packs one heck of a punch." —Adalyn Grace, New York Times bestselling author of All the Stars and Teeth

"The worldbuilding in Cold the Night, Fast the Wolves is so amazing that for DAYS, I was walking around feeling I was being besieged by blizzards in an icy wasteland. It is a deeply immersive sci-fi book, and I can't WAIT for everyone to get their hands on it!!" —Xiran Jau Zhao, New York Times bestselling author of Iron Widow

"The winter survival aspects of the race are intense and heart-pounding, and animal lovers will appreciate Sena's bond with vonenwolf Iska." —Bulletin of the Center for Children's Books

"If you want to immerse yourself in a world of ice and a bitter race that might end in death, you're going to want to add this book to your list." —The Nerd Daily