Ophelia After All (Hardcover)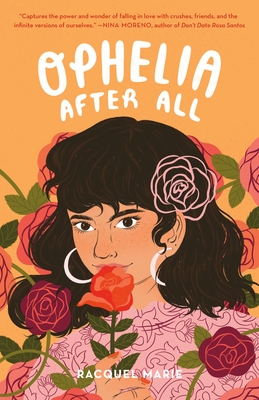 $17.99

On Our Shelves Now. We will contact you when your order is ready. Closed Mon & Tues.
Description
---
A teen girl navigates friendship drama, the end of high school, and discovering her queerness in Ophelia After All, a hilarious and heartfelt contemporary YA debut by author Racquel Marie.

Ophelia Rojas knows what she likes: her best friends, Cuban food, rose-gardening, and boys – way too many boys. Her friends and parents make fun of her endless stream of crushes, but Ophelia is a romantic at heart. She couldn't change, even if she wanted to.

So when she finds herself thinking more about cute, quiet Talia Sanchez than the loss of a perfect prom with her ex-boyfriend, seeds of doubt take root in Ophelia's firm image of herself. Add to that the impending end of high school and the fracturing of her once-solid friend group, and things are spiraling a little out of control. But the course of love—and sexuality—never did run smooth. As her secrets begin to unravel, Ophelia must make a choice between clinging to the fantasy version of herself she's always imagined or upending everyone's expectations to rediscover who she really is, after all.

"Ophelia Rojas is the type of character that leaps off the page and directly into your heart—Ophelia After All is a queer delight through and through." —Leah Johnson, bestselling author of You Should See Me in a Crown
About the Author
---
Racquel Marie grew up in Southern California where her passion for storytelling of all kinds was encouraged by her friends and big family. She received a B.A. in English with an emphasis in Creative Writing and a minor in Gender and Sexuality Studies from the University of California, Irvine. Racquel primarily writes YA contemporaries starring queer Latine characters like herself. When not writing or reading, she loves practicing beauty and special effects makeup, watching and producing YouTube videos, and teaching herself to play ukulele in spite of her extremely long nails. She is the author of Ophelia After All and You Don't Have a Shot.
Praise For…
---
Praise for Ophelia After All:

One of Cosmopolitan's 13 Best YA Books of 2022

"This contemplative coming-of-age is a perfect addition to YA shelves." —Buzzfeed

"Ophelia may not have a label for her sexuality, but she definitely gives all the delightful disaster bisexual vibes a reader could hope for as she endearingly bumbles through her identity crisis...Deeply relatable." — NPR

"Marie writes Ophelia and her friends through the hurdles and heartaches of senior spring with charm and insight, giving each character complexity and their varied cultural experiences the space, consideration, and depth they deserve. A feel-good and effortlessly inclusive coming-of-age story that deftly captures the aching tension of queer adolescence." —Kirkus

"Filled with realistic elements, this lovely coming-of-age story follows Ophelia as she explores her identity as well as the ups and downs of high school...This touching debut offers an emotional ride that readers will be happy to embark upon." —Booklist

"With a lovably messy, flawed cast of characters and a relatable, authentic protagonist questioning her sexuality while going through the pains of growing up and growing apart...Ophelia After All is a welcome breath of fresh air in the YA contemporary genre." —The Nerd Daily

"Debut author Marie. . .shows a wonderful knack for creating sweetly complex relationships...and inclusive portrayals, including aromantic, asexual, bisexual, and pansexual representation—the book never feels like a manual: Ophelia, Talia, and their friends are fully human creations." —Publishers Weekly

"Look: The banter in this book alone is enough to develop a deep, life-affirming crush on Ophelia After All. But it is in the deep, loving characterization of Ophelia and her friends that Racquel Marie creates a memorable, boundary-breaking story about identity, friendship, and the messy complications between the two. Utterly remarkable." —Mark Oshiro, author of Anger is a Gift

"A sweet and tender ode to love and self-discovery. Racquel Marie's vibrant and insightful prose, and fresh, funny, fearlessly vulnerable characters make for a beautiful debut you won't want to miss. Ophelia After All is utterly lovely." —Courtney Summers, New York Times-bestselling author of Sadie

"Bursting with feelings, Spanglish, and authenticity...captures the power and wonder of falling in love with crushes, friends, and the infinite versions of ourselves. I would follow Ophelia Rojas and her unforgettable friends anywhere." —Nina Moreno, author of Don't Date Rosa Santos and Our Way Back To Always

"Ophelia After All is a marvel—a clever and hilarious coming of age story with a beautifully beating heart. This is the novel you hug to your chest after you read the last page." —Brittany Cavallaro, New York Times-bestselling author of A Study In Charlotte

"Ophelia Rojas is the type of character that leaps off the page and directly into your heart—Ophelia After All is a queer delight through and through." —Leah Johnson, bestselling author of You Should See Me in a Crown

"Marie's debut YA novel adds more welcome queer and multiracial Latinx leading characters to the teens-coming-of-age canon. . .While this engaging story will especially resonate with individuals who share the protagonist's identities and who seek to see themselves reflected in the stories they read, Ophelia is highly relatable as a soulful and eccentric individual who tries to find her way and reclaim a clear sense of who she is." —Horn Book