Finlay Donovan Jumps the Gun: A Novel (The Finlay Donovan Series #3) (Hardcover)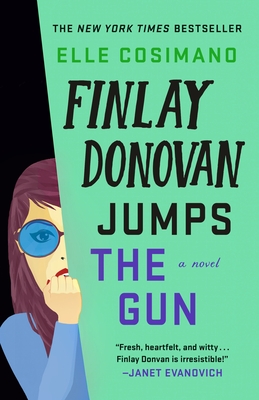 $26.99

Probably On Our Shelves Now! Wait for us to confirm availability.
Other Books in Series
This is book number 3 in the The Finlay Donovan Series series.
Description
---
AN INSTANT NEW YORK TIMES BESTSELLER!

From USA Today bestseller and Edgar Award nominee Elle Cosimano, comes Finlay Donovan Jumps the Gun—the hilarious and heart-pounding next installment in the beloved Finlay Donovan series.

"Fresh, heartfelt and witty, Finlay Donovan Jumps the Gun is a twisty page-turner, and its relatable heroine Finlay Donovan is irresistible!" —Janet Evanovich, #1 New York Times bestselling author of the Stephanie Plum series

Dating. Diapers. And dodging bullets. Who said single moms can't have fun?

Finlay Donovan has been in messes before—after all, she's an author and single mom who's a pro at getting out bloodstains for rather unexpected reasons—but none quite like this. She and her nanny/partner-in-crime Vero accidentally destroyed a luxury car that they "borrowed" in the process of saving Finlay's ex-husband. The Russian mob handled her debt, but that means Finlay now owes them.

Still running the show from behind bars, mob boss Feliks has a task for Finlay: find a contract killer before the cops do. Problem is, the killer might be an officer. Luckily, hot cop Nick has started up a citizen's police academy, so Finlay has the perfect cover-up to sleuth out the real criminal as she does some "research" for her new novel. Nick is more than happy to get close to Finlay, but he's also getting dangerously close to the truth.

As Finlay and Vero dodge potential spies and juggle the daily trials of parenting, they can only hope they find the crooked cop before Feliks catches up with them—not to mention revealing Vero's mysterious past, Nick's growing interest in Finlay, and the threat of her looming book deadline.
About the Author
---
ELLE COSIMANO is a New York Times and USA Today bestselling author, an International Thriller Writers Award winner, and an Edgar Award nominee. Elle's debut novel for adults, Finlay Donovan Is Killing It, kicked off a witty, fast-paced contemporary mystery series, which was a People magazine pick and was named one of New York Public Library's Best Books of 2021. The third book in the series, Finlay Donovan Jumps the Gun, was an instant New York Times bestseller. In addition to writing novels for teens and adults, her essays have appeared in HuffPost and Time. Cosimano lives with her husband and two sons in Virginia.
Praise For…
---
One of Amazon Book Review's "February Best of the Month in Mysteries and Thrillers"
One of CrimeReads' "Most Anticipated Crime Fiction of 2023"
One of Bookbub's "Winter's Most Anticipated Mysteries and Thrillers"
One of SheReads' "Most Anticipated Thrillers Coming in 2023"
One of Novel Suspects' "Most Anticipated Crime Fiction Coming in Early 2023"
One of CrimeReads' "Best Crime Novels of the Year (So Far): 2023"
One of BookRiot's "New Year New Mystery & Thrillers to Read in January"
One of Audible's "Editors Select: January 2023"
One of CrimeReads' "Sophomore Slays: Seven Killer Mystery Series Where Book Two is Even Better"
One of Library Journal's "Top Audiobooks for Crime Fiction Solvers"

"Fasten your seat belts . . . murder most madcap."—Kirkus Reviews

"Finlay's strong narrative voice carries the reader . . . This is good, fast fun."—Publishers Weekly

"The latest installment in Cosimano's Finlay Donovan series will undoubtedly have listeners rolling with laughter. An excellent recommendation for anyone pining for the next Stephanie Plum novel."—Library Journal

"A spiral staircase of imaginative twists and captivating characters, Finlay Donovan Jumps the Gun never disappoints. And Cosimano continues to burnish her bona fides as she runs the gamut from murder to mirth."—The Fredericksburg Free Lance-Star

"The girl power in this book is fierce and the comedy even fiercer. It's a don't-miss addition to the Finlay Donovan series!"—BookTrib

"Fresh, heartfelt and witty, Finlay Donovan Jumps the Gun is a twisty, page-turner, and its relatable heroine Finlay Donovan is irresistible!" —Janet Evanovich

"This series is magical! Every book lover in the world should be reading Finlay Donovan."—Christina Lauren, #1 New York Times bestselling author of Something Wilder

"Finlay Donovan remains the heroine of my heart. Murder and hot men while rocking a messy mom bun, yes please! Elle Cosimano writes fresh, funny mysteries that are an absolute blast to read."—Chandler Baker, New York Times bestselling author of Whisper Network

"It would be next to impossible to find another author who writes stories that are as thrilling as they are hilarious. By now, I love Finlay Donovan so much I would 100% hide a dead body for her." —Jesse Q. Sutanto, author of Dial A For Aunties

"The Finlay Donovan series is simply spectacular and always delightful! I adore everything about it—the humor, the screwball plotlines, the mysteries, and above all the cast: the friendship between Vero and Finlay is one for the ages, and Finlay's love life entertains me to no end. Elle Cosimano's books are the perfect blend of mystery and romcom, and I'm ready to follow Finlay wherever she goes!"—Ali Hazelwood, New York Times bestselling author of The Love Hypothesis

"Finlay Donovan Jumps the Gun is an edge-of-your-seat, fun, fast-paced, laugh-out-loud, sexy and smart novel." —Sophie Sullivan, author of Ten Rules For Faking It

"Cosimano's newest Finlay book is laugh out loud funny . . . a story of second chances, family and loyalty. Fact: If you're going to bury a body, you definitely want Finlay Donovan by your side."—Julie Clark, New York Times bestselling author of The Lies You Tell

"I've never laughed so much reading books about murder. Elle Cosimano's accidental hitwoman Finlay Donovan is a darkly hilarious, quick witted, and surprisingly relatable woman. You'll be amazed at how much fun you have reading this brilliant, funny mystery series from one of the best writers working today."—Jennifer Hillier, award-winning and USA Today bestselling author of Things We Do in the Dark and Little Secrets

"Sassy, ludicrous, sexy . . . Finlay Donovan Jumps the Gun is another great addition to this marvelous series. If you're a fan of crazy off-the-wall antics and hysterical comedy, sexy tension laden chemistry, and an outstanding who's-the-bad-guy mystery, [this] is for you! Highly recommended to anyone who enjoys highly entertaining mysteries."—Mystery and Suspense magazine

"This is the fast-paced caper mom-com series you need in your life."—CrimeReads