So Many Beginnings: A Little Women Remix (Remixed Classics #2) (Paperback)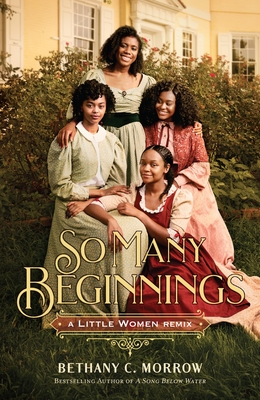 $11.99

Probably On Our Shelves Now! Wait for us to confirm availability.
Description
---
In the Remixed Classics series, authors from marginalized backgrounds reinterpret classic works through their own cultural lens to subvert the overwhelming cishet, white, and male canon. This powerful Little Women remix follows four young Black sisters coming of age during the American Civil War, reframing a much-beloved tale outside of its original, exclusively lily-white perspective.

North Carolina, 1863. As the American Civil War rages on, the Freedpeople's Colony of Roanoke Island is blossoming, a haven for the recently emancipated. Black people have begun building a community of their own, a refuge from the shadow of the "old life." It is where the March family has finally been able to safely put down roots with four young daughters:

Meg, a teacher who longs to find love and start a family of her own.

Jo, a writer whose words are too powerful to be contained.

Beth, a talented seamstress searching for a higher purpose.

Amy, a dancer eager to explore life outside her family's home.

As the four March sisters come into their own as independent young women, they will face first love, health struggles, heartbreak, and new horizons. But they will face it all together.

Praise for So Many Beginnings:

"Morrow's ability to take the lingering stain of slavery on American history and use it as a catalyst for unbreakable love and resilience is flawless. That she has remixed a canonical text to do so only further illuminates the need to critically question who holds the pen in telling our nation's story." —Booklist, starred review

"Bethany C. Morrow's prose is a sharpened blade in a practiced hand, cutting to the core of our nation's history. ... A devastatingly precise reimagining and a joyful celebration of sisterhood. A narrative about four young women who unreservedly deserve the world, and a balm for wounds to Black lives and liberty." —Tracy Deonn, New York Times-bestselling author of Legendborn

"A tender and beautiful retelling that will make you fall in love with the foursome all over again." —Tiffany D. Jackson, New York Times-bestselling author of White Smoke and Grown
About the Author
---
Bethany C. Morrow is a national bestselling author. Her young adult novels include A Song Below Water, A Chorus Rises, and the Little Women remix, So Many Beginnings, and she is editor/contributor to the young adult anthology Take The Mic, which won the 2020 ILA Social Justice in Literature award. Her adult novels include Mem, and the social horror, Cherish Farrah. Her work has been featured in The LA Times, Forbes, Bustle, Buzzfeed, and more. She is included on USA TODAY's list of 100 Black novelists and fiction writers you should read.
Praise For…
---
Praise for So Many Beginnings: A Little Women Remix

"Morrow's ability to take the lingering stain of slavery on American history and use it as a catalyst for unbreakable love and resilience is flawless. That she has remixed a canonical text to do so only further illuminates the need to critically question who holds the pen in telling our nation's story." —Booklist, starred review

"Morrow's nuanced take on what life was like for newly freed Black people at this time will prompt readers to reconsider the simplistic good vs. evil, North vs. South mythologies that characterize too many Civil War narratives. ... Alcott fans and newcomers alike will find much to appreciate in Morrow's sophisticated remix." —BookPage, starred review

"Impressive ... Via delicately written characterizations, each March woman exemplifies the notion that the wounds of bondage don't disappear simply because freedom is at hand, and the racist catalyst of enslavement doesn't disappear with the stroke of a pen, as a beloved story gains new meaning through the lens of enduring Black resilience, love, and hope." —Publishers Weekly, starred review

"Skillful ... Readers learn about the tenuous nature of Reconstruction, clashes between the newly emancipated and those born free, and the repatriation efforts of the American Colonization Society." —School Library Journal

"Bethany C. Morrow's prose is a sharpened blade in a practiced hand, cutting to the core of our nation's history. So Many Beginnings' reckonings with race reverberate across time to challenge not just the stories we've been told, but the voices who have told them. A devastatingly precise reimagining and a joyful celebration of sisterhood. A narrative about four young women who unreservedly deserve the world, and a balm for wounds to Black lives and liberty." —Tracy Deonn, New York Times-bestselling author of Legendborn

"A tender and beautiful retelling that will make you fall in love with the foursome all over again." —Tiffany D. Jackson, New York Times-bestselling author of White Smoke and Grown

"Bethany C. Morrow is reinvigorating the canon one book at a time—her work is a gift to us all. If there's one writer I trust to take on the iconic March sisters and make Black girls the center of their timeless story, it's her. This remix is a hit." —Leah Johnson, bestselling author of You Should See Me in a Crown

"Morrow is one of the most exciting voices in young adult literature today! So Many Beginnings is the most brilliant retelling of Little Women that I've ever encountered. Morrow transports her readers back in time so that we feel as if we are truly there. The pacing is perfect, the characterization is spot on, and the story leaps off the page. This is the kind of humanizing tale that I longed for as a child and tween immersed in the long-ago worlds of Louisa May Alcott and Lucy Maud Montgomery." —Ebony Elizabeth Thomas, World Fantasy Award-winning author of The Dark Fantastic: Race and the Imagination from Harry Potter to The Hunger Games

"So Many Beginnings may call itself a Little Women remix, but it's a Little Women revelation—an instant classic all its own. With tenderness, strength, and laugh-out-loud wit, Morrow's March sisters give unique voice to many often neglected historical moments and nuanced perspectives during the Civil War through a familiar lens: the incomparable bond of family and sisterhood. Fans of Little Women will appreciate the striking, creative new depths Morrow explored for these beloved characters, but any reader, regardless of how well they know the March sisters, will be deeply moved by this book." —Emma Lord, New York Times–bestselling author of You Have a Match and Tweet Cute

"An instant classic with the boundless warmth, wisdom and heart of the story it revisits and reframes. Morrow makes it impossible not to fall in love with the March family all over again." —Laura E. Weymouth, author of The Light Between Worlds

"Beautifully written and utterly vital." —Nerdist

"Readers who want to see much more Black joy in historical fiction will be richly rewarded. ... Brilliantly combines the escapism and relatability of a YA coming-of-age novel with the necessary work of reclaiming narratives and perspectives previously erased from the American literary canon." —Den of Geek

Praise for A Song Below Water:

"Morrow expertly and smartly explores race, bigotry, oppression, and injustice against a backdrop of ordinary life with a dose of the supernatural added to the mix. ... A Song Below Water is a must-read for lovers of fantasy and contemporary stories alike." —Booklist, starred review

"Morrow has deftly woven a contemporary tale with mythical elements to take on the invisibility and marginalization of Black women, touching on issues such as misogynoir, body image, social justice, and generational trauma. ... Empowering and innovative. ... Morrow elevates mermaids and sirens to ­legitimate and compelling vanguards for social change." —School Library Journal

"How the many different plot points come together, along with a startling family mystery, a terrifying nightmare from the past, and bullying that goes way too far, is what makes A Song Below Water a book of the highest literary quality that stands far above others in the field. ... In as much as A Song Below Water is thrilling and intense and utilizes truly gorgeous language, I found it to also be a tender and somewhat wistful novel." —Locus

"From sirens to mermaids to sprites and gargoyles, the magic is familiar—but different enough to be exciting. Morrow ... tackles anti-Blackness and white supremacy head-on, while still giving Tavia and Effie the space to be realistic, flawed teenagers. ... In this magic-infused version of America, having a voice is literally a superpower—a powerful message for the times we're living in." —NPR

"A watery and melodic crossroads of the real and the mythic, A Song Below Water lures readers with its seductive and beautifully Black siren song. An enthralling tale of Black girl magic and searing social commentary ready to rattle the bones." —Dhonielle Clayton, New York Times-bestselling author of The Belles series