Dark Testament: Blackout Poems (Hardcover)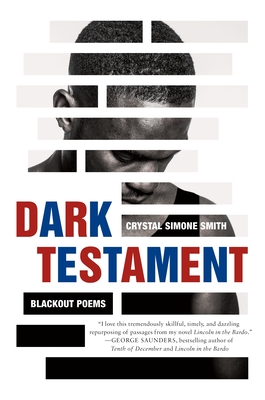 $19.99

Probably On Our Shelves Now! Wait for us to confirm availability.
Description
---
In this extraordinary collection, the award-winning poet Crystal Simone Smith gives voice to the mournful dead, their lives unjustly lost to violence, and to the grieving chorus of protestors in today's Black Lives Matter movement, in search of resilience and hope.

With poems found within the text of George Saunders's Lincoln in the Bardo, Crystal Simone Smith embarks on an uncompromising exploration of collective mourning and crafts a masterwork that resonates far beyond the page. These poems are visually stark, a gathering of gripping verses that unmasks a dialogue of tragic truths—the stories of lives taken unjustly and too soon.

Bold and deeply affecting, Dark Testament is a remarkable reckoning with our present moment, a call to action, and a plea for a more just future.

Along with the poems, Dark Testament includes a stirring introduction by the author that speaks to the content of the poetry, a Q&A with George Saunders, and a full-color photo-insert that commemorates victims of unlawful killings with photographs of memorials that have been created in their honor.

"I love this tremendously skillful, timely, and dazzling repurposing of passages of my novel, Lincoln in the Bardo. Crystal Simone Smith has, with her amazing ear and heart, found, in that earlier grief, a beautiful echo for our time." —George Saunders, New York Times bestselling author of Lincoln in the Bardo and Tenth of December

"Written in response to the murder of George Floyd...this touching memorial to the Black lives lost to systemic racism is a rousing homage to those protesting in their honor, who refuse to let these deaths be in vain." - Publisher's Weekly
About the Author
---
Crystal Simone Smith is a poet, indie-publisher, and educator. She is the author of three poetry chapbooks, Down To Earth (2020), Running Music (2014), and Routes Home (2013). She co-authored, One Window's Light, A Collection of Haiku, edited by Lenard D. Moore (2017), which won the Haiku Society of America's Merit Book Award for Best Haiku Anthology. In 2019, she won the North Carolina Poetry Society Bloodroot Haiku Award. Her work has appeared in numerous journals including Prairie Schooner, POETRY Magazine, Crab Orchard Review, Frogpond, and Modern Haiku. In 2020, she received a Duke University Humanities Unbounded Fellowship. She writes poetry about the human condition and social change.
Praise For…
---
"I love this tremendously skillful, timely, and dazzling repurposing of passages of my novel, Lincoln in the Bardo. Crystal Simone Smith has, with her amazing ear and heart, found, in that earlier grief, a beautiful echo for our time." — George Saunders, New York Times-bestselling author of Lincoln in the Bardo and Tenth of December

"How profoundly fitting that these elegies for lost sons and daughters be structured as subtractive blackout poems. Crystal Smith has created a collection not only reflective of our grief but worthy of our loss."
— Carole Boston Weatherford, Coretta Scott King Award winner for Unspeakable: The Tulsa Race Massacre.

"Crystal Simone Smith is one of the most vibrant, clear-eyed, and gifted poets writing today, and Dark Testament could not be a more necessary or important response to the fractured world in which we find ourselves. Smith shines a light and raises her bright voice, one that connects history to the present—timelessness and timeliness—and gives us the gift of remembering these harrowing losses, these beautiful lives. She testifies, and I can't wait to hear a chorus of amens sung in response."
— Haven Kimmel, #1 New York Times-bestselling author of A Girl Named Zippy, Orville: A Dog Story, and Kaline Klattermaster's Treehouse

"From the wellspring of a fictional text on Abraham Lincoln, poet Crystal Simone Smith emancipates words, phrases, and snatched-up lines to celebrate the tragic lives of those enslaved by racism, stupidity, and the brutal reality of the system of American policing that can be to Black and Brown alike a Dante's hell. These trigger(ed)-collages, excavated from an existing text, teach us that language like breathing belongs to everyone, and its elasticity is as resilient and tenuous as Blackness and being. Dark Testament is a multi-layered, symphonic meditation-conversation breathing life into what we witness and must remember. What Smith carves from these black-and-white found erasures etches its way into the (un)conscious/conscience of a nascent nation still grappling with its original sin."
— Tony Medina, poet and author of I Am Alfonso Jones and Thirteen Ways of Looking at a Black Boy

"It has never been the case that death has no voice. And these poems, by Crystal Simone Smith, remind us of this—making the case not just that the memories of Trayvon Martin, Freddie Gray, and Oscar Grant matter, but that they might say of the world is always far more nuanced and complicated than we might imagine. What Smith has been able to do with these poems is compelling."
— Reginald Dwayne Betts, lawyer and poet, author of A Question of Freedom: A Memoir of Learning, Survival, and Coming of Age in Prison and Felon

"Smith's clever use of blackout poetry works as a visual counterpart for the book's themes surrounding resistance against erasure while examining the close-knit bonds between family members and their deceased loved ones, such as Trayvon Martin and his mother in "Sybrina Fulton", and serving as appeals to lawmakers, as in "Mr. Politician" ("We are/ angry,/ our hopes/ dead")." — Publisher's Weekly

"A compelling and thoughtful read, and a great introduction to blackout poetry." — School Library Journal

"Beautiful, thought-provoking, and sometimes haunting, this erasure poetry speaks of tragedies and violence that are all-too common in Black communities and the anger that accompanies their presence." — School Library Journal