Ultimate Sketch Challenge (Pokémon) (Hardcover)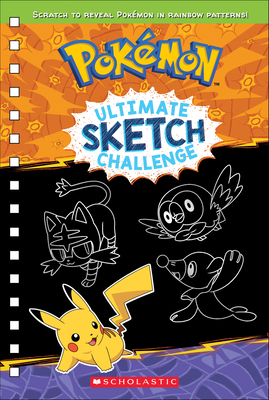 $12.99

Usually Ships Within a Week
Description
---
Gotta draw 'em all! Dozens of kids' favorite Pokémon are hiding in this Scratch and Sketch book. Children can use the stylus to reveal classic characters like Pikachu, plus new pals from Sun & Moon.Can you find your favorite Pokémon? They're all hiding in this cute Scratch and Sketch book! Kids can use the stylus (included) to scratch and reveal new and classic characters like Pikachu, Bulbasaur, Charmander, Squirtle, Rowlet, Litten, Popplio, and more. Then they can create their own cool Pokémon designs!
About the Author
---
Maria S. Barbo is the author of more than 35 books for young readers, including the original 1999 #1 New York Times bestselling Official Pokémon Handbook. She has also been an editor, an art teacher, and a painter. When she is not working on stories, she can be found playing soccer or biking to the beach. Maria lives in New York City.
Scholastic Inc. is a global publishing and education company whose mission is to encourage the intellectual and personal growth of all children, beginning with literacy.