Murder Your Employer: The McMasters Guide to Homicide (Hardcover)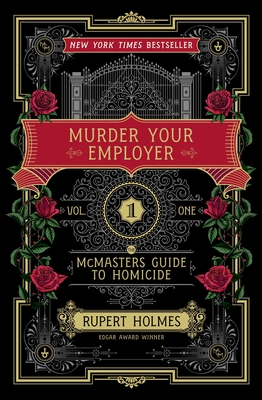 $28.00

Probably On Our Shelves Now! Wait for us to confirm availability.
Staff Reviews
---
Here's the perfect book for all of you who enjoyed The Thursday Murder Club!  Follow three students as they matriculate at the renowned, but unknown, McMasters Conservatory to learn the fine art of deletion, a polite euphemism for murder, before being sent back into the world for their final exams which will determine whether they graduate... or not. Cheeky dialogue, great word play, and just plain, plain fun, makes this the perfect book to while away the hours with.
— Pete
March 2023 Indie Next List
---
"Dastardly, devious, and utterly delightful! Welcome to The McMaster's Conservatory for The Applied Arts, a unique school that teaches you to get away with murder. Prepare to be thoroughly entertained! A unique, original and fun read."
— Maxwell Gregory, Madison Street Books, Chicago, IL
Description
---
A New York Times bestseller! From Edgar Award–winning novelist, playwright, and story-songwriter Rupert Holmes comes a diabolical thriller with a killer concept: The McMasters Conservatory for the Applied Arts, "a fantasy academy laid out like a combination of Hogwarts, Downton Abbey, and a White Lotus–style resort" (Los Angeles Times) dedicated to the art of murder where students study how best to "delete" their most deserving victim.

Who hasn't wondered for a split second what the world would be like if a person who is the object of your affliction ceased to exist? But then you've probably never heard of The McMasters Conservatory, dedicated to the consummate execution of the homicidal arts. To gain admission, a student must have an ethical reason for erasing someone who deeply deserves a fate no worse (nor better) than death. The campus of this "Poison Ivy League" college—its location unknown to even those who study there—is where you might find yourself the practice target of a classmate…and where one's mandatory graduation thesis is getting away with the perfect murder of someone whose death will make the world a much better place to live.

Prepare for an education you'll never forget. A "fiendishly funny" (Booklist) mix of witty wordplay, breathtaking twists and genuine intrigue, Murder Your Employer will gain you admission into a wholly original world, cocooned within the most entertaining book about well-intentioned would-be murderers you'll ever read.
About the Author
---
Rupert Holmes has received two Edgar Awards from the Mystery Writers of America, and multiple Tony® and Drama Desk Awards for his Broadway mystery musicals, including the book of Curtains and his sole creation, the Tony® Award–winning Best Musical The Mystery of Edwin Drood. His first novel, Where the Truth Lies, was nominated for a Nero Wolfe award for Best American Mystery Novel, was a Booklist Top Ten Debut Novel, and became a motion picture starring Colin Firth and Kevin Bacon. His second novel, Swing, was the first novel with its own original, clue-bearing musical score. He has adapted Agatha Christie, John Grisham, and R.L. Stine for the Broadway and international stage. His short stories have been anthologized in such collections as Best American Mystery Stories, Christmas at the Mysterious Bookshop, and On a Raven's Wing. Holmes's earliest story-songs were published in Ellery Queen's Mystery Magazine and he is also the writer/vocalist of several Billboard Top 10 hits, including his Billboard #1 multi-platinum classic with a memorable twist-ending: "Escape (The Pina Colada Song)."
Praise For…
---
"Holmes is a gifted wordsmith whose latest is a top-notch read that both entertains and amuses. . . . Delightfully wicked . . . An amusing and cheeky tale with excellent pacing replete with droll observations." —Library Journal (starred review)

"If the illustrations of Edward Gorey came to life, they would be in the same neighborhood as this 'Poison Ivy League' college. . . . Although this beautifully designed DIY manual is full of twists, the emphasis is on comedy . . . but the extraordinary Holmes can pull the heartstrings too. . . . You will love this gigglesome guide to the graves of academe." —The Times (London)

"How has no one thought of this before? Murders set at an imaginary academy set up to train murderers . . . Holmes delights in wordplay that includes puns, literary terms, cultural references, and twists. . . . As Holmes takes hairpin turns from irony back to sincerity for his three McMasters pupils, his zany storytelling will delight fans of The Twyford Code by Janice Hallett, all Sherlock Holmes stories, and even those who love tales of arcane and Gothic institutions." —Bethanne Patrick, NPR

"A funny, fast-paced, flip-the-playbook mystery in which three ordinary citizens are trained in murder on a luxurious hidden estate . . . a fantasy academy laid out like a combination of Hogwarts, Downton Abbey, and a White Lotus–style resort. . . . Holmes can clearly do anything." —The Los Angeles Times

"A delightful introduction to the McMasters Conservatory . . . To better understand McMasters, consider it the Harvard of Homicide, the Stanford of Stabbing, or the Princeton of Poisoning. . . . Holmes' newest novel is a satirical masterpiece. His wry wit and sarcastic sense of humor are on full display. As a mystery writer, Holmes executes misdirection expertly, leading the reader in several directions at once. His stabbing commentary on academia is cut-throat. Holmes kills it in this entertaining tale. For readers looking for a fast and fun book that will slay your funny bone, check out Murder Your Employer. All puns intended." —Portland Book Review

"Edgar winner Holmes frames this cheeky 1950s-set crime novel as a self-study guide for those who can't afford tuition to the McMasters Conservatory for the Applied Arts, a 'finishing school for finishing people off' . . . [the] farcical plotting, idiosyncratic characters, and witty, stylish prose combine for a fun, frothy read. Fans of humorous historical fiction will be well entertained." —Publishers Weekly

"Highly entertaining . . . This clever novel imparts revelations from the clandestine McMasters Conservatory, which provides students of all ages with a well-rounded education on the necessary skills to complete their 'final thesis' . . . Warning: readers could die laughing." —Shelf Awareness

"Mega-talented Rupert Holmes has mastered just about every entertainment genre with the awards to prove it. . . . Holmes dips back into the mystery genre with the droll, tongue-in-cheek Murder Your Employer: The McMasters Guide to Homicide . . . [turning] the genre upside down by making us root for the killers. . . . The brisk plot smoothly stays on point while Holmes adds bits of farce, quirky characters and a style and sense of place that evoke the 1950s. Murder Your Employer is enhanced with illustrations by Anna Louizos, who designed the sets for the Broadway production of the musical Curtains." —Sun-Sentinel (Ft. Lauderdale)

"This will be one of the funniest books of the year." —CrimeReads, "Most Anticipated Crime Fiction of 2023"

"A case study in the droll amusements of homicide, Rupert Holmes's send-up of higher education and even higher crimes and misdemeanors will keep you up at night—alternately turning pages and checking to make sure the front door is locked." —Gregory Maguire, author of Wicked

"With dry humor and an eye for hidden clues, Rupert Holmes imagines a secret Hogwarts-like school that teaches the fine art of pulling off the perfect (and perfectly deserved) murder. An utterly creative and deliciously diabolical read." —Alafair Burke, New York Times bestselling author of Find Me

"A college with a degree in Homicide? Only Rupert Holmes could make murder laugh-out-loud funny. This book isn't clever—it's fiendishly clever. And the twists and tricks and endless surprises make me want to sign up for another semester!" —R.L. Stine, author of Goosebumps and Fear Street