Love, Mom and Me: A Mother and Daughter Keepsake Journal (Paperback)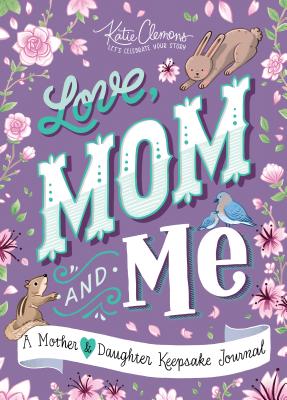 $14.99

Usually Ships Within a Week
Description
---
A must-have shared mother-daughter journal for the pair who are seeking a thoughtful, creative way to connect with one another. With thoughtful prompts, coloring pages, challenges, and free creative space, this is the perfect love-filled gift!
This engaging prompt journal is the perfect tool to build mother-daughter relationships. Kids can record memories, swap stories, compare perspectives, and explore common and unique interests with their moms! Interactive lists and letters back and forth invite both mom and daughter to reflect, write, and doodle about topics timely to their lives as kids, build self-confidence, and improve their penmanship.
With Love, Mom and Me, together you and your child will:
Answer Thought Provoking Questions: What are your thoughts on kindness? What would we do if we had the whole day together with no work of chores?
Record Memories: One of my favorite traditions is; our favorite thing about the season is...
Compare Perspectives: What were you like when you were my age? Do you ever feel pressured or uncomfortable about anything online?
From mother to daughter and back, let's share our dreams, our favorite traditions, and our most cherished moments. And while we're writing, drawing, and collecting our stories, we'll make new memories. Together. This is the story of You & Me and it all begins here...
About the Author
---
Katie Clemons is an avid storycatcher, mom, and fifth generation Montanan whose super power is asking questions. Her mission—Let's celebrate your story!—began in elementary school when Katie craved a consistent, fun way to capture and write her stories. Today, she's a No. 1 bestselling author who's shared her story on HGTV's "You Live in What?," given a TEDxTalk, created a storycatching community, and received numerous awards and press for her innovative approach to journaling. Katie and her journals have been featured by media outlets such as The Wall Street Journal, Huffington Post, Good Housekeeping and Pregnancy and Newborn.
Katie's work helps both children and adults celebrate their life stories and nurture deeper bonds with their families while finding greater joy and gratitude. Find Katie and share her storycatching discoveries at www.katieclemons.com or @katierclemons on social media.
Praise For…
---
"I purchased this for my 8 year old daughter... She loved the idea of it, and we started filling it out... I would definitely recommend this book, especially for moms of the 'tween' age" — Amazon Reviewer

"I bought two of these for my 9 and 11-year-old girls. They love doing these... My girls love finding them and seeing what I have written. It's a great way to connect with daughters of all ages" — Amazon Reviewer

"My daughter and I absolutely love this book! I will be definitely be buying this again as my younger daughters get older!" — Amazon Reviewer

"I bought this for my seven year old daughter. She loves it so much!" — Amazon Reviewer

"My daughter and I are loving this journal! She's always been distant and often didn't come to us when she's struggling. This is helping us become closer and her to open up about how she's feeling." — Amazon Reviewer

"This is such a great journal to do with my daughter! We have had a great time so far and it has become a special activity" — Amazon Reviewer

"My nine year old loved this journal. It's been a nice thing for just the two of us to share together" — Amazon Reviewer