Pinocchio: The Tale of a Puppet (Paperback)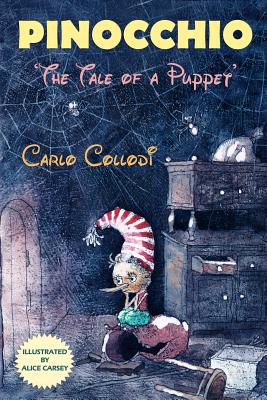 $12.99

Usually Ships Within a Week
This title is a nonreturnable book, so please make sure it is the right one!
Description
---
There was once upon a time a piece of wood in the shop of an old carpenter named Master Antonio. Everybody, however, called him Master Cherry, on account of the end of his nose, which was always as red and polished as a ripe cherry. No sooner had Master Cherry set eyes on the piece of wood than his face beamed with delight, and, rubbing his hands together with satisfaction, he said softly to himself: "This wood has come at the right moment; it will just do to make the leg of a little table." He immediately took a sharp axe with which to remove the bark and the rough surface, but just as he was going to give the first stroke he heard a very small voice say implor-ingly, "Do not strike me so hard " He turned his terrified eyes all around the room to try and discover where the little voice could possibly have come from, but he saw nobody He looked under the bench-nobody; he looked into a cupboard that was always shut-nobody; he looked into a basket of shavings and sawdust-nobody; he even opened the door of the shop and gave a glance into the street-and still nobody. Who, then, could it be?
About the Author
---
Carlo Lorenzini, better known by the pen name Carlo Collodi (1826 -1890), was an Italian children's writer known for the world-renowned fairy tale novel The Adventures of Pinocchio. Life: Collodi was born in Florence, on November 22, 1826. Although he was born in Florence, he spent most of his childhood in a town called Collodi where his mother was born. His mother was a farmer's daughter and his father was a cook. He had 10 other siblings but 7 died at a young age. During the Italian wars of Independence in 1848 and 1860 Collodi served as a volunteer with the Tuscan army. His active interest in political matters may be seen in his earliest literary works as well as in the founding of the satirical newspaper Il Lampione. This newspaper was censored by order of the Grand Duke of Tuscany in 1849 but re-emerged in May 1860. Lorenzini had won fame as early as 1856 with his novel In vapore and had also begun intense activity on other political newspapers such as Il Fanfulla; at the same time he was employed by the Censorship Commission for the Theatre. During this period he composed various satirical sketches and stories (sometimes simply by collating earlier articles), including Macchiette (1880), Occhi e nasi (1881), Storie allegre (1887). In 1875, he entered the domain of children's literature with Racconti delle fate, a translation of French fairy tales by Perrault. In 1876 Lorenzini wrote Giannettino (inspired by Alessandro Luigi Parravicini's Giannetto), the Minuzzolo, and Il viaggio per l'Italia di Giannettino, a series which explored the re-unification of Italy through the ironic thoughts and actions of the character Giannettino. Lorenzini became fascinated by the idea of using an amiable, rascally character as a means of expressing his own convictions through allegory. In 1880 he began writing Storia di un burattino ("The story of a marionette"), also called Le avventure di Pinocchio, which was published weekly in Il Giornale per i Bambini (the first Italian newspaper for children).