Thankful (Hardcover)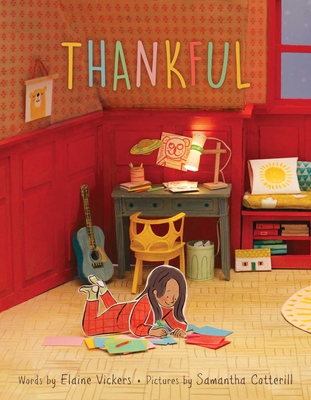 $18.99

Probably On Our Shelves Now! Wait for us to confirm availability.
Staff Reviews
---
The detail in this book! The poetry! The lovely family tradition!! What a special story for Fall and Winter, or to help you remember what you are grateful for. I love that this story is heartwarming and inspiring, but also holds space for our differences and hardships.
— Johanna
Description
---
Stunning, diorama illustrations bring to life this "wonderfully evocative" (BookPage) lullaby of a picture book about celebrating everyday things that make life wonderful.

I am thankful for a home where I am safe and warm.
Thankful for parents who read me stories and comb my hair gently, gently.
Who whisper the same poem every night when they tuck me in.

When the first snow falls, a little girl writes down the things she's thankful for on strips of paper and links them together. As one idea leads to another, her chain grows longer. There's so much good in her life: a friend, things that are warm, things that are cold, color, things that can be fixed. This beautiful story is a much-needed reminder to observe and honor life's small joys.
About the Author
---
Elaine Vickers is the author of the middle grade novels Like Magic and Paper Chains, which have received starred reviews, Whitney Award nominations, Mighty Girl's Book of the Year picks, PJ Library licenses, and sold translations in four languages. She is also the author of the forthcoming YA novel, Fadeaway, and picture books Thankful and How to Make a Memory. In her non-writing life, Elaine teaches college chemistry. She lives with her family in Utah.

Samantha Cotterill has written and illustrated many popular books for children, including the Little Senses series, Thankful by Elaine Vickers, A Grand Day by Jean Reidy, Look by Gabi Snyder, Jinx and the Doom Fight Crime! by Lisa Mantchev, and Just Add Glitter by Angela DiTerlizzi, which The New York Times called "a sparkle of genius." Samantha lives with her family in upstate New York. Learn more at SamanthaCotterill.com.
Praise For…
---
A child enumerates all the things to be thankful for throughout the year.

At the beginning of each year, a child starts making a "thankful chain" to last through December, writing on each paper link something to give thanks for. As the child moves through the daily routines, there are many things to be thankful for, both at home and out and about. Though the sentiment is worthy, the text feels more adult-driven than childlike. It is hard to imagine a young child expressing thanks for "love and dreams, night and morning. For a moon and sun that always come back" or saying, "I am thankful for a heart that beats, and every breath, in and out." Nevertheless, the book could be used as a springboard to help children notice, appreciate, and enjoy the small gifts of life. The illustrations for the book are hand-built 3-D dioramalike sets, made from paper and cardboard, that are quite remarkable. Charming, engaging, and chock-full of little details, they will transfix readers. The family—mother, father, infant sibling, and the narrator—appears to be an interracial one. Mother and children have dark hair and olive skin; the father present White. They and other characters are represented as paper cutouts, drawn with lively lines and colored, then collaged into the scenes. (This book was reviewed digitally.)

A visual delight, best used to motivate appreciation of the world around us. (Picture book. 4-8)
— Kirkus Reviews

"Every year when the first snow falls, we make thankful chains to last us through December," explains the narrator of Thankful. She is stretched out on her bedroom floor, surrounded by a halo of colorful construction paper, hard at work transforming it into a paper chain. As she lists the things for which she is thankful, readers glimpse scenes of her life with her parents, new sibling and pet dog, at her school and with her friends.



Author Elaine Vickers' text is wonderfully evocative. The girl's list includes concrete and sensory observations, such as gratitude for "the spot under the covers where someone has just been sleeping" and "a cloth on my forehead when I feel sick." In a humorous beach scene, the girl reflects that she is thankful "for wind and sand—but not at the same time."



Readers will be entranced by Samantha Cotterill's outstanding and unique art. To create her illustrations, Cotterill creates miniature 3D interiors, populates them with cutout characters, then photographs each diorama. She includes charming details, including real lights in various rooms and shining car headlights, along with construction paper chains so realistic in appearance that you'll feel you could almost touch them. Colorful and original, Thankful will spark young readers to create their own thankful chains—and may inspire them to try their hand at making diorama art, too.
— BookPage