I Want to Be a Vase (Hardcover)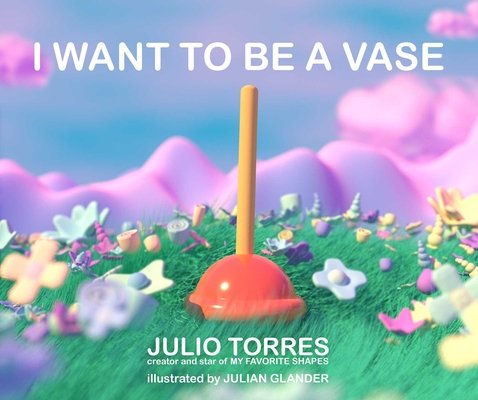 $18.99

Usually Ships Within a Week
Description
---
Former SNL writer and comedic rising star Julio Torres takes readers on a journey through the lives and intimate dramas of some of the unsung shapes of our time in this picture book inspired by his HBO special My Favorite Shapes.

Shapes. You've heard of them. You might have even interacted with a few. But do you really know them? From plucky Plunger, who wishes to defy his shape and become a beautiful vase, to other household objects with dreams of a life beyond their predestined roles, I Want to Be a Vase takes readers on an essential and visually stunning journey through the lives and intimate dramas of often-overlooked household appliances.
About the Author
---
Julio Torres is a comedian, the creator of the HBO special My Favorite Shapes, and has written for Saturday Night Live. He's also one of the masterminds behind Los Espookys, HBO's Spanish-language comedy about a group of horror enthusiasts. Visit him on Instagram @SpacePrinceJulio.

Julian Glander is a 3D animator, designer, and illustrator. Mostly self-taught, he has created work for Disney, Cartoon Network, Nickelodeon, Adult Swim, and The New York Times. He is also the creator of the video game Art Sqool and the squishy comics collection 3D Sweeties. Visit him at Glander.co.
Praise For…
---
"I love this strange and brilliant book, which made me identify with a toilet plunger."
—Mindy Kaling, #1 New York Times bestselling author

"If I were a book, I'd want to be the I Want to Be a Vase book! Funny, charming, and a great read-aloud for kids of any age!"
—Melissa de la Cruz, #1 New York Times bestselling author

"I'm deeply jealous of all the children who get to read this book. This is my villainous origin."
—Aidy Bryant, actor, Saturday Night Live and Shrill

"This book is such a delicious feast for the eyes. It makes me want to be a refrigerator so I can store the leftovers!"
—Bowen Yang, actor, Saturday Night Live

"This brightly colored picture book by comedian Julio Torres is a feast for the eyes . . . Offbeat and engaging, I Want to be a Vase encourages kids to follow their dreams no matter their size, shape, or what the world has predetermined they should be."
— Entertainment Weekly

* "A toilet plunger yearns to be a vase in Torres's moving object lesson of identity and purpose. . . . It's a thoughtful and broadly applicable fable with saturated, 3-D-style art by Glander, which takes readers throughout the house."
— Publishers Weekly, Starred Review

"Luminous, eye-catching 3-D illustrations appear like stills of stop-motion animation, treating perspectives of the household objects like people. For the right age group, this is a hilarious read-aloud that begs for strong voice ­performance for each character's distinct personality. . . . An enthusiastic dialogue between vividly rendered household objects ultimately triggers sincere affirmation about being whatever you want to be."
— School Library Journal

"The premise is odd but comical and certainly original; children will giggle contemplating different uses for everyday gadgets. Kids are great at pretending and playing imaginative games, so they won't have trouble buying into the whimsy on offer. They'll appreciate the reassuring, empowering message to be who you are if that makes you happy, and the collaboration and acceptance themes will resonate. The colorful digital illustrations, featuring dollhouselike miniatures representing common household goods, are very appealing. . . . Great for stimulating creative thinking and art activities: What else can ordinary objects be?"
— Kirkus Reviews