The Other Talk: Reckoning with Our White Privilege (Paperback)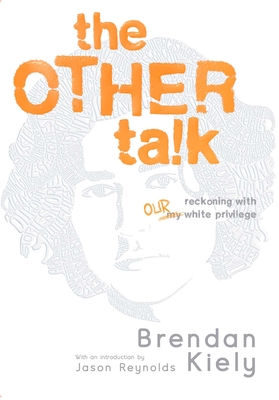 $12.99

Probably On Our Shelves Now! Wait for us to confirm availability.
Description
---
A School Library Journal Best Book of the Year

Award-winning and New York Times bestselling author Brendan Kiely starts a conversation with white kids about race in this "well-executed and long overdue" (Kirkus Reviews, starred review) introduction to white privilege and why allyship is so vital.

Talking about racism can be hard, but...

Most kids of color grow up doing it. They have "The Talk" with their families—the honest talk about survival in a racist world.

But white kids don't. They're barely spoken to about race at all—and that needs to change. Because not talking about racism doesn't make it go away. Not talking about white privilege doesn't mean it doesn't exist.

The Other Talk begins this much-needed conversation for white kids. In an instantly relatable and deeply honest account of his own life, Brendan Kiely offers young readers a way to understand one's own white privilege and why allyship is so vital, so that we can all start doing our part—today.
About the Author
---
Brendan Kiely is the New York Times bestselling author of All American Boys (with Jason Reynolds), Tradition, The Last True Love Story, and The Gospel of Winter. His most recent book is The Other Talk: Reckoning with Our White Privilege. His work has been published in over a dozen languages, and has received the Coretta Scott King Author Honor Award, the Walter Dean Meyers Award, and ALA's Top Ten Best Fiction for Young Adults. A former high school teacher, he is now on the faculty of the Solstice MFA Program. He watches too much basketball and reads too many books at the same time, but most importantly, he lives for and loves his wife and son. Find out more at BrendanKiely.com.

Jason Reynolds is a #1 New York Times bestselling author, a Newbery Award Honoree, a Printz Award Honoree, a two-time National Book Award finalist, a Kirkus Award winner, a UK Carnegie Medal winner, a two-time Walter Dean Myers Award winner, an NAACP Image Award Winner, an Odyssey Award Winner and two-time honoree, the recipient of multiple Coretta Scott King honors, and the Margaret A. Edwards Award. He was also the 2020–2022 National Ambassador for Young People's Literature. His many books include All American Boys (cowritten with Brendan Kiely); When I Was the Greatest; The Boy in the Black Suit; Stamped; As Brave as You; For Every One; the Track series (Ghost, Patina, Sunny, and Lu); Look Both Ways; Stuntboy, in the Meantime; Ain't Burned All the Bright (recipient of the Caldecott Honor) and My Name Is Jason. Mine Too. (both cowritten with Jason Griffin); and Long Way Down, which received a Newbery Honor, a Printz Honor, and a Coretta Scott King Honor. He lives in Washington, DC. You can find his ramblings at JasonWritesBooks.com.
Praise For…
---
Well-executed and long overdue.
— Kirkus *STARRED REVIEW*

A heartfelt, motivating, and necessary call to action.
— Booklist *STARRED REVIEW*

"There have been many calls to action; [this] is a mighty, necessary response"
— — Renée Watson, Newbery Honor recipient and Coretta Scott King Award-winning author of Love is a Revolution

"A clarion call to action, a call to love, to do better for ourselves, our neighbors, and our nation"
— — Samira Ahmed, New York Times bestselling author of Internment

"This is the book for all the white folks who asked 'How do I talk to my kids/students about racism?'"
— — Joanna Ho, New York Times bestselling author of Eyes that Kiss in the Corners

"The kind of candor that challenges young people at the door, but also welcomes them inside."
— — Olivia A. Cole, critically acclaimed author of The Truth about White Lies

"Accessible and timely. It's time for white people to talk to each other about racism…"
— — Julie Murphy, #1 New York Times bestselling author of the Dumplin' series

"The Other Talk is the conversation that white people should have had with each other long ago. This book is LONG OVERDUE. For those who have been unable to confront the truth about what whiteness is and how it is lived, Brendan Kiely offers a supportive, accessible, and necessary late pass. This book is not just an opportunity to school yourself. It is a rare chance to truly free yourself."
— — Cornelius Minor, nationally renowned educator and author of We Got This: Equity, Access, and the Quest to Be Who Our Students Need Us to Be.

"Brendan tells the truth. It is as simple as that--and as complicated. In my 20 years of teaching youth about whiteness and white privilege, I have often found it challenging to be honest with myself and my students without being met with resistance. frustration and, sometimes, anger. Brendan offers us a way into "The Other Talk" with grace, patience, honesty, and vulnerability."
— — Keith Newvine, educator and scholar.

"Can a nonfiction book about race be a heart-pounding page-turner? The Other Talk sure is."
— — Adam Gidwitz, bestselling author of the Newbery honoree The Inquisitor's Tale

"An urgent call for white teens to listen, reflect, speak up, and join the fight for justice."
— — Randy Ribay, author of the National Book Award finalist Patron Saints of Nothing

"[This book] invites readers to enter the difficult conversation of race without blame and instead focuses on the necessary conversations that are needed for real change to happen."
— — Ellen Oh, author of Finding Junie Kim and cofounder of We Need Diverse Books

"The Other Talk invites readers to an honest conversation that is uncomfortable, messy, and absolutely necessary."
— — Minh Lê, early care and education policy expert and critically acclaimed author of Drawn Together

"Compelling, riveting, emotionally stirring--Brendan Kiely gives us a critical tool for consciousness raising and freedom dreaming. Read this, then read it again, then talk about it with those you know and love."


— — Julia E. Torres, nationally acclaimed educator, scholar, and librarian.

"For all of us who have wrestled with our own whiteness and have asked, what can I do about racial injustice? This is the book we've been waiting for. Teachers, young people, their families, and school communities will find hope and humility in Brendan's book. It offers us practical ways to talk with each other about and move beyond the fear that paralyzes us in doing this work, and it gives us the strength of a larger community committed to having this other talk."
— — Sarah Fleming, PhD, educator and scholar

This approachable memoir and guide, comprising Kiely's own experiences relating to race and allyship, is a welcome tool to help facilitate conversations with white teenagers about white privilege, and the ongoing journey to become effective allies to those in the "Global Majority," on both a personal and systemic level.
— Publishers Weekly *STARRED REVIEW*

A compelling call to action that belongs in all collections serving middle and high school students.
— School Library Journal, *STARRED REVIEW*