Windows (Paperback)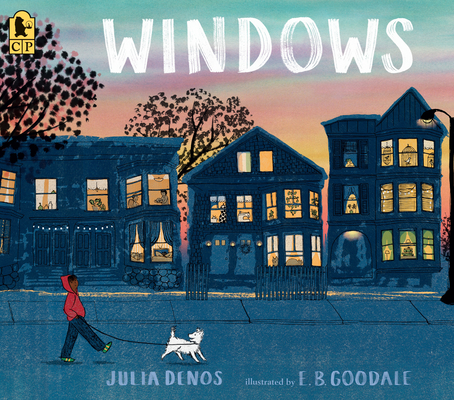 $7.99

Probably On Our Shelves Now! Wait for us to confirm availability.
Description
---
Walking his dog at dusk, one boy catches glimpses of the lives around him in this lovely ode to autumn evenings, exploring your neighborhood, and coming home.

Before your city goes to sleep, you might head out for a walk, your dog at your side as you go out the door and into the almost-night. Anything can happen on such a walk: you might pass a cat, or a friend, or even an early raccoon. And as you go down your street and around the corner, the windows around you light up one by one until you are walking through a maze of paper lanterns, each one granting you a brief, glowing snapshot of your neighbors as families come together and folks settle in for the night. With a setting that feels both specific and universal and a story full of homages to The Snowy Day, Julia Denos and E. B. Goodale have created a singular book — at once about the idea of home and the magic of curiosity, but also about how a sense of safety and belonging is something to which every child is entitled.
About the Author
---
Julia Denos is the illustrator of several books for children, including Grandma's Gloves by Cecil Castellucci and Just Being Audrey by Margaret Cardillo. She is also the author-illustrator of Swatch: The Girl Who Loved Color. Julia Denos lives in Quincy, Massachusetts.

E. B. Goodale is an author, illustrator, and designer whose debut picture book, Windows by Julia Denos, received an Ezra Jack Keats New Illustrator Honor. She also illustrated Here and Now by Julia Denos and is the author-illustrator of Under the Lilacs. E. B. Goodale lives in Massachusetts with her family.
Praise For…
---
Julia Denos's prose, spare, evocative and spiced with an occasional, subtle rhyme, is very much in sync with the illustrator E. B. Goodale's mixed-media art…The highlight of the boy's sojourn is the end, when he returns home to see his mother in the window, waiting for him. It's a reassuring moment in these times, when walking at night in a hoodie can have different, even troubling associations for a child of color.
—The New York Times Book Review

It's a genial take on city life, which makes the neighborhood seem just as comforting as home, though the child's home—just as luminescent as the windows he or she passes—is surely the most comforting of all. Ideal bedtime reading and a gorgeously understated celebration of everyday enchantment.
—Booklist (starred review)

Readers will want to revisit these pages of impressionistic trees, buildings that blur as they recede into the vanishing point, and captivating combinations of fully realized scenes with transparent objects outlined in delicate lines. The narrative ends with a quickening step toward the loved one waving behind the curtain—and a story shared in a snuggle. This evocative portrait elevates an everyday routine to a wonder-filled walk of discovery. Perfect for one-on-one and small group sharing.
—School Library Journal (starred review)

Debut illustrator Goodale's delicately detailed ink, watercolor, letterpress, and digital collage illustrations display palettes of the evening and night skies with beautifully nuanced shades of yellow, gold, and blue. The red-hooded child of color with dog can't help but recall Peter and Willie, and this book is a lovely, affirming follow-up. A warmhearted tale of a child, a dog, and their peaceful, friendly, and inviting neighborhood.
—Kirkus Reviews (starred review)

Windows offers a…reframing of the everyday as something special, and beautiful, and worthy of attention; it makes everyday lives into a cozy art that we can all view and all make.
—Bulletin of the Center for Children's Books (starred review)

Several recent picture books feature nighttime urban walks (The Way Home in the Night, rev. 7/17; City Moon, reviewed in this issue); this one stands out for its child protagonist's independence, its matter-of-fact portrayal of a diverse city neighbor- hood, the emotion conveyed by the language, and the stunningly atmospheric art.
—The Horn Book (starred review)

Julia Denos's (Swatch) second-person text invites the reader to be an active participant in this pleasing book...E.B. Goodale brings her very own Somerville to brilliant life in her first picture book, using ink, watercolor, letterpress and digital collage. Each page is awash with the colors of dusk as the sun slowly sets until, finally, "you arrive home again, and you look at your window from the outside. Someone you love is waving at you, and you can't wait to go in."
—Shelf Awareness for Readers

It is an homage to late-autumn evenings, to excursions and to homecomings. It teaches young readers how to slow down and pay attention, to linger on an image and study its nooks and crannies.
—Minnesota Parent

This picture book is its own kind of window, the turning of its pages its own kind of stroll through the evening. And back again, to where we belong, to home.
—New York Journal of Books

A boy walking his dog at twilight watches as windows blink to life, like 'a neighborhood of paper lanterns," revealing the early-evening comforts of coming home. Luminous.
—People

Mixed-media art is at once detailed and atmospheric, the sky darkening from orangy glow to black over the course of 32 pages that trace a nightly ritual from inside and out.
—San Francisco Chronicle