Tuff (MP3 CD)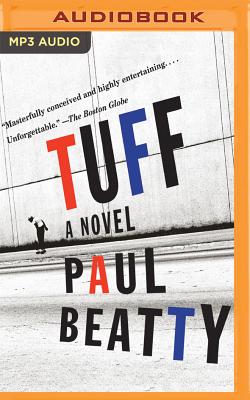 $9.99
Email or call for price.
Staff Reviews
---
The word "hilarious" is the greatest casualty in the age of hyperbole - being bandied about to represent things that are mildly amusing at best (and sometimes not funny at all). So, what do you do when you find something that is genuinely side-splitting and truly hilarious. Well, you use way more words than you should to make your point. Tuff is an absurdist romp through inner city in the oughts that skews surreal and will literally make you laugh out loud.
— Billy
Description
---
As fast-paced and hard-edged as the Harlem streets it portrays, Tuff shows off all of the amazing skill that Paul Beatty showed off in his first novel, The White Boy Shuffle.
Weighing in at 320 pounds, Winston "Tuffy" Foshay, is an East Harlem denizen who breaks jaws and shoots dogs and dreams of millions from his idea, Cap'n Crunch: The Movie, starring Danny DeVito. His best friend is a disabled Muslim who wants to rob banks, his guiding light is an ex-hippie Asian woman who worked for Malcolm X, and his wife, Yolanda, he married from jail over the phone.
Shrewdly comical as this dazzling novel is, it turns acerbically sublime when the frustrated Tuffy agrees to run for City Council. Smartly irreverent and edgily fierce, Tuff is a bona fide original.