Paperbacks from Hell Lib/E: The Twisted History of '70s and '80s Horror Fiction (Compact Disc)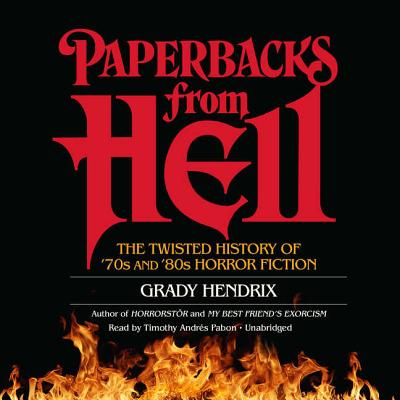 $55.00
Email or call for price.
Staff Reviews
---
A gazillion megawatts of creepily beautiful eye candy is just the jumping off point in this compendium of eerie awesomeness! While collecting the outrageous covers of these 70s-80s horror pulps, journalist and author Grady Hendrix also amassed a wealth of knowledge about the books, the authors, and the artists that propelled this prolific and horrorific genre.
A perfect Halloween gift if you roll that way. 
— Billy
Description
---
Take a tour through the horror paperback novels of two iconic decades ... if you dare. Hear shocking plot summaries that invoke devil worship, satanic children, and haunted real estate Horror author and vintage paperback book collector Grady Hendrix offers killer commentary and witty insight on these trashy thrillers that tried so hard to be the next Exorcist or Rosemary's Baby.
Complete with story summaries and artist and author profiles, this unforgettable volume dishes on familiar authors like V. C. Andrews and R. L. Stine, plus many more who've faded into obscurity. Also included are recommendations for which of these forgotten treasures are well worth your reading time and which should stay buried.