Dial Dancing: Tales of the the fascinating, fabulous, frequency-hopping, wavelength-walking, power punching, ionosphere-scorching, d (Paperback)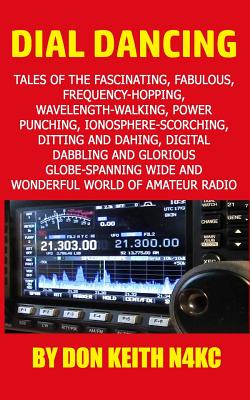 $10.99

Usually Ships Within a Week
This title is a nonreturnable book, so please make sure it is the right one!
Description
---
Amateur or ham radio is more alive, more vibrant, more exciting and magical than ever. Now award-winning and best-selling author Don Keith, who is an active and enthusiastic amateur radio operator, spins a series of tales that show exactly what this amazing hobby offers. Help save lives with emergency communications and weather spotting. Compete in radiosport. Talk with friends all over the planet, bouncing signals off the ionosphere, through ham radio satellites in orbit, or even using the tail of a comet, the moon, or the Northern Lights. Bring radio to mountaintops, remote islands, or national parks. And do it all with a station you helped put together. Now, with these exciting, emotional, funny and captivating tales, you can learn about the magic of amateur radio and how you can begin dancing around the dial.
About the Author
---
Don Keith is an award-winning broadcaster, a best-selling author, and has been a licensed amateur radio operator since 1961. He was first licensed as WN4BDW in 1961, earned his General class license later that year, and then became an Amateur Extra class licensee in the mid-1970s, changing the call sign then to N4KC. He was twice named Billboard Magazine's "Broadcast Personality of the Year," won every major broadcast journalism award in his state from the Associated Press and United Press International, and was an on-air personality, journalist, station owner, program director, and manager in a broadcasting career that spanned over two decades. Don published his first novel, The Forever Season, in 1995. It has remained in print continuously since and was named "Fiction of the Year" by the Alabama Library Association. His more than two dozen other published works, fiction and non-fiction, cover such topics as NASCAR racing, broadcasting, college sports, submarines, biography, and World War II history. His submarine-thriller novel, Firing Point, will be a major motion picture starring Gerard Butler and Gary Oldman, released under the title Hunter Killer. His non-fiction book on the historic voyage to the North Pole of America's first nuclear submarine, USS Nautilus, in 1958 was titled The Ice Diaries and was submitted for consideration for the Pulitzer Prize. For the fiftieth anniversary of the under-ice mission, Don headed up an amateur radio special operating event from Historic Ship Nautilus in Groton, Connecticut. Don lives in Indian Springs Village, Alabama, with his wife, Charlene. They have three grown children, and four grandchildren. Don operates all the shortwave amateur radio bands as well as VHF and uses most modes, including CW, SSB, PSK31 and FM. He enjoys DXing, contesting, antenna experimenting, and just plain rag-chewing. Don's author web site is www.donkeith.com. His amateur radio web site is www.n4kc.com and features a number of stories and articles about the hobby of interest to hams. Don also blogs on the subject of rapid technological change and its effect on media, society and amateur radio. Visit the blog at http: //n4kc.blogspot.com.