Fix-It and Forget-It Big Cookbook: 1400 Best Slow Cooker Recipes! (Hardcover)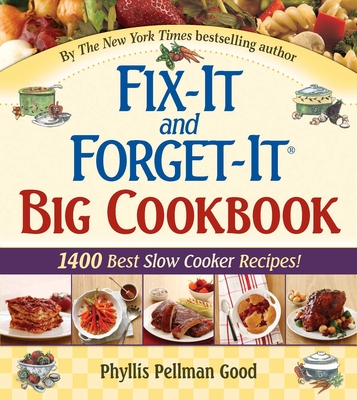 $29.95

Usually Ships Within a Week
Description
---
1,400 slow-cooker recipes with over 1,500 *FIVE STAR* customer reviews!
Finally, the best of the
New York Times
bestselling series all in one handsome volume!
This is the perfect BIG COOKBOOK!
Easy to understand, easy to use
Absolutely manageable for those who lack confidence in the kitchen
Convenient for those who are short on time
Will create a chorus of "make-it-again" requests!
The recipes in this amazing treasure are all collected from some of America's best home cooks, tested in real-life settings, and carefully selected from thousands of recipes.
Eight small "galleries" of full-color photos of delectable slow-cooker dishes from the collection add sparkle throughout the cookbook.
Good Books has sold more than 11 million copies of Fix-It and Forget-It cookbooks. Three of Phyllis Good's cookbooks have been
New York Times
bestsellers.
Fix-It and Forget-It BIG COOKBOOK
, with its 1,400 best slow-cooker recipes, is another winner!
About the Author
---
Phyllis Good is a New York Times bestselling author whose books have sold more than 12 million copies. She is the original author of the Fix-It and Forget-It cookbook series, Lancaster Central Market Cookbook, Favorite Recipes with Herbs, and The Best of Amish Cooking. Her commitment is to make it possible for everyone to cook who would like to, whatever their age. Good spends her time writing, editing books, and cooking new recipes. She lives in Lancaster, Pennsylvania.
Praise For…
---
"What I like about it is all the recipes are sent in by home cooks. That means it's full of recipes from moms like you and me experimenting and coming up with something delicious and easy."
–Maryann Jacobsen, MS, RD

*****

PRAISE FOR THE FIX-IT AND FORGET-IT SERIES

"[Phyllis Good] is basically one of the queens of slow cooker recipes."
–Booking Mama

"Compared with recent ethnic and gourmet slow cooker titles, Good's latest is a workhorse. Filled with unintimidating, pantry-friendly dishes, this volume will please busy cooks, new slow cooker owners, and party givers. Highly recommended."
–Library Journal

"Fans of Good's best-selling slow-cooker recipe books won't be disappointed with her latest installment. Good provides plenty of practical tips about what she calls a near miracle appliance. For example, take time to get acquainted with a new slow cooker, fill it two-thirds full for best results, and try out recipes for the first time when at home for the day. And she dispels two big myths: that her beloved machine is a winter-time appliance and that it's mainly just for beef stew. Fuggedaboutit. True, many of the 250 recipes are for main dishes made with chicken, turkey, pork, or beef. But she gives even more space to pasta, soups, quiches, appetizers, breakfasts, breads, and desserts. Why not wake up to steel-cut oatmeal that's been slow cooking overnight? The slow cooker can even bake peach cobbler or a fudgy chocolate cake. Each recipe comes with a photo, some (such as mashed potatoes) get a quick and easy label, and several get a bonus tip from Good (such as cooking wine is wine with salt added). With good recipes and good vibes, the latest Fix-It and Forget-It cookbook is bound to be a best-seller.
–Booklist *starred review*

"Not only was it a help to me to get some meals started, but it also educated me. As I look back on my cooking skills now (10 years removed from being a newlywed), the book has helped me learn how to make a big hunk of meat taste good. And for that, I'm eternally grateful… Get the book and use it… Definitely worth the money, and I don't usually say that about cookbooks!"
–Mostly Sensible

"The bottom line is that for a list price of $15.95 THE BOOK IS A BARGAIN! Let's face it, most slow cookers come with instructions and a few recipes, but the recipes can't possibly be as good as the ones the Phyllis Pellman Good has included in 10 cookbooks she has penned. She is doing something right; after all over 9.8 million copies have been sold! So, goodcooking.com likes this book and feels that just about anyone who is into slow cookers will have many happy results. The book may certainly spur interest in buying a slow cooker if you haven't cooked with this method before!"
–Good Cooking

"This cook book is so much fun. I love how the recipes are organized by specific dish. For instance, if you're looking for a beef stew recipe, the book gives you five or six recipe options, all in a row. You can decide what sounds tastiest to you (or what you have on hand). When you open the book, you feel like you've opened your mother's recipe box and it is obvious that these are tried and true household favorites. Bring on the comfort food!"
–Blog Mistress Mandy

"An assortment of fond kitchen memories from across the country, Good's [Mom and Me in the Kitchen] reads like an extended Mother's Day card."
–Publishers Weekly

"The mother of all slow cooker cookbooks! The Fix-It and Forget-It Cookbook has been my go to resource since I first bought my slow cooker as a newlywed back in 2002… This book really gave me a feel for how recipes come together… If you're a novice with the slow cooker this is a book that I highly recommend."
–Frankly Entertaining

"This book is designed for home cooks who have to cook most everyday. It's packed with relatively simple recipes that can help you get a light and healthy dinner on the table day in and day out. And it's Weight Watchers friendly since the recipes include the nutritional information required to calculate PointsPlus values."
–Simple Nourished Living

"Wintry weather seems to demand slow-simmered soups and stews, and the bestselling Fix-it and Forget-it series has long been a source for these and other Crock-Pot meals. Good, who edited those homey collections, returns with a useful new diabetic edition. Each of the hundreds of recipes for appetizers, main courses, soups, vegetables, breakfast dishes and snacks comes with a nutritional analysis, and timely health tips are scattered among the recipes."
–Publishers Weekly

"At the end of the day this is one of the few books I review that I am actually keeping and cooking from on a regular basis! It is a book I would buy and give as a gift. It is a book worth using time and time again!"
–Mirlandra's Kitchen

"Paging through this book makes you feel as if you are in a wonderful community of seasoned cooks who take pride in serving up sumptuous meals to friends and family while relaxing and enjoying their company… I found something on every page that I wanted to make… Can I hear a 'Hallelujah?'"
–Pattie Tierney

"Recipes here are perfect for every season and occasion, and feature more than just the usual soup, stews, and casseroles… After looking through the recipe book, which consists of hundreds of recipes contributed by cooks throughout North America, I realized I really underestimated the practicality of a slow cooker. The Fix-It and Forget-It Slow Cooker Magic recipe book [is] very practical, and I can't wait to try out more recipes!"
–Hawaii Mom Blog

"The Fix-It and Forget-It Kids' Cookbook is a visual experience: it pops with all the vivid colors of the crayon box; it is printed with youthful, sketchy fonts and inspiration-board style post-it note and paperclip graphics; best yet, it has a beautiful, full-page photo for EVERY SINGLE RECIPE included. Now THAT is not something you see in cookbooks very often. Even just skimming through the Fix-It and Forget-It Kids' Cookbook assured me that my salivation glands were very much intact… This cookbook is very well thought out. The recipes give easy, step-by-step instructions, as well as a complete list of ingredients–including a list of necessary cooking equipment–conveniently printed in the sidebar of each recipe page."
–The Pioneer Woman

"What I like about it is all the recipes are sent in by home cooks. That means it's full of recipes from moms like you and me experimenting and coming up with something delicious and easy."
–Maryann Jacobsen, MS, RD

*****

PRAISE FOR THE FIX-IT AND FORGET-IT SERIES

"[Phyllis Good] is basically one of the queens of slow cooker recipes."
–Booking Mama

"Compared with recent ethnic and gourmet slow cooker titles, Good's latest is a workhorse. Filled with unintimidating, pantry-friendly dishes, this volume will please busy cooks, new slow cooker owners, and party givers. Highly recommended."
–Library Journal

"Fans of Good's best-selling slow-cooker recipe books won't be disappointed with her latest installment. Good provides plenty of practical tips about what she calls a near miracle appliance. For example, take time to get acquainted with a new slow cooker, fill it two-thirds full for best results, and try out recipes for the first time when at home for the day. And she dispels two big myths: that her beloved machine is a winter-time appliance and that it's mainly just for beef stew. Fuggedaboutit. True, many of the 250 recipes are for main dishes made with chicken, turkey, pork, or beef. But she gives even more space to pasta, soups, quiches, appetizers, breakfasts, breads, and desserts. Why not wake up to steel-cut oatmeal that's been slow cooking overnight? The slow cooker can even bake peach cobbler or a fudgy chocolate cake. Each recipe comes with a photo, some (such as mashed potatoes) get a quick and easy label, and several get a bonus tip from Good (such as cooking wine is wine with salt added). With good recipes and good vibes, the latest Fix-It and Forget-It cookbook is bound to be a best-seller.
–Booklist *starred review*

"Not only was it a help to me to get some meals started, but it also educated me. As I look back on my cooking skills now (10 years removed from being a newlywed), the book has helped me learn how to make a big hunk of meat taste good. And for that, I'm eternally grateful… Get the book and use it… Definitely worth the money, and I don't usually say that about cookbooks!"
–Mostly Sensible

"The bottom line is that for a list price of $15.95 THE BOOK IS A BARGAIN! Let's face it, most slow cookers come with instructions and a few recipes, but the recipes can't possibly be as good as the ones the Phyllis Pellman Good has included in 10 cookbooks she has penned. She is doing something right; after all over 9.8 million copies have been sold! So, goodcooking.com likes this book and feels that just about anyone who is into slow cookers will have many happy results. The book may certainly spur interest in buying a slow cooker if you haven't cooked with this method before!"
–Good Cooking

"This cook book is so much fun. I love how the recipes are organized by specific dish. For instance, if you're looking for a beef stew recipe, the book gives you five or six recipe options, all in a row. You can decide what sounds tastiest to you (or what you have on hand). When you open the book, you feel like you've opened your mother's recipe box and it is obvious that these are tried and true household favorites. Bring on the comfort food!"
–Blog Mistress Mandy

"An assortment of fond kitchen memories from across the country, Good's [Mom and Me in the Kitchen] reads like an extended Mother's Day card."
–Publishers Weekly

"The mother of all slow cooker cookbooks! The Fix-It and Forget-It Cookbook has been my go to resource since I first bought my slow cooker as a newlywed back in 2002… This book really gave me a feel for how recipes come together… If you're a novice with the slow cooker this is a book that I highly recommend."
–Frankly Entertaining

"This book is designed for home cooks who have to cook most everyday. It's packed with relatively simple recipes that can help you get a light and healthy dinner on the table day in and day out. And it's Weight Watchers friendly since the recipes include the nutritional information required to calculate PointsPlus values."
–Simple Nourished Living

"Wintry weather seems to demand slow-simmered soups and stews, and the bestselling Fix-it and Forget-it series has long been a source for these and other Crock-Pot meals. Good, who edited those homey collections, returns with a useful new diabetic edition. Each of the hundreds of recipes for appetizers, main courses, soups, vegetables, breakfast dishes and snacks comes with a nutritional analysis, and timely health tips are scattered among the recipes."
–Publishers Weekly

"At the end of the day this is one of the few books I review that I am actually keeping and cooking from on a regular basis! It is a book I would buy and give as a gift. It is a book worth using time and time again!"
–Mirlandra's Kitchen

"Paging through this book makes you feel as if you are in a wonderful community of seasoned cooks who take pride in serving up sumptuous meals to friends and family while relaxing and enjoying their company… I found something on every page that I wanted to make… Can I hear a 'Hallelujah?'"
–Pattie Tierney

"Recipes here are perfect for every season and occasion, and feature more than just the usual soup, stews, and casseroles… After looking through the recipe book, which consists of hundreds of recipes contributed by cooks throughout North America, I realized I really underestimated the practicality of a slow cooker. The Fix-It and Forget-It Slow Cooker Magic recipe book [is] very practical, and I can't wait to try out more recipes!"
–Hawaii Mom Blog

"The Fix-It and Forget-It Kids' Cookbook is a visual experience: it pops with all the vivid colors of the crayon box; it is printed with youthful, sketchy fonts and inspiration-board style post-it note and paperclip graphics; best yet, it has a beautiful, full-page photo for EVERY SINGLE RECIPE included. Now THAT is not something you see in cookbooks very often. Even just skimming through the Fix-It and Forget-It Kids' Cookbook assured me that my salivation glands were very much intact… This cookbook is very well thought out. The recipes give easy, step-by-step instructions, as well as a complete list of ingredients–including a list of necessary cooking equipment–conveniently printed in the sidebar of each recipe page."
–The Pioneer Woman