Southern Indian Myths and Legends (Paperback)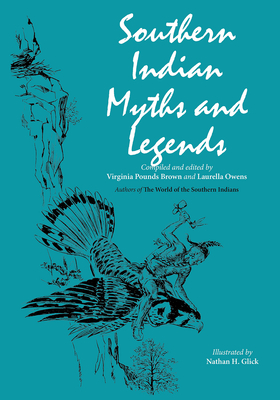 $19.95

Usually Ships Within a Week
This title is a nonreturnable book, so please make sure it is the right one!
Description
---
In this collection of almost sixty tales, Indians themselves--Cherokees, Chickasaws, Choctaws, Creeks, Seminoles, and others--tell us about their beliefs, their traditions, and their history, in myths and legends that cover the classic themes of world mythology. Most of the stories were recorded in the late nineteenth century, at a time when Indian myth-keepers who remembered the tribal tales were still alive. Notes and introductory comments throughout the book provide background information for the stories. Editors Virginia Pounds Brown and Laurella Owens bring these stories together for the first time in one volume. This collection makes enjoyable and significant reading for adults as well as young people.
About the Author
---
Virginia Pounds Brown (Editor) VIRGINIA POUNDS BROWN is a former librarian, bookstore owner, and publisher who began writing to fill gaps in the available history of her native state and region. She is especially interested in Native Americans of the South and has written several books on the subject. Brown holds degrees from Randolph-Macon Women's College and Emory University Library School. She is an avid golfer and has written about that subject, too. Laurella Owens (Editor) LAURELLA OWENS has twenty years of experience as an editor for Woman's Missionary Union of the Southern Baptist Convention. She is the author of Shalom, a study of Baptists in Israel, where she spent the first thirteen years of her life. She holds degrees from Blue Mountain College and Southern Baptist Theological Seminary.