A Hard Rain: America in the 1960s, Our Decade of Hope, Possibility, and Innocence Lost (Hardcover)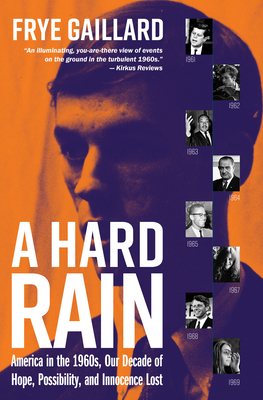 $35.00

Probably On Our Shelves Now! Wait for us to confirm availability.
Staff Reviews
---
Cowboys and indians can't compete with this 'knock your socks off' nonfiction thriller. We're talking grapefruit sized hail, dunes of dust materializing out of thin air and burying cars! We're talking larger than life characters, heroic patriarchs, tough chicks, and one of the most interesting times in U.S. history!
— Hayes
Description
---
"There are many different ways to remember the sixties," Frye Gaillard writes, "and this is mine. There was in these years the sense of a steady unfolding of time, as if history were on a forced march, and the changes spread to every corner of our lives. As future generations debate the meaning of the decade, I hope to offer a sense of how it felt to have lived it. A Hard Rain is one writer's reconstruction and remembrance of a transcendent era--one that, for better or worse, lives with us still."
With
A Hard Rain
Gaillard gives us a deeply personal history, bringing his keen storyteller's eye to this pivotal time in American life. He explores the competing story arcs of tragedy and hope through the political and social movements of the times: civil rights, black power, women's liberation, the war in Vietnam, and the protests movements against it. Gaillard also examines the cultural manifestations of change in the era--music, literature, art, religion, and science--and so we meet not only the Brothers Kennedy, Martin Luther King Jr., and Malcolm X, but also Gloria Steinem, Janis Joplin, Jimi Hendrix, Johnny Cash, Harper Lee, Mister Rogers, Rachel Carson, James Baldwin, Andy Warhol, Billy Graham, Thomas Merton, George Wallace, Richard Nixon, Angela Davis, Barry Goldwater, the Beatles, Bob Dylan, and the Berrigan Brothers. As Gaillard remembers these influential people, he weaves together a compelling story about an iconic American decade of change, conflict, and progress.
About the Author
---
FRYE GAILLARD is the writer-in-residence in the English and history departments at the University of South Alabama. He is the author of thirty books, including With Music and Justice for All: Some Southerners and Their Passions; Cradle of Freedom: Alabama and the Movement That Changed America, winner of the Lillian Smith Book Award; The Dream Long Deferred: The Landmark Struggle for Desegregation in Charlotte, North Carolina, winner of the Gustavus Myers Award; and If I Were a Carpenter, the first independent, book-length study of Habitat for Humanity. He lives in Mobile, Alabama.