Breathing Through the Wound: A Novel (Paperback)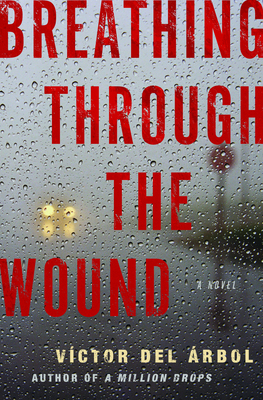 $19.99

Probably On Our Shelves Now! Wait for us to confirm availability.
Staff Reviews
---
**2021 Beltie Mystery Prize Nominee**
Think about this; a 700 page novel you don't want to end even though it doesn't contain a single redeemable character (well, maybe one, but you'd have to have a pretty big heart to stretch out that argument). Set in Madrid this is one of those Kevin Bacon six degrees of separation deals where everyone is connected somehow, starting with an artist and his first commission in 13 years and ending with a scandal of epic proportions. What drives the novel, though, is the luminous prose and the depth of character which will have you turning 700 pages and wishing for more.
— Pete
Description
---
Named a Best International Crime Novel of the Year by CrimeReads and a Best Book of the Year by PopMatters 

From the acclaimed author of A Million Drops, an engrossing psychological thriller that traces a widower's descent into the seedy underbelly of Madrid.

Eduardo Quintana's life lost all meaning when his wife and daughter were killed in a tragic accident. The once renowned painter wallows in grief and guilt, subsisting on alcohol and drugs, not caring if he lives or dies.

But when a grieving mother asks Eduardo to paint a portrait of the man who killed her son, he finds himself drawn to the unusual commission. He alone understands her need to look deep into the soul of the man who changed her life forever, and he alone can help.

As Eduardo sets out to discover what it takes to know a killer, he is pulled deeper and deeper into Madrid's criminal underworld, where mercenaries, prostitutes, murderers, and thieves are all entangled in a dangerous and deadly web, in which nothing, and no one, are as they seem.
About the Author
---
Víctor del Árbol was born in Barcelona in 1968 and was an officer of the Catalan police force from 1992 to 2012. As the recipient of the Nadal Prize, the Tiflos Prize, and as the first Spanish author to win the Prix du Polar Européen, he has distinguished himself as a prominent voice in Spanish literature. His novel A Million Drops (Other Press, 2018) was named a Notable Book of the Year by the Washington Post.

Lisa Dillman teaches in the Department of Spanish and Portuguese at Emory University in Atlanta, Georgia. She has translated a number of Spanish and Latin American writers. Some of her recent translations include Rain Over Madrid; August, October; and Death of a Horse, by Andrés Barba, and Signs Preceding the End of the World by Yuri Herrera.
Praise For…
---
"Del Árbol's A Million Drops was one of 2018's most complex and powerful thrillers. His follow-up, Breathing Through the Wound, cements his place as one of the most exciting voices in contemporary European noir." —CrimeReads

"The reveals provide multiple gut punches that require readers to reevaluate their assumptions…Noir fans will get their money's worth." —Publishers Weekly (starred review)

"A rich, emotionally wrought, personal drama and an engaging political thriller…A totally immersive novel of generational pain, the consequences of not turning the other cheek, and taking an eye for an eye…Breathing Through the Wound will stay with you." —Crime Time

"Del Árbol proves he's adept at creating richly drawn characters and weaving their disparate stories, building to a shattering, violent climax." —Library Journal

"If you're looking for something on the literary end of the eurocrime spectrum, Breathing Through the Wound is an attractive proposition―full of vivid and unsettling storytelling." —Sydney Morning Herald

"A gothic cathedral of a novel. In one corner you will find a dark thriller, in another a humorous noir, in another a poetic existentialist text. This novel magnificently breathes in different atmospheres. A major work." —Ernesto Quiñonez, author of Bodega Dreams

 "[Breathing Through the Wound] is the definitive confirmation of Víctor's talent as a writer." —La República Cultural
 
"A novel that entangles you in a spider's web from which it's impossible to escape…Critics are right to call del Árbol's novel a blend of Carlos Ruiz Zafón and Stieg Larsson." —Colegio de Abogados de Barcelona
 
Praise for A Million Drops:
 
"Darkly engrossing…[A Million Drops] defies categorization, pulling together the best elements of historical fiction, psychological thrillers, and literary character studies." —Washington Post

"A mystery on an epic scale, extending over decades, generations, and nations…Meticulously plotted and stylishly written, this is a page-turner with fresh twists and surprises right up to the very end." —Kirkus Reviews (starred review)
 
"This blockbuster novel by an award-winning Spanish author…succeeds as historical fiction, a thriller, and a detective story." —Library Journal (starred review)

"Del Árbol, a gifted storyteller, keeps the pages turning even as he probes the dark, compromised souls of his characters." —Chicago Tribune