Berserk Volume 5 (Paperback)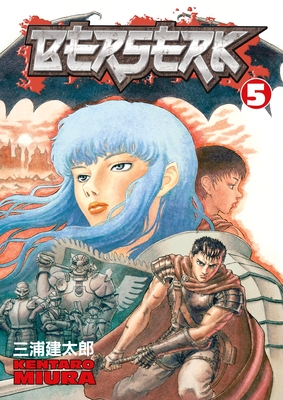 $14.99

Usually Ships Within a Week
Other Books in Series
This is book number 5 in the Berserk series.
Description
---
He is Guts, the Black Swordsman, a warrior of legendary prowess — relentless, fearless, merciless. As cold and brutal as the iron of the massive sword he wields. Bent on revenge against the unholy forces that have branded him for sacrifice, but especially on Griffith, one of the demon lords of the Godhand. But Griffith was once a man, the leader of the Hawks, a renowned cadre of elite fighters with a young Guts as its fiercest champion. Though forged in a crucible of cruelty and violence, nothing could prepare Guts for a confrontation with Nosferatu Zodd, a superhuman beast who slaughters Guts' comrades as easily as a scythe cuts wheat. Even Guts and Griffith are no match for the abomination's power...but something Griffith wears around his neck may well be!
About the Author
---
While attending college at Nihon University, in 1988, Kentaro Miura debuted a 48-page manga known as Berserk Prototype, an introduction to the current Berserk fantasy world. It went on to win Miura a prize from the Comi Manga School. In 1989, after receiving a doctorate degree, Kentarou started a project titled King of Wolves based on a script by Buronson, writer of Hokuto no Ken (Fist Of The North Star).

In 1990, the first volume Berserk was released with a relatively limited success. Miura again collaborated with Buronson on manga entitled Japan. Miura's fame grew after Berserk began "The Golden Age" story arc and the huge success of this masterpiece made of him one of the most prominent contemporary manga artists.

In 1997, Miura supervised the production of 25 anime episodes of Berserk that aired in the same year on NTV.

The series has also spawned a whole host of merchandise, both official and fan made, ranging from statues and action figures, to key rings, video games, and a trading card game. In 2002, Kentaro Miura received the second place in the Tezuka Osamu (Astro Boy) Cultural Prize of Excellence for Berserk. The author lives in Tokyo, Japan.