March: Book Three (Paperback)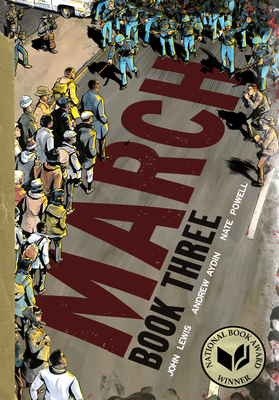 $19.99

Probably On Our Shelves Now! Wait for us to confirm availability.
Other Books in Series
This is book number 3 in the March series.
Description
---
Welcome to the stunning conclusion of the award-winning and best-selling MARCH trilogy. Congressman John Lewis, an American icon and one of the key figures of the civil rights movement, joins co-writer Andrew Aydin and artist Nate Powell to bring the lessons of history to vivid life for a new generation, urgently relevant for today's world.

By the fall of 1963, the Civil Rights Movement has penetrated deep into the American consciousness, and as chairman of the Student Nonviolent Coordinating Committee, John Lewis is guiding the tip of the spear. Through relentless direct action, SNCC continues to force the nation to confront its own blatant injustice, but for every step forward, the danger grows more intense: Jim Crow strikes back through legal tricks, intimidation, violence, and death. The only hope for lasting change is to give voice to the millions of Americans silenced by voter suppression: "One Man, One Vote."

To carry out their nonviolent revolution, Lewis and an army of young activists launch a series of innovative campaigns, including the Freedom Vote, Mississippi Freedom Summer, and an all-out battle for the soul of the Democratic Party waged live on national television.

With these new struggles come new allies, new opponents, and an unpredictable new president who might be both at once. But fractures within the movement are deepening ... even as 25-year-old John Lewis prepares to risk everything in a historic showdown high above the Alabama river, in a town called Selma.

Winner of the 2016 National Book Award for Young People's Literature
#1 New York Times Bestseller
2017 Coretta Scott King Author Award Winner
2017 Michael L. Printz Award Winner
2017 Robert F. Sibert Informational Book Medal Winner
2017 YALSA Award for Excellence in Nonfiction - Winner
2017 Walter Dean Myers Award for Outstanding Children's Literature - Winner
2017 Flora Stieglitz Straus Award Winner
2017 LA Times Book Prize for Young Adult Literature - Finalist
 
About the Author
---
Congressman John Lewis was a leader in the American Civil Rights Movement. He was chairman of the Student Nonviolent Coordinating Committee (SNCC) and played a key role in the struggle to end segregation. Despite more than 40 arrests, physical attacks, and serious injuries, John Lewis remained a devoted advocate of the philosophy of nonviolence. He is co-author of the first comics work to ever win the National Book Award, the #1 New York Times bestselling graphic novel memoir trilogy MARCH, written with Andrew Aydin and illustrated by Nate Powell. He is also the recipient of numerous awards from national and international institutions including the Lincoln Medal, the John F. Kennedy "Profile in Courage" Lifetime Achievement Award, and the NAACP Spingarn Medal, among many others. He lives in Atlanta, GA.

Andrew Aydin is creator and co-author of the #1 New York Times best-selling graphic memoir series, MARCH. Co-authored with Rep. Lewis and illustrated by Nate Powell, MARCH is the first comics work to ever win the National Book Award, and is a recipient of the Will Eisner Comics Industry Award, the Robert F. Kennedy Book Award Special Recognition, and the Coretta Scott King Book Award Author Honor, among other honors. Aydin's other comics work includes writing the X-Files Annual 2016 (IDW), writing for the CBLDF Liberty Annual 2016 (Image), and writing an upcoming issue of Bitch Planet (Image).

Nate Powell is a New York Times best-selling graphic novelist born in Little Rock, Arkansas in 1978. He began self-publishing at age 14, and graduated from School of Visual Arts in 2000. His work includes MARCH, You Don't Say, Any Empire, Swallow Me Whole, The Silence Of Our Friends, The Year Of The Beasts, and Rick Riordan's The Lost Hero. Powell is the first and only cartoonist ever to win the National Book Award. Powell has discussed his work at the United Nations, as well as on MSNBC's The Rachel Maddow Show and CNN.