Handbook for a Post-Roe America (Paperback)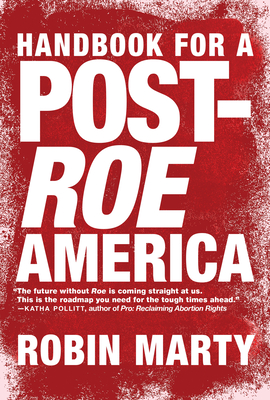 $14.95
Email or call for price.
Description
---
The end of Roe v. Wade is coming. How will you prepare? 


Handbook for a Post-Roe America is a comprehensive and user-friendly manual for understanding and preparing for the looming changes to reproductive rights law, and getting the healthcare you need—by any means necessary. Activist and writer Robin Marty guides readers through various worst-case scenarios of a post-Roe America, and offers ways to fight back, including: how to acquire financial support, how to use existing networks and create new ones, and how to, when required, work outside existing legal systems. She details how to plan for your own emergencies, how to start organizing now, what to know about self-managed abortion care with pills and/or herbs, and how to avoid surveillance. The only guidebook of its kind, Handbook for a Post-Roe America includes an extensive, detailed resource guide for all pregnant people (whether cis, trans, or non-binary) of clinics, action groups, abortion funds, and practical support groups in each state, so wherever you live, you can get involved.
        With a newly right-wing Supreme Court and a Republican Senate, Roe is under threat. Robin Marty observes: "When we say abortion will be illegal in half the states in the nation, we are no longer talking about some hypothetical future—we are talking about just years down the road. We have to act now to secure what access remains, shore up the networks supporting those who need care, and decide what risks we are willing to take to ensure that any person who wants a termination can still end that pregnancy—with or without the government's permission."
About the Author
---
ROBIN MARTY is a writer and reporter who covers abortion access and the pro-choice and pro-life movement. She has spent the last decade tracking abortion restrictions, visiting current and former clinic sites and interviewing activists on both sides of the abortion divide. Marty is a member of the American Society of Journalists and Authors, a Women's Media Center SheSource expert on reproductive rights, and an IFund investigative reporter for The Nation Institute. Her work can be found in Cosmopolitan, Politico, the Guardian, and other outlets. Her first book, Crow After Roe: How "Separate But Equal" Has Become the New Standard In Women's Health and How We Can Change That. Marty spent five years as the senior political reporter for Rewire News, a reproductive health and justice news site, where she covered state-based abortion bans and other assaults on reproductive rights. She lives in Minneapolis, MN.
Praise For…
---
"[A] robust and creative playbook – not just to fight back against attacks on reproductive freedom but also to pre-emptively protect and expand those freedoms wherever possible." —New York Times

"The future without Roe is coming straight at us. This is the roadmap you need for the tough times ahead." —Katha Pollitt, author of Pro: Reclaiming Abortion Rights

"In Handbook for a Post-Roe America, Marty walks readers through the various futures of abortion rights in the U.S. and provides advice on how to plan ahead." —Melissa Jeltsen, Huffington Post

"Robin has been the writer I turn to for accurate, practical, and optimism-free information about reproductive rights since I started working in the field. She was the first person I asked to spell out the future for abortion after the 2016 election, and now she's done it again in generous detail for all of us. Are you a person who may become pregnant, or do you maybe know a person who fits that description? This book is essential for anyone looking to understand and navigate a world without legal abortion." —Jess McIntosh, co-host Signal Boost on SXM Progress

"Our present dystopian truth is scarier than fiction. Marty's timely book empowers readers with the wide-reaching wisdom and practical guidance needed to govern and care for ourselves (and each other) in the midst of uncertainty. Marty anchors us with tools and resources that help light our way back to freedom as we navigate through the shadows of attacks on reproductive justice." —Jamia Wilson, executive director and publisher of the Feminist Press

"If to be forewarned is to be forearmed, Robin Marty's Handbook for a Post-Roe America is an essential tool for anyone worried about losing access to abortion in the US of A. Practical and straightforward, the book outlines numerous what-ifs. And while it highlights a worst-case scenario in which the Supreme Court reverses Roe v. Wade, taking away the constitutional right to abortion, it also makes clear that this will not stop the practice." —Los Angeles Review of Books

"As crucial as the practical advice is, the most valuable thing Handbook offers may be the simple reassurance that you can do something. At a time when proponents of abortion rights feel frightened and overwhelmed, Marty reminds readers that this struggle is not new, and precedents for facing it exist ... [Handbook for a Post-Roe America is] an indispensable response to a looming threat, offering everything from model legislation to instructions on protecting your privacy in the event of an extralegal abortion." —Rewire

"An essential tool to contend with the Court's possible overturning– if not further restricting – of the landmark Roe v. Wade decision." —David Rosen, New York Journal of Books