Howl like a Wolf!: Learn to Think, Move, and Act Like 15 Amazing Animals (Hardcover)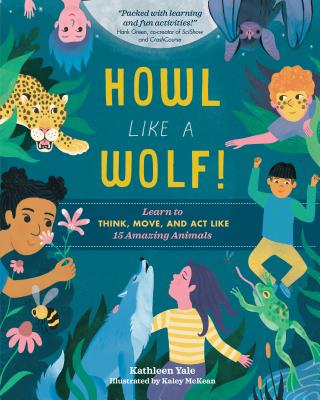 $18.95
Email or call for price.
Description
---
2018 INDIES Winner Gold, Juvenile Nonfiction (Children's)
Gold Mom's Choice Award Winner
2019 National Parenting Product Awards Winner
Creative Child Magazine Book of the Year Award Winner
Honor Book for the 2018 Montana Book Awards
Nautilus Book Awards Gold Winner

What does it feel like to "see" with your ears like a bat or go through a full body transformation like a frog? Can you wriggle in and out of tight places like an octopus, camouflage yourself like a leopard, or do a waggle dance like a honeybee? This creative and beautifully illustrated interactive guide makes learning about animals fun for children ages 6 and up. Fifteen animals explain their amazing feats and invite kids to enter their world by mimicking their behavior — an imaginative approach to learning that fosters curiosity, empathy, and dramatic play.
About the Author
---
Kathleen Yale spent over a decade chasing critters through the Rocky Mountains as a wildlife field biologist. She holds degrees in conservation biology and environmental studies and has written for Mountain Goats of Glacier National Park, North American Birds, SciShow, Crash Course, and more. Yale currently serves as special projects editor at Orion magazine. She and her family call Montana home.

Kaley McKean is an illustrator based in Toronto. This is her first children's book. Visit her at kaleymckean.com.
 
Praise For…
---
A 2018 Creative Child Magazine Book of the Year Award Winner

"Wild things who learn best by doing will appreciate the imaginative play . . . this is all about the action. As a bonus, masks can be downloaded from the publisher's website. . . .  full of opportunities for participation." — Kirkus Reviews

"An excellent nonfiction treat of information and dramatic play all rolled into one! ... A book that will be well-worn, loved and studied by animal-loving children ... Oh, how I have my fingers crossed for a follow up book with even more animals!" — ReadingRumpus.com 

"As packed with legitimate learning as it is with legitimately fun activities. Yale's passion and knowledge for the Earth and for children combines with inspired and beautiful art to make a pretty perfect package." — Hank Green, co-creator of SciShow and CrashCourse

"A wonderful world of imagination and play where children can become the animals they love. Full of factual information presented in a fun and dynamic way; perfect for reading over and over again!" — Jessi Knudsen Castañeda, host of SciShow Kids