The Haunted Lady (An American Mystery Classic) (Paperback)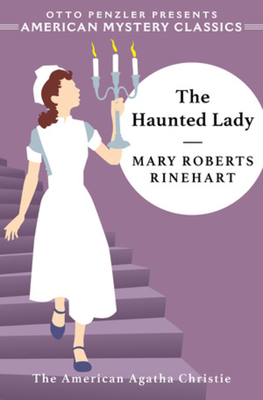 $15.95
Email or call for price.
Description
---
Someone's trying to kill the head of the Fairbanks estate, and only her nurse can protect her.
The arsenic in her sugar bowl was wealthy widow Eliza Fairbanks' first clue that somebody wanted her dead. The nightly plagues of bats, birds, and rats unleashed in her bedroom were the second indication, an obvious attempt to scare the life out of the delicate dowager. So instead of calling the exterminator, Eliza calls the cops, who send Hilda Adams — "Miss Pinkerton" to the folks at the bureau — to go undercover and investigate.
Hilda Adams is a nurse, not a detective — at least, not technically speaking. But then, nurses do have the opportunity to see things that the police can't, and to witness the inner workings of a household when the authorities aren't around. From the moment Adams arrives at the Fairbanks mansion, confronted by a swarm of shady and oddball relatives, many of whom seem desperate for their inheritance, it's clear that something unseemly is at work in the estate. But not even she is prepared for the web of intrigue that awaits her therein.
Reissued for the first time in over twenty years, and featuring one of Mary Roberts Rinehart's only series characters, The Haunted Lady is the thrilling follow-up to Miss Pinkerton, also available from American Mystery Classics. The books can be read in any order.
About the Author
---
Mary Roberts Rinehart (1876-1958) was the most beloved and best-selling mystery writer in America in the first half of the twentieth century. Born in Pittsburgh to the owner of a sewing machine factory, she wrote fiction in her spare time until a stock market crash sent her and her husband into debt, forcing her to lean on her writing to pay the bills. Her first two novels, The Circular Staircase (1908) and The Man in Lower Ten (1909), established her as a bright young talent, and it wasn't long before she was a regular on bestseller lists.Among her dozens of novels were The Amazing Adventures of Letitia Carberry (1911) and The Bat (1932), which was among the inspirations for Bob Kane's Batman. Today, Rinehart is often called an American Agatha Christie, even though she was much more popular than Christie during her heyday.

Otto Penzler is the proprietor of the Mysterious Bookshop in New York City. He is the founder of the Mysterious Press and Otto Penzler Books, and has received an Edgar Award, an Ellery Queen Award, and a Raven Award for his contribution to the mystery field. His anthology The Black Lizard Big Book of Pulps was a New York Times Bestseller.