Real Food/Fake Food: Why You Don't Know What You're Eating and What You Can Do About It (Paperback)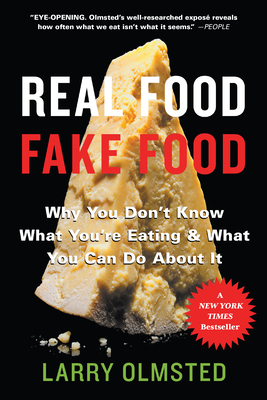 List Price: $19.99
Our Price: $16.95
(Save: $3.04 15%)
Probably On Our Shelves Now! Wait for us to confirm availability.
Staff Reviews
---
A little sawdust in your pasta? Unless you are grating your parm yourself from a block of cheese actually made in Parma, Italy, this may be your indistinct pleasure. Kobe beef, Evoo, truffles, balsamic vinegar, sushi, wines, scotch: these are common place imposters and fakes, running the gamut from ethically gray to illegal and dangerous. Keep it real with this book.
— Kelley
Description
---
"Olmsted makes you insanely hungry and steaming mad--a must-read for anyone who cares deeply about the safety of our food and the welfare of our planet." —Steven Raichlen, author of the Barbecue! Bible series

"The world is full of delicious, lovingly crafted foods that embody the terrain, weather, and culture of their origins. Unfortunately, it's also full of brazen impostors. In this entertaining and important book, Olmsted helps us fall in love with the real stuff and steer clear of the fraudsters." —Kirk Kardashian, author of Milk Money: Cash, Cows, and the Death of the American Dairy Farm

You've seen the headlines: Parmesan cheese made from wood pulp. Lobster rolls containing no lobster at all. Extra-virgin olive oil that isn't. So many fake foods are in our supermarkets, our restaurants, and our kitchen cabinets that it's hard to know what we're eating anymore. In Real Food / Fake Food, award-winning journalist Larry Olmsted convinces us why real food matters and empowers consumers to make smarter choices.

Olmsted brings readers into the unregulated food industry, revealing the shocking deception that extends from high-end foods like olive oil, wine, and Kobe beef to everyday staples such as coffee, honey, juice, and cheese. It's a massive bait and switch in which counterfeiting is rampant and in which the consumer ultimately pays the price.

But Olmsted does more than show us what foods to avoid. A bona fide gourmand, he travels to the sources of the real stuff to help us recognize what to look for, eat, and savor: genuine Parmigiano-Reggiano from Italy, fresh-caught grouper from Florida, authentic port from Portugal. Real foods that are grown, raised, produced, and prepared with care by masters of their craft. Part cautionary tale, part culinary crusade, Real Food / Fake Food is addictively readable, mouthwateringly enjoyable, and utterly relevant.
About the Author
---
Larry Olmsted writes the "Great American Bites" column for USA Today and is the travel and food columnist at Forbes.com, where his column was named one of the World's Top 100 Travel Sites. A longtime member of the Society of American Travel Writers and Golf Writers Association of America, he covers food, wine, and spirit topics, including regional food specialties, production, health, consumer issues, celebrity chefs, and restaurants worldwide. He appears regularly on radio and television and is a frequent contributor to the Dr. Oz Show. Olmsted, who has visited more than forty countries around the globe, is of the author of two books on golf and Getting into Guinness. (In the process of writing that book he personally set or broke three Guinness world records). He teaches nonfiction writing at Dartmouth College and lives with his wife live in Vermont.
Praise For…
---
New York Times Bestseller
Washington Post Bestseller
National Post Bestseller (Canada)
 
"Olmsted's well-researched exposé reveals how often what we eat isn't what it seems. (Parmesan cheese made of wood pulp or fake lobster rolls, anyone?) Eye-opening."
—PEOPLE magazine
 
"Olmsted boldly walks readers through a course in food authenticity that covers olive oil, cheese, Champagne, seafood, steak, coffee, and more. Readers will be inspired by his intensity and clarity, and floored by how far some counterfeiters go to fool consumers and some historic food institutions go to protect their products and their names. Olmsted's research is impressive, and he lets no stone go unturned. He lets the terrifying facts speak for themselves, adding just a little humor . . . Olmsted's sharp language will hopefully put fires under counterfeiters everywhere . . . With the guiding hand of a good friend and prose that keeps the reader's eye moving, Olmsted insists that readers 'shop better and cook more.'"
—Publishers Weekly, starred review
 
"Equal parts foodie chronicle and investigative exposé . . . Real Food / Fake Food is less treatise than guidebook, showing readers how to navigate an increasingly complex food system."
—Outside magazine
 
"Required reading for cooks who genuinely care about quality and health . . . a fascinating read that sheds light on our under-regulated food industry. The book also serves as a handy guide to what items consumers should avoid, and how to find and identify the real deal."
—CookingLight.com
 
 "A striking look at the food industry. It's unnerving that so many people don't know what authentic olive oil or port wine tastes like because they've been undersold on some off-shoot knock off and no one is raising a flag — until now."
—Ming Tsai, author, chef, and host of PBS's Simply Ming

"Larry Olmstead makes you insanely hungry and steaming mad in this provocative account of how fraud threatens not just the world's great craft foods (think caviar, Kobe beef, and Parmigiano-Reggiano) but our everyday diet. A must-read for anyone who cares deeply about the safety of our food and the welfare our planet."
—Steven Raichlen, author of the Barbecue! Bible cookbook series and host of Project Smoke and Primal Grill on PBS

"Do not take another bite or swallow another sip of anything, for your sake and the sake of your children, before reading Real Food Fake Food. It is the health equivalent of Ralph Nader's expose Unsafe at any Speed. The content blows the doors off the kitchens." 
—Michael Patrick Shiels, radio host and author of Invite Yourself to the Party

"Larry Olmsted's meticulously researched tour de force is chilling for what he uncovers about the food industry. At the same time his love of great food and his skill in writing about it make me want to try every one of the real foods he recommends. A must-read for anyone with an interest in, well, eating."
—Dan Dunn, author of American Wino: A Tale of Reds, Whites and One Man's Blues

"The world is full of delicious, lovingly-crafted foods that embody the terrain, weather, and culture of their origins. Unfortunately, it's also full of brazen impostors that are hard to identify. In this entertaining and important book, Larry Olmsted helps us fall in love with the real stuff and steer clear of the fraudsters. I'll never look at a menu the same way again."
—Kirk Kardashian, author of Milk Money: Cash, Cows, and the Death of the American Dairy Farm

"In his solidly researched new book, USA Today food and travel columnist Olmsted, a well-traveled and knowledgeable food writer, takes readers on an enlightening but frequently disturbing culinary journey. While providing fascinating insights into where and how some of the most delicious food products are produced, the author also reveals how often these are imitated to detrimental effect…A provocative yet grounded look at the U.S. food industry."
—Kirkus Reviews

"This is an important book to help all buyers shop prudently and with a wary eye toward the claims of food producers. Recommended for all consumers along with policymakers, those interested in food science, and marketing professionals."
—Library Journal
 
"Olmsted gives us the lay of this seedy landscape with momentum and aplomb. He demystifies the process by which fake ingredients end up in your shopping cart, explains why some of these deceitful foods could be a real threat to your health, and sheds a light on the government policies and shortsighted commercialism that landed them there."
—Mother Jones