Metropolis: A Novel (Hardcover)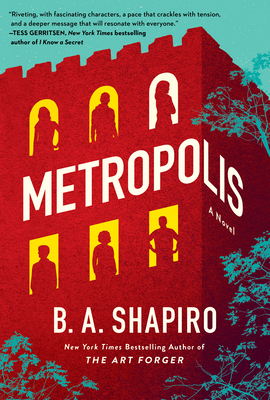 $27.95

Usually Ships Within a Week
Staff Reviews
---
Do you like a good locked room mystery ala Agatha Christie? Well, how about a whole building of locked rooms. That is Metropolis, a storage facility of nothing but locked rooms where hidden stories lie behind each door. Supposedly no one lives there, it's against the law, but some do, kicking back an added fee to the manager so she'll look the other way when they come and go. All is good until someone falls down the elevator shaft and the police come investigating and secrets begin to emerge. Told mainly through six very diverse characters whose stories slowly entwine until what was once set apart is now a part of the whole, each life influencing the others until the very end, and a very satisfying one at that.
— Pete
June 2022 Indie Next List
---
"Metropolis is a riveting read by a remarkable storyteller. Shapiro's cast of characters will keep you guessing. A tribute to old Boston and how people live — in wealth or poverty — and remain human and connected to one another. Well done!"
— Annie Philbrick, Bank Square Books, Mystic, CT
Description
---
The New York Times bestselling author of The Art Forger delivers a spellbinding and moving novel about what we hang on to, what we might need to let go, and how unexpected events can lead us to deeper truths.

Six people, six secrets, six different backgrounds. They would never have met if not for their connection to the Metropolis Storage Warehouse in Cambridge, Massachusetts. When someone falls down an elevator shaft at the facility, each becomes caught up in an intensifying chain of events.

We meet Serge, an unstable but brilliant street photographer who lives in his storage unit, which overflows with thousands of undeveloped pictures; Marta, an undocumented immigrant finishing her dissertation and hiding from ICE; Liddy, an abused wife and mother, who recreates her children's bedroom in her unit; Jason, a former corporate lawyer now practicing in the facility; Rose, the office manager, who takes illegal kickbacks to let renters live in the building; and Zach, the building's owner and an ex-drug dealer, who scans Serge's photos as he searches for clues to the accident.

But was it an accident? A murder attempt? Suicide? As her characters dip in and out of one another's lives trying to find answers and battling societal forces beyond their control, B. A. Shapiro both questions the myth of the American dream and builds tension to an exhilarating climax. Taut and emotional, Metropolis is impossible to put down and impossible to forget.
About the Author
---
B. A. Shapiro is the author of the award-winning New York Times bestseller The Art Forger, as well as The Muralist, and The Collector's Apprentice. She has taught sociology at Tufts University and creative writing at Northeastern University and lives in Boston with her husband, Dan.

This author is represented by the Hachette Speakers Bureau.
Praise For…
---
"An ingeniously plotted hybrid social/suspense novel . . . [Shapiro] takes her time loading the bases, and in the last inning, she hits it out of the park."
—Shelf Awareness

"Metropolis has all the elements I love in a novel: fascinating characters, a pace that crackles with tension, and a deeper message that will resonate with everyone. Once again, B. A. Shapiro weaves a unique and riveting tale." 
—Tess Gerritsen, New York Times bestselling author of I Know a Secret

"A rich and gripping journey through intersecting lives, a nuanced exploration of characters who share nothing in common—but almost everything too. Inventive and immersive, it's a page-turner of novel that will also make you want to slow down and soak it all in."
—Lou Berney, Edgar Award-winning author of November Road

"In Metropolis, Shapiro is the literary equivalent of a master juggler, writing with tremendous compassion and a wonderful knack for storytelling. Her characters whirl together within the confines of a self-storage unit and, though at its core is a mystery, its beating heart is their stories. It is a dazzling performance and a novel that will stay with me for a long time to come."
—Mary Morris, author of Gateway to the Moon

"Part mystery, part sociological study… fascinating."
—Minneapolis Star Tribune

"Skillfully crafted with memorable characters, Metropolis is a riveting psychological thriller of a read from cover to cover. Raising crime fiction to an impressively high literary level…"
—Midwest Book Review

A "spellbinder from the bestselling author of The Art Forger and The Muralist."
—Booklist