For the Dead (A Poke Rafferty Novel #6) (Paperback)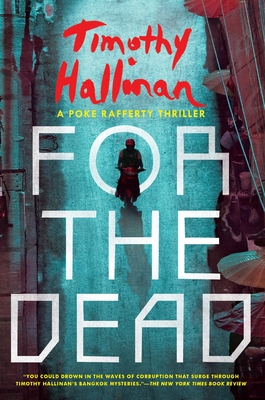 Interested in this title? Email us for more information!
Other Books in Series
This is book number 6 in the A Poke Rafferty Novel series.
Description
---
After seven years in Bangkok, American travel writer Poke Rafferty finally feels settled: his family is about to grow larger, and his adopted Thai daughter, Miaow, seems to have settled in at junior high school. All that is endangered when Miaow helps her boyfriend buy a stolen iPhone that contains photographs of two disgraced police officers, both of whom have been murdered. As Miaow's carefully constructed personal life falls apart, Rafferty discovers that the murders are part of a conspiracy that reaches the top rungs of Bangkok law enforcement, and beyond. Miaow's discovery threatens the entire family—and if that's not enough, in order to survive, they may ultimately have to depend on someone who has already betrayed them.
About the Author
---
Timothy Hallinan has been nominated for the Edgar, Nero, Shamus, and Macavity awards. He is the author of seventeen widely praised books, including The Fear Artist, The Hot Countries, Crashed, Little Elvises, The Fame Thief, and Herbie's Game. After years of working in the television and music industries, he now writes full-time. He divides his time between California and Thailand.
Praise For…
---
Praise for Timothy Hallinan's For the Dead

A Crimespree Magazine Best Book of 2014

"You could drown in the waves of corruption that surge through Timothy Hallinan's Bangkok mysteries."
—The New York Times Book Review

"Truly remarkable . . . In Hallinan's Bangkok, the ugly truths of poverty, homelessness, corruption, caste and crime are shaded with tremendous compassion."
—The Arizona Republic

"It really doesn't matter whether you prefer serious, get-it-done heroes like Jack Reacher or Dave Robicheaux or wisecracking sleuths along the lines of Elvis Cole or Shell Scott, you have to love Timothy Hallinan's protagonist travel writer/adventurer Poke Rafferty . . . In five words: Could. Not. Put. It. Down."
—Bookpage, Top Pick in Mystery

"While there are plenty of foot and car chases, fisticuffs and a murder or five, Hallinan is able to wring suspense of a different sort out of everyday domestic tableaus as well. If there is a thriller novel published this year that contains a more perfect balance between plot and character than For the Dead, I either haven't read it yet or have momentarily forgotten it."
—Book Reporter

"Bent cops and layers upon layers of conspiracy make the case one of Rafferty's most challenging yet, and readers who are familiar with the series will appreciate the return of the compelling hero, as well as the no-holds-barred depictions of the difficult lives of Bangkok street kids."
—Mystery Scene

"Hallinan's series can be described as vivid, poetic, often funny, always aware of social issues, and yes, thrilling. But in this installment another of his qualities as a writer is on display that isn't often associated with thrillers: tenderness. Though the evil at work is not so much larger than life as it is a normal kind of greed and selfishness, the depiction of the characters, old and young, threatened by greed is the novel's big-hearted center."
—Reviewing the Evidence

"A fine thriller set in an exotic locale, but Hallinan's insightful development of Miaow's character and the family dynamics makes this one more than just a thriller."
—Booklist, STARRED Review

"Will satisfy readers' most self-righteous desires for revenge even as it promises a rare moment of equipoise for this rewarding franchise."
—Kirkus Reviews

"If you ever need to argue that crime fiction can engage social issues, delve into human relationships, provide vividly real settings, and be as attentive to the power and grace of language as literary fiction, bring Poke Rafferty with you as an expert witness. Timothy Hallinan's series about a mixed-race American travel writer who has settled in Bangkok with a bespoke family combines thriller elements (seriously dangerous bad guys, heroic good guys, and heart-in-your-mouth action scenes) with unusual tenderness."
—Reviewing the Evidence

"One of the finest crime fiction series going right now."
—Kittling Books

"Timothy Hallinan writes the kind of thriller other writers only dream about. For the Dead is not only a fast-paced, compelling tale, but also, on every level, a fine literary read. His characters are fully drawn, his Bangkok beautifully evoked, his understanding of the complexities of the human condition so obvious and so full of compassion. This isn't a book just for those in search of a great thriller. It's for anyone in search of a great story—period."
—William Kent Krueger, Edgar-winning author of Ordinary Grace

"Graham Greene and John le Carré are the writers who remind me of Timothy Hallinan's carefully crafted characters and his ephemeral environs that undulate like a wisp of Far-East smoke. The Poke Rafferty thrillers are one of the best series in the biz right now and For the Dead is the best of the bunch."
—Craig Johnson, author of the Walt Longmire Mysteries, the basis of A&E's hit drama Longmire 

"Tim Hallinan is our Charles Dickens in modern-day Thailand. In the latest Poke Rafferty thriller, his adopted adolescent daughter, Miaow, takes center stage, using both her wiles and hurt from her former street life to help a classmate pursued by frightening men with unknown agendas. The promise of family is what is at stake in this novel which is both thrilling and heartbreaking. If you haven't read a Poke Rafferty novel yet, For the Dead will certainly bewitch you to take on the whole series."
—Naomi Hirahara, Edgar award-winning author of Murder on Bamboo Lane

"For the Dead, by Timothy Hallinan, offers equal measures of joy and sorrow. The joy of beautiful writing, characters that grip your soul, and a beguiling story told against the sorrow of a magnificent people making their way in a world besieged by corruption and chaos. Beautiful, scary, and heartbreaking all at once. Read it and weep."
—Wendy Hornsby, Edgar-award winning author of The Color of Light

"A heart-gripping thriller that sucks you in and doesn't let go until the very end. Hallinan's Poke Rafferty series is a must read."
—Brett Battles, bestselling author of the Jonathan Quinn series

Praise for the Poke Rafferty series

"Hallinan not only writes a relentless-as-the-rain paced thriller, sprinkled with an off-beat, cynical humor, but the poignant emotional sides of the characters and the intelligent and beautiful plot and storytelling soak the reader's heart to the skin."
—Seattle Post Intelligencer

"A heart-rending, unforgettable thriller."
—Publishers Weekly, Starred Review

"All of Hallinan's characters are multifaceted and compelling . . . The Fear Artist is simply the best of a fine series of thrillers set in one of the world's most exotic locales."
—Booklist, Starred Review

"Stellar."
—Library Journal, Starred Review