Fools' River (A Poke Rafferty Novel #8) (Hardcover)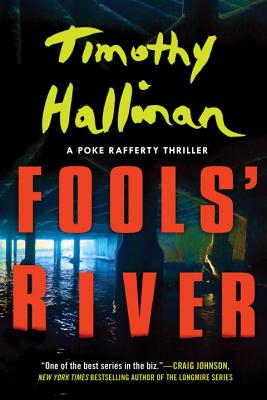 Interested in this title? Email us for more information!
Other Books in Series
This is book number 8 in the A Poke Rafferty Novel series.
Description
---
The eighth installment in Timothy Hallinan's Edgar Award–nominated ticking-clock thriller about the most dangerous facets of Bangkok's seedy underbelly.

The two most difficult days in Bangkok writer Poke Rafferty's life begin with an emergency visit from Edward Dell, the almost-boyfriend of Poke's teenage daughter, Miaow. The boy's father, Buddy, a late-middle-aged womanizer who has moved to Bangkok for happy hunting, has disappeared, and money is being siphoned out of his bank and credit card accounts.

It soon becomes apparent that Buddy is in the hands of a pair of killers who prey on Bangkok's "sexpats"; when his accounts are empty, he'll be found, like a dozen others before him, floating facedown in a Bangkok canal with a weighted cast on his unbroken leg. His money is almost gone.

Over forty-eight frantic hours, Poke does everything he can to locate Buddy before it's too late.
About the Author
---
Timothy Hallinan has been nominated for the Edgar, Nero, Shamus, Macavity and Silver Dagger awards. He is the author of twenty widely praised books, including the Simeon Grist Los Angeles mysteries, the Poke Rafferty Bangkok thrillers and the Junior Bender Hollywood burglar novels, including Herbie's Game, winner of the Lefty Award for Best Humorous Mystery. After years of working in the television and music industries, he now writes full-time. He lives in California and Thailand.
Praise For…
---
A Bookreporter.com Best Book of 2017

Praise for Fools' River

"Absorbing . . . The more we learn about the people in Fools' River, the more we care about them—including some of the flesh chasers and even some of the villains (who turn out to be at least in part victims themselves). And there's the empathetic Poke himself, his "emotions . . . so close to the surface [you] can almost see them moving around under his skin." All too human or not, Poke proves up to correcting the wrongs he sets out to right."
—Tom Nolan, The Wall Street Journal

"You might not think a story set in the Bangkok sex trade is your cup of tea, but Timothy Hallinan might change your mind with the humanity of his characters against the seamy backdrop, notably his detective Poke Rafferty."
—Raleigh News & Observer

"Outstanding . . . Fans of hard-boiled detective fiction will feel right at home."
—Publishers Weekly, Starred Review

"In a bravura performance, Hallinan brings all these stories together around Poke, whose mission as a sleuth is to clear obstacles from the paths of those with the guts to become who they want to be. A gripping thriller, yes, but one that never loses the rhythm of its characters' beating hearts."
—Booklist, Starred Review

"[Hallinan] ups his always high-level game . . . Masterful subplots and nuances abound."
—BookPage, Top Pick

"Complex and richly drawn."
—Lit Hub

"I'd no more forget to read a new Poke Rafferty mystery than I'd forget to put on my glasses first thing in the morning."
—Kittling Books

"This is what a truly fine thriller is for: to let you, force you, to ignore the rest of your life and accept that all the love that needs saving, all the life that matters, is in the next chapter. "
—Kingdom Books

"One of the best [series] out there."
—Reviewing the Evidence

Praise for the Poke Rafferty Thrillers

"You could drown in the waves of corruption that surge through Timothy Hallinan's Bangkok mysteries."
—The New York Times Book Review

"Poke is a charming protagonist who loves his family and friends fiercely and will do anything to protect them. Highly entertaining."
—Library Journal, Starred Review 
 
"Presents a view of Thailand's underbelly that few visitors ever see."
—Contra Costa Times
 
"A fast-paced, compelling tale, but also, on every level, a fine literary read. His characters are fully drawn, his Bangkok beautifully evoked, his understanding of the complexities of the human condition so obvious and so full of compassion. This isn't a book just for those in search of a great thriller. It's for anyone in search of a great story—period."
—William Kent Krueger, Edgar-winning author of Ordinary Grace

"In Hallinan's Bangkok, the ugly truths of poverty, homelessness, corruption, caste and crime are shaded with tremendous compassion."
—The Arizona Republic