Invader ZIM Vol. 7 (Paperback)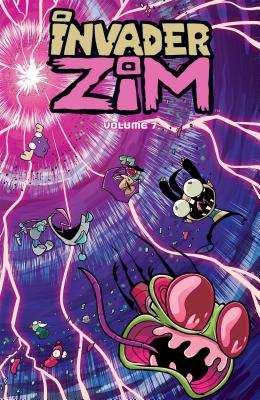 Other Books in Series
This is book number 7 in the Invader ZIM series.
Description
---
The seventh volume of the much-beloved comic series based on the much-beloved TV show Invader ZIM features tales of aliens, gym teachers, and cute, fluffy, radioactive woodland creatures!

ZIM finds himself imprisoned with all his worst enemies in a special two-part storyline! Meanwhile, ZIM's other worst enemy, Dib, attempts to foil him in both a Physical Fitness competition and an Invention Fair! And in a special one-shot story by cartoonist KC Green, Dib learns that there are some birds you just don't mess with. Collects issues #31-#35.
About the Author
---
Sam Logan is best known as the creator of Sam and Fuzzy, a massive comedy adventure series that he has been writing and illustrating for over 15 years. He's also either partly or completely responsible for President Dog, Skull Panda, the Underground RPG, and a lot of unrelated problems. He lives in Vancouver, BC with his two dogs. (They're very good boys.)

Down and out in Massachusetts, KC Green writes and draws comics for a long time, then a longer time happens where he is playing video games or watching the same 5 YouTube ASMR videos. The day starts again in much the same path, but instead maybe it's Wednesday and not Tuesday. kcgreendotcom.com