Bug City (Hardcover)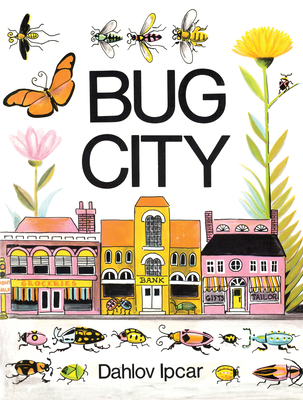 $17.95

Usually Ships Within a Week
Description
---
Follow a whimsical day in the life of a Bug City family, with imaginative illustrations of real insects by American artist Dahlov Ipcar

This charming bug family (Mama is a ladybug and Papa is a daddy longlegs) share a day in Bug City, where they go shopping (for calico moths and velvet ants, of course!) and visit the zoo with rhinoceros beetles and ant lions. Their quaint, busy lives, augmented by Dahlov Ipcar's flamboyant, colorful illustrations, make a charming story for readers to enjoy and learn how to identify a wide variety of bugs.
About the Author
---
DAHLOV IPCAR (1917-2017) was an American painter, illustrator, and artist known for colorful paintings featuring animals in farm settings or the wild. In 1945 she illustrated The Little Fisherman, her first children's book, a classic Golden Book written by noted children's author Margaret Wise Brown. Ipcar went on to write and illustrate thirty children's books of her own. She also wrote four fantasy novels for a slightly older audience, as well as a volume of short stories for adults. Her art is significant in the social realism movement. In 1972 Dahlov and her husband together received the Maine Governor's Award for "significant contributions to Maine in the broad field of the arts and humanities." She also received three honorary degrees from The University of Maine, Colby, and Bates colleges. In 1998 The University of Minnesota honored Dahlov with The Kerlan Award for Children's literature. In 2012 the Farnsworth Museum gave Dahlov the Maine In America Award, an honor given to an individual or group who has made an outstanding contribution to Maine and its role in American Art. Ipcar's works are now in the permanent collections of museums such as the Metropolitan Museum of Art, the Whitney Museum of American Art, and the Brooklyn Museum in New York and recent exhibitions have been displayed in Maine and across the US.
Praise For…
---
"Dahlov Ipcar's work invites us to face the challenge of explaining our own creative self. In doing so, we will develop our own unique way of looking at the beauty and excitement of simple everyday life."
—Sara Torres Vega, PhD, education research assistant, Museum of Modern Art