Yoga Nidra Lullaby (Hardcover)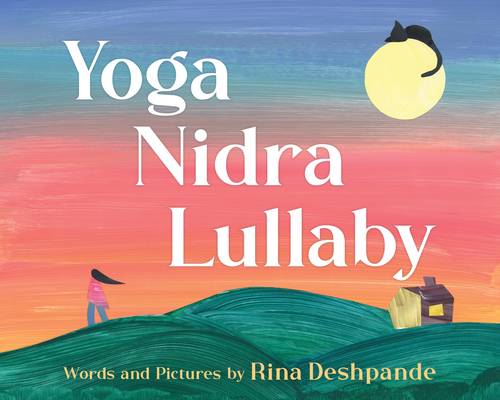 $18.95

Usually Ships Within a Week
Description
---
For readers of Good Night Yoga and I am Peace, a kids' sleepy-time story for winding down, tuning in, and relaxing into better, deeper, and more restorative sleep.

The orange sun begins to sink. Skies are golden. Clouds are pink. What evening colors do you see?

Skies are clear. Moonlight glows. Blankets warm your legs and toes. Can you relax your whole body, from head to toe?

Beautifully illustrated with watercolor-style collage, Yoga Nidra Lullaby brings readers a mindful, rhyming story arc and series of progressive relaxation cues that help kids fall--and stay--asleep.

By first tuning into the sounds, sights, and smells of the outside world, then inviting readers to turn inward, author-illustrator Rina Deshpande draws on the yoga nidra practices she herself learned as a child, guiding kids to wind down, letting the day fall away and slipping into a deep, restorative sleep.

With each long breath in, each slow breath out, and every mindful attunement to outer surroundings and inner being, Yoga Nidra Lullaby is a dreamy invitation for kids to discover a haven of peace and calm--to relax and let go of the pressures and stresses of the day (kiddos have them too!).

The perfect introduction to yoga nidra for kids, Yoga Nidra Lullaby teaches readers that sleep is a practice that can be learned, and is a foundational building block for deeper sleep, mindful awareness, and lifelong practice. Yoga Nidra Lullaby includes a supplement that discusses the history of yoga nidra for readers who want to ground their practice within its origins and cultural context.
About the Author
---
RINA DESHPANDE is an educator, author, and artist. After teaching in NYC public schools, she was a founding Assistant Professor of Practice with Relay Graduate School of Education in 2010. Raised with yoga as an Indian American, Deshpande completed her ERYT-500 yoga certification and earned a masters in neuroscience and education at Harvard, designing yoga and mindfulness research curriculum. She currently authors and illustrates a monthly Yoga Journal magazine column on the culture and science of Yoga and is a faculty member. She's been published in Self, The Huffington Post, Headspace, Talkspace, Sonima.com, and Learning & the Brain. Deshpande is a lead advisor for education organizations. She loves yoga and art as much as her cat, which is a lot. Follow her at @rinathepoet on IG or rinadeshpande.com.
Praise For…
---
"With soothing prompts that spark imagination and colorful, charming illustrations, Yoga Nidra Lullaby introduces a whole new generation to the healing and rest that comes from the special practice of yoga nidra."
—Tracy Middleton, former brand director and editor in chief of Yoga Journal

"This beautifully illustrated book gently guides children into healthy sleep-time habits."
—Sara Lazar, PhD, associate professor at Harvard Medical School and Massachusetts General Hospital

"All of us need to master how to relax into sleep. How precious that Rina Deshpande brings this ancient art—so desperately needed in a world of screens and distraction—to children! With this lullaby she prepares future generations to know the healing power of rest."
—Brother Phap Luu, Plum Village monk and Dharma teacher

"Yoga Nidra Lullaby is a gift to any child. Rina Deshpande's painterly art pairs beautifully with her written message. This gentle story sweetly teaches the child to understand a mind-body connection through yoga nidra breathing, visualization, and relaxation. A strong bond with her parents, plus Rina's rich experience as an educator coupled with her illustrations, results in a winning combination." 
—Wis Mollerud Holt, former art director, Yoga Journal

"Rina's introduction to practicing yoga nidra is a must-read for children who are struggling with keeping calm and getting enough rest during an especially challenging time in all our lives.... This book could not come at a better time. I look forward to sharing it with my patients and my own three daughters!"
—Jyotsna Shah, MD, pediatrician

"Yoga Nidra Lullaby is a delightful and beautiful book full of practical wisdom for families around the nightly rituals of bedtime. Its pleasing pages invite both the reader and listeners into a process of awareness and deep relaxation of the body, the breath, and the mind in a way that, like a sung lullaby, gently and naturally prepares one for sleep. It is a precious jewel for parents and children alike."
—Robert W. Roeser, PhD, Bennett Pierce Professor of Caring and Compassion at Pennsylvania State University