And I Do Not Forgive You: Stories and Other Revenges (Paperback)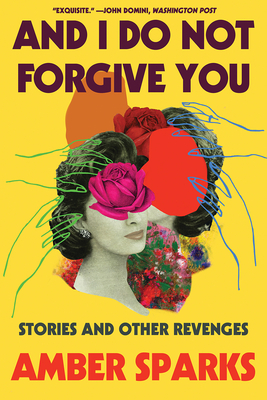 $15.95

Probably On Our Shelves Now! Wait for us to confirm availability.
Staff Reviews
---
It's been hard for me to focus enough to finish a whole novel lately, but these short stories hit me perfectly. They are strange and different enough to let me feel immersed in a different world, and full of absolutely fascinating characters.
I highly recommend to any fans of Kelly Link or Karen Russell, or those who like their fairytales a little darker and with a distinctly feminist lens.
— Johanna
Description
---
Amber Sparks holds her crown in the canon of the weird with this fantastical collection of "eye-popping range" (John Domini, Washington Post).
Boldly blending fables and myths with apocalyptic technologies, Amber Sparks has built a cultlike following with
And I Do Not Forgive You
. Fueled by feminism in all its colors, her surreal worlds—like Kelly Link's and Karen Russell's—are all-too-real. In "Mildly Happy, With Moments of Joy," a friend is ghosted by a text message; in "Everyone's a Winner at Meadow Park," a teen coming-of-age in a trailer park befriends an actual ghost. Rife with "sharp wit, and an abiding tenderness" (Ilana Masad, NPR), these stories shine an interrogating light on the adage that "history likes to lie about women," as the subjects of "You Won't Believe What Really Happened to the Sabine Women" will attest. Written in prose that both shimmers and stings, the result is "nothing short of a raging success, a volume that points to a potentially incandescent literary future" (Kurt Baumeister,
The Brooklyn Rail
).
About the Author
---
Amber Sparks is the author of The Unfinished World, and her fiction and essays have appeared in American Short Fiction, Paris Review, Tin House, Granta, and elsewhere. She lives in Washington, DC, with her husband, daughter, and two cats.
Praise For…
---
[Sparks] impresses with her exceptional collection of wry, feminist stories.... Some stories smuggle incredible emotional impact into surprisingly few pages.... Sparks's sardonic wit never distracts from her polished dismantling of everyday and extraordinary abuses. Readers will love this remarkable, deliciously caustic collection.
— Publishers Weekly [starred review]

Irreverent and clever characters take center stage in Sparks's latest collection.... The pieces here are beyond the classification of any one genre, borrowing from fairy tales, fantasy, coming-of-age, modern life, and social commentary.... Each story is vivid, unexpected, and satisfyingly weird. Darkly comic and whip-smart, this collection is recommended for readers of Aimee Bender and Alexandra Kleeman.
— Emily Hamstra - Library Journal

Few readers will encounter with any frequency such bold, bizarre, and brutally honest content as is in Sparks' (The Unfinished World and Other Stories, 2016) new collection.... Sparks' imagination seems limitless, her approaches to style and form without boundaries. Yet there is a cohesive voice and intention here, whether Sparks is using the vehicles of myth, history, and fantasy in her attempts to unravel rather than weave together tales of women's true experiences. To escape possession, find one's self, exert force without shame or justification, and tell what really happened—these themes rise like foam on the roiling bone-rich broth of righteous feminine rage. At once timely, wickedly funny, and uncomfortably real, Sparks' singular stories have the power to shake us wide awake and shatter every last happily-ever-after illusion.

— Janet St. John, Booklist

What joyful play and heart and movement in these stories, full of permission and the thrum of ideas bursting and growing on the page. To read one is like a bon-bon on a silver platter with a lit sparkler stuck inside.
— Aimee Bender, author of The Color Master

Amber Sparks' stories are, precisely, like her name: precious things delivered in a burst of fire and light.
— Carmen Maria Machado, author of Her Body & Other Parties

Re-appropriating fairy tales, urban legends, and supernatural fantasies, Amber Sparks' startling kaleidoscopic visions re-cast familiar heroines in their own stories. Reading this was a delight!
— Ling Ma, author of Severance

In this genre-bending new collection, Amber Sparks has once again shown herself to be fearless and cutting, the insistent voice that breaks through the hand trying to silence it. I had a lot of fun reading these fresh, sharp, delicious stories, even as my neck prickled with doom.
— Lindsay Hunter, author of Eat Only When You're Hungry

And I Do Not Forgive You is so cracklingly alive it singes your fingertips. These stories are fiercely funny, heartrending, enraged and enraging, redemptive—in short, essential. They're also some of the most inventive stories I've read. I loved every one.

— Clare Beams, author of We Show What We Have Learned