The Half Life of Valery K (Hardcover)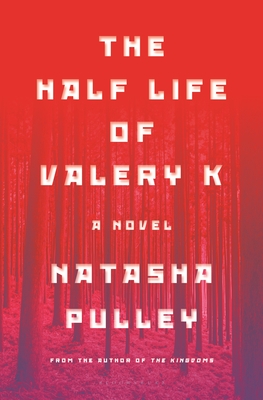 $28.00

Probably On Our Shelves Now! Wait for us to confirm availability.
Staff Reviews
---
Natasha Pulley is one of those rare authors whose ideas are so creative, so original, you have to wonder how she does it. The Half Life is a perfect example. At the start of the story Valery K is imprisoned in a Soviet gulag where he has learned how to survive under brutal conditions. Suddenly he is taken away and he thinks he is about to die but is instead taken to a secret city not located on any map where his skills are needed for a special project that, if successful, could change the trajectory of life everywhere. While he is just one cog in a large machine his cognitive abilities allow him to see the whole picture and what he sees is not pleasant. With the help of an empathetic KGB, an octopus that likes to wonder from its tank, and a village of escapees from the secret city, Valery sets out to thwart the project and show to the world the dangers of Soviet ambitions. This is one of those hybrids that is more than just the sum of its parts but it is a story you can just sink into like sitting on a cloud.
— Pete
Description
---
From the author of The Watchmaker of Filigree Street and The Kingdoms, an epic Cold War novel set in a mysterious town in Soviet Russia with a slow burn romance at its hearts.

In 1963, in a Siberian prison, former nuclear specialist Valery Kolkhanov has mastered what it takes to survive: the right connections to the guards for access to food and cigarettes, the right pair of warm boots, and the right attitude toward the small pleasures of life so he won't go insane. But one day, all that changes: Valery's university mentor steps in and sweeps him from the frozen camp to a mysterious unnamed city. It houses a set of nuclear reactors, and surrounding it is a forest so damaged it looks like the trees have rusted from within.

In City 40, Valery is Dr. Kolkhanov once more, and he's expected to serve out his prison term studying the effect of radiation on local animals. His research is overseen by an imposing but surprisingly kind KGB officer, Shenkov, whose trust Valery feels a strong urge to win. But as Valery begins his work, he is struck by the questions his research raises—ones even Shenkov is afraid to answer. Why is there so much radiation in this area? What, exactly, is being hidden from the thousands who live in the town? And if he keeps looking for answers, will he live to serve out his sentence?

Based on real events in a surreal Soviet city, and told with bestselling author Natasha Pulley's inimitable style, The Half Life of Valery K is a sweeping new adventure for readers of Stuart Turton and Sarah Gailey.
About the Author
---
Natasha Pulley is the author of The Watchmaker of Filigree Street, The Bedlam Stacks, The Lost Future of Pepperharrow, and The Kingdoms. She studied English literature at Oxford University and earned a creative writing M.A. at the University of East Anglia. She lives in Bristol, England.
Praise For…
---
"Natasha Pulley builds a surreal world that slowly reveals immense dangers. It's an absorbing Cold War thriller as well as a tribute to courage and determination." —Christian Science Monitor

"Natasha Pulley heads to the gulags, then to an atomic village, in her latest to combine fast-paced action and imaginative settings with beautifully developed queer relationships. When it comes to understanding the effects of radiation on the human body, Valery K is the best, so it's shocking but not too shocking when he's released from the gulag under one condition: he goes to work for his old college mentor, herself in charge of mysterious experiments in a Siberian village where everything, including the local residents, appears to be irradiated." —CrimeReads Queer Mysteries and Thrillers to Read All Year Long

"Full of layered, three-dimensional characters, uncomfortable ethics questions, and a forthright sort of frankness about the atrocities humanity is willing to commit in the pursuit of power, Pulley's humorous, heartfelt, and occasionally horrifying tale will stay with you long after the last page." - Paste Magazine, Best Novels of 2022

"Provocative, unsettling…Pulley, extrapolating out from the records of a historic Soviet research center, raises questions about scientific experimentation and the ways in which it can be manipulated for less than honorable purposes. Her dark humor, which turns on the blind faith given to Soviet authority figures despite their outlandish claims, combines with complex characters and a clear understanding of radiation science to yield an explosive blend. The chilling result feels all too plausible" —Publishers Weekly, starred review

"From state tyranny and crimes against humanity to ingenuity and valor under deadly pressure as well as humor and forbidden love, Pulley's brilliantly conceived, vibrantly realized, and complexly suspenseful tale is all the more resounding in the glare of Russia's recklessness at Chernobyl during its latest, horrific invasion of Ukraine." —Booklist, starred review

"Scientific research, KGB shenanigans, queer love, and the heartache of suffering children are just a few of the enriching intricacies Pulley traces with intelligent wit and confident narration. A gifted writer of well-drawn characters, Pulley has given the nuclear noir genre a fresh and stimulating take on Chernobyl-style terror." —Library Journal

"With unexpected twists, a paranoid atmosphere, and a fascinating narrator, The Half Life of Valery K is a superb work of historical fiction and an excellent mystery." - Bookpage, Best Mystery & Suspense of 2022

"Pulley's impeccable prose, vivid and shot through with tenderness, lends a glint of lightness to this unsettling story." —Daily Mail

"Based on real events in a surreal Soviet city, and told with bestselling author Natasha Pulley's inimitable style, The Half Life of Valery K is a sweeping new adventure for readers of Stuart Turton and Sarah Gailey." —BookRiot

"History and imagination collide to stunning effect in this utterly beguiling and addictive novel. Unflinching, darkly funny, and all too easy to believe, The Half Life Of Valery K is the kind of book that haunts the reader long after the last page is turned." —Erin Kelly, author of HE SAID/SHE SAID

"Pulley adds to her impressive oeuvre with another exquisite novel. Many of the author's trademarks are on display here: a finely-drawn period setting, a vein of dark humor, a plot blending historical fact and fiction, and a protagonist seeking to do the right thing in the face of a brutal political machine. An illuminating and immersive historical tale." —Vaseem Khan, author of THE UNEXPECTED INHERITANCE OF INSPECTOR CHOPRA

"Exhibiting all the storytelling skills that made her earlier books so readable and popular, Pulley also offers a piercing study of how a police state deforms individual psychologies, personal relationships and professional ethics . . . Pulley's broad perspective distinguishes her work from that of more-routine thriller authors. Studded with memorable characters and deepened by its exploration of thorny moral issues, The Half Life of Valery K is gripping popular entertainment with a pleasing intellectual heft." —Wendy Smith