Sister Novelists: The Trailblazing Porter Sisters, Who Paved the Way for Austen and the Brontës (Hardcover)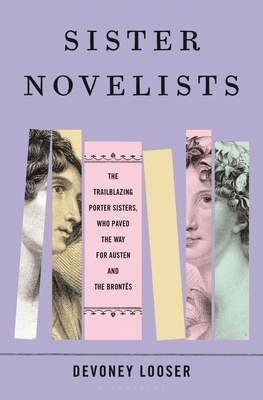 $30.00

Usually Ships Within a Week
Description
---
For readers of Prairie Fires and The Peabody Sisters, a fascinating, insightful biography of the most famous sister novelists before the Brontës.

Before the Brontë sisters picked up their pens, or Jane Austen's heroines Elizabeth and Jane Bennet became household names, the literary world was celebrating a different pair of sisters: Jane and Anna Maria Porter. The Porters-exact contemporaries of Jane Austen-were brilliant, attractive, self-made single women of polite reputation who between them published 26 books and achieved global fame. They socialized among the rich and famous, tried to hide their family's considerable debt, and fell dramatically in and out of love. Their moving letters to each other confess every detail. Because the celebrity sisters expected their renown to live on, they preserved their papers, and the secrets they contained, for any biographers to come.

But history hasn't been kind to the Porters. Credit for their literary invention was given to their childhood friend, Sir Walter Scott, who never publicly acknowledged the sisters' works as his inspiration. With Scott's more prolific publication and even greater fame, the Porter sisters gradually fell from the pinnacle of celebrity to eventual obscurity. Now, Professor Devoney Looser, a Guggenheim fellow in English Literature, sets out to re-introduce the world to the authors who cleared the way for Austen, Mary Shelley, and the Brontë sisters. Capturing the Porter sisters' incredible rise, from when Anna Maria published her first book at age 14 in 1793, through to Jane's fall from the pinnacle of fame in the Victorian era, and then to the auctioning off for a pittance of the family's massive archive, Sister Novelists is a groundbreaking and enthralling biography of two pioneering geniuses in historical fiction.
About the Author
---
Devoney Looser is Regents Professor of English at Arizona State University and the author or editor of nine books on literature by women, including The Making of Jane Austen. Her writing has appeared in The Atlantic, The New York Times, Salon, The Washington Post, and Entertainment Weekly, and she's had the pleasure of talking about Austen on CNN. Looser, who has played roller derby as Stone Cold Jane Austen, is a Guggenheim Fellow and a National Endowment for the Humanities Public Scholar. She lives in Phoenix, Arizona, with her husband and two sons.
Praise For…
---
"Looser's dual biography admiringly portrays two single women from modest circumstances who seized fame and tenuous economic security through talent and determination…pays overdue tribute to pioneering siblings unjustly neglected by literary history." —The Washington Post

"Sister Novelists is the first biography of the Misses Porter, one that brilliantly if belatedly gives both women their due. … One of the highlights of Ms. Looser's compelling biography is her impassioned defense of her subjects' achievements… Perhaps not all of their books would pass muster with modern readers… in which case, it might be enough to bring out a selection of the sisters' vivid and witty letters. Whatever happens, we at least have Ms. Looser's fascinating account of their 'overtly polite but covertly audacious lives" —The Wall Street Journal

"Buried for 200 years, the story of the indomitable Porter sisters comes to light. Household names in their time, these forgotten Regency novelists have gained an effective champion in Jane Austen biographer and scholar Looser . . . A triumph of literary detective work and storytelling, this is a must-read for the Austen and Brontë crowd." —Kirkus Starred Review

"Essential reading… Looser's narrative approach to biography is a hybrid of accessible prose and meticulous research, providing an intriguing model for popular literary scholarship." —Los Angeles Review of Books

"Before the Brontës introduced us to Heathcliff, before Jane Austen's wit made her famous, two best-selling 'sister-novelists' captivated readers and scandalized society. Today, their names have been forgotten. But, as Devoney Looser shows in this ground-breaking biography of Maria and Jane Porter, their works and legacy are still very much with us." —Tilar J. Mazzeo, New York Times bestselling author of IRENA'S CHILDREN and THE WIDOW CLICQUOT

"A fascinating biography of two hugely popular-but now forgotten-authors of the 19th century…the letters between Jane and Maria are something else-scathing and funny, observant and thoughtful… Unaware that they would ever be read by anyone else, the sisters opened their hearts to one another, and what a lot of heartbreak they had to share…But they were their own heroes, and how I mourned them when they were gone. Writing about the trailblazing Porters, Looser writes, 'felt like paying a debt.' Debt repaid." —Minneapolis Star-Tribune

"Groundbreaking… brilliant… This engrossing, accessible biography surely signals a widespread reawakening of interest in the work of these remarkable sister novelists." —Jane Austen's Regency World Magazine

"a triumphant and moving biography, drawing the revolutionary Porter sisters out of literary obscurity and into prominence once more." —Smithsonian Mag, Austenprose

"Clever, compassionate and compelling, Devoney Looser is my favourite person to read on the subject of writers. The Porter Sisters have found the perfect biographer to uncover their scandalously neglected story." —Lucy Worsley, author of JANE AUSTEN AT HOME and IF WALLS COULD TALK

"Reading Devoney Looser's Sister Novelists is like stepping into an Austen novel where one can vividly participate in the world full of love and angst that sisters, friends, lovers, and family endure only to realize that this is not a novel, but reality. Surely a mini-series need to be created about these genius, yet unknown women. I can't wait!" —Damianne Scott of Black Girl Loves Jane

"Jane and Anna Maria Porter leap into view in Devoney Looser's brilliant joint biography. … Looser cannily lets the sisters display in their own words their kaleidoscopic lives of romantic infatuations, glamour, poverty and literary grind. This powerful biography delivers history through personal experience, while telling the achingly poignant story of lifelong sisterly love." —Janet Todd, author of JANE AUSTEN: HER LIFE, HER TIMES, HER NOVELS

"Looser triumphs in showing how intelligent women are forced to make unintelligent concessions by her deep dive into the sisters' publishing travails at a time women writers were considered unfeminine. Above all Sister Novelists is an essential, important read, beautifully told, that will make readers ask how many other forgotten writers are waiting to be resurrected by a Devoney Looser." —Soniah Kamal, author of UNMARRIAGABLE: PRIDE AND PREJUDICE IN PAKISTAN

"Absorbing . . . Looser has fashioned a biography that reads like another pacy Porter fiction. From a vast stash of confidential and previously unpublished letters passing between Jane and Maria Porter, she has marshalled a wealth of detail to deliver a gripping narrative filled with adventure and emotion, triumph and loss." - Times Literary Supplement

"Energetic and revealing." —Jane Smiley, The New York Times on THE MAKING OF JANE AUSTEN

"Brilliant stuff... more entertaining than any reception history has a right to be." —The Atlantic on THE MAKING OF JANE AUSTEN

"An informative and delightful read for literary lovers who want to learn more about one of the most celebrated authors of all time, The Making of Jane Austen puts the famed novelist in a whole new light." —Bustle on THE MAKING OF JANE AUSTEN

"Groundbreaking…Providing well-selected details and pertinent historical and cultural context, this book often reads like a gripping novel itself…This significant study will be of great interest to those interested not only in the Porter sisters but also in Romantic-era literary history." —Choice

"Lively . . . persuasive . . . Taking as her material the hundreds of letters the sisters sent each other over the course of their lives, her narrative is the kind of tale the Porters might have spun about themselves." —New York Review of Books