The House of Fortune (Hardcover)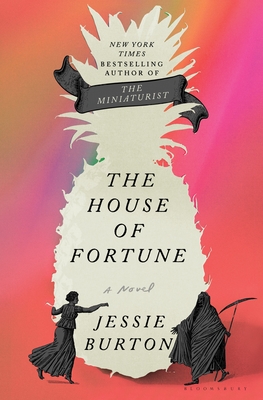 $28.00

Probably On Our Shelves Now! Wait for us to confirm availability.
Description
---
Alive with the magic of Amsterdam, the enchanting new historical novel from the author of the sensational New York Times bestseller The Miniaturist, which has sold more than two million copies.

In 1705 Amsterdam, Thea Brandt is coming of age, trying to grapple with her family's secrets and her own identity as a young Dutch-African woman. She's drawn to the theater and an artistic life, but with her family in serious financial decline, pressure is on Thea to marry up in society.

As her father and Aunt Nella work desperately to save the family home and catastrophe threatens to engulf them, Thea seeks refuge in the arms of her secret lover, Walter, the chief set-painter at her favorite theater. But the thrill of their romance is shadowed by another secret she keeps close: Her birthday marks the day her mother, Marin, died in labor. Thea's family refuses to share the details of the story, just as they seem terrified to speak of the shadowy artist from their past whose tiny figurines seem to capture the things most carefully hidden away. Aunt Nella believes the solution to Thea's problems is to find her a husband, and an unexpected invitation to Amsterdam's most exclusive ball seems like a golden opportunity. But when a miniature figure of Walter turns up on Thea's doorstep, it becomes clear that someone out there has another fate in mind for the family- and that perhaps the new beginning Thea seeks won't depend on a man.

A feat of sweeping, magical storytelling, The House of Fortune is an unputdownable novel about love and obsession, family and loyalty, and the fantastic power of secrets.
About the Author
---
Jessie Burton studied at the University of Oxford and then went on to the Royal Central School of Speech and Drama. She is the author of three novels for adults, The Miniaturist (2014), The Muse (2016) and The Confession (2019), and is both a Sunday Times no. 1 bestseller and a New York Times bestseller. The Miniaturist sold a million copies worldwide in its first year and has also been adapted for television by the BBC. Jessie is now published in forty languages. Her first children's story, The Restless Girls, was published by Bloomsbury in 2018.
Praise For…
---
"[Burton] has a way of drawing us into her world—she's particularly adept at navigating between different points of view—and of giving us Old Amsterdam in all its luxurious severity. And, as with the previous volume, Burton excels in the wrapping up. Nella, having pushed so hard to marry off her niece to an unloved suitor, finds . . . against all odds, an alternative family . . . no different in its essentials from any other." - New York Times Book Review

"Good news for the millions captivated by The Miniaturist, Burton's debut: Small figurines are still appearing mysteriously decades later, now delivered to Nella Brandt's niece. She is illegitimate, motherless, and madly, secretly in love. Eighteenth-century Amsterdam has never been steamier." - People Magazine

"The Dutch setting is masterfully evoked, both indoors and out, and the Brandts and their secrets are shrewdly depicted . . . Captivating." —Minneapolis Star-Tribune

"A beautifully written and wholly engrossing tale. New readers will be delighted that they can enjoy this book without having read the first one, but they'll probably seek it out to spend a bit more time in Burton's magical Amsterdam." —Library Journal

"Jessie Burton is a master storyteller who brings 18th century Amsterdam to life. I felt I was in the city with Thea and Nella, and I felt for them as the chasm between the two widened. The cost of keeping secrets and the danger of not being able to communicate with those closest to us thrums through this exquisite page-turner." —Janet Skeslien Charles, New York Times bestselling author of THE PARIS LIBRARY

"A more than worthy sequel to The Miniaturist. Elegant, atmospheric, compelling. I absolutely loved it." —Marian Keyes, New York Times bestselling author of THE BRIGHTEST STAR IN THE SKY and AGAIN, RACHEL

"The most beautiful book you'll read this year. A spectacular achievement, this glittering glass bauble of brilliance, the story of Thea, will break your heart and put it back together again. Capturing how it was to be eighteen with such acuity and grace, I believed I was there again. Thought The Miniaturist was the end of the story? Think again. Shining, sinuous, truly a marvel." —Kate Williams, New York Times bestselling author of BECOMING QUEEN VICTORIA

"Captivating . . . the vibrant period detail, the characters' vibrant inner lives, and Thea's fulfilling journey to maturity make for a winning combination. Readers will relish the return of Nella and her world." —Publishers Weekly

"The captivating coming-of-age drama of Thea Brandt, a spirited Dutch-African girl longing for romance and impatient to launch her adult life while remaining shackled to her family's scandalous past. Burton's dark and opulent third novel explores the conflicting loyalties that influence Thea and threaten to undermine her ravenous desire for independence . . . Burton's narrative talents shine at full brilliance in The House of Fortune, offering a heady, hypnotic immersion into Thea's world that readers will be reluctant to leave." —Shelf Awareness

"The House of Fortune is a book of beauty and insight: Burton's ability to meld a deep understanding of human nature with pitch-perfect historical detail is awe-inspiring. I turned the final page feeling moved, satisfied and sad to leave the characters (and Lucas the cat) behind. Burton is a master storyteller, with an uncanny knack for scene-setting and atmosphere. I felt I could see, smell, live and breathe every page. The House of Fortune is a delight for anyone who is about to read it." —Elizabeth Day, author of HOW TO FAIL and THE PARTY

"I was absolutely swept away by this exquisite and propulsive novel. I found the world so meticulously crafted and the vibrant cast of characters so alluring that I entered a divine fictional dream, bewitched by Burton's deft narrative hand. A thrilling book of depth that examines the weight of family secrets and what it means to break free of the past and step into one's light. Magical and suspenseful, this epic tale felt written in the stars long ago. The kind of book that makes you feel lucky to hold it in your hands." —Chelsea Bieker, author of GODSHOT and HEARTBROKE

"One of the year's most hyped novels, and it's easy to see why. Burton conjures every scent and crackle of Nella's world." —Entertainment Weekly on THE MINIATURIST

"A seductive meditation on greed, power and the tortuous journey even the well-heeled must endure for self-possession." —The New York Times Book Review on THE MINIATURIST

"The pleasure lies in giving in to well-wrought illusions, and the result is a beach read with meat on its bones - perfect for the Labor Day transition from play to work." —Vulture on THE MINIATURIST

"Burton gives her narrative the propulsive drive of a thriller, but her distinctive prose conveys deeper, harder answers than a whodunit. This fine historical novel mirrors the fullness of life, in which growth and sorrow inevitably are mingled." —Washington Post on THE MINIATURIST