Celebrate! Mommies and Daddies (Board Books)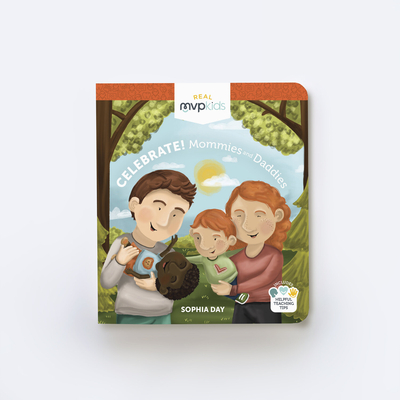 $7.95

Usually Ships Within a Week
Description
---
Whether heading to daycare, falling off a bike, adding a new sibling, or settling into bed, the MVP Kids learn from their parents that they can remain secure in their parents' love. Single moms, dads, and two- parent families alike will enjoy the sweet expressions of I love you in each of the MVP Kids heritage languages; including English, Spanish, Korean, Hebrew, Swahili, Chinese, Portuguese, Hindi, Italian, Arabic, German.
This book features a range of children, including children with Down syndrome, cerebral palsy, and cochlear implants. Diversity is shown in positive ways with characters that span various cultures, ethnicities, family situations, physical challenges and more. Readers of all backgrounds will see themselves in these pages while learning to value the diversity within their own community and being exposed to differences from around the world.
About the Celebrate Board book series
Celebrate everyday moments of childhood with MVP Kids board books for children ages 0-6. Sophia Day interacts with children through memorable verse and inviting illustrations. Topics cover important routines, life events, family changes, foundational math and science concepts, holiday celebrations, and more. Young children follow the MVP Kids as they develop good character and learn important life lessons. Helpful Teaching Tips sections are included in each book to equip and guide you toward a deeper understanding of each subject. Join the MVP Kids and celebrate growing up
About MVP Kids
Families with a diverse range of cultural and ethnic backgrounds drive the inspiration for child education and social emotional learning. MVP Kids enables real-world kids to address the challenges in their lives through story-based character lessons where the kids interact at school, in social situations, and in their communities. MVP Kids board books enrich preschool readers while hardcovers and paperbacks focus on school-aged children. Each MVP Kids book includes extensive coaching information for parents and educators that promotes character education, wise decision-making skills, and social and emotional learning.
About the Author
---
In our products for children, families, and caregivers, Sophia Day interacts with children through a recipe of entertainment, expanded education, and inviting illustrations. Sophia Day promotes healthy mentoring relationships by providing opportunities for parents and teachers to personally relate with their children. Sophia Day's goal is to captivate kids of all ages with purposeful entertainment while supporting parents, caregivers, educators, coaches, and counselors to prepare kids to become Real MVPs, living responsible and meaningful lives. Become lifetime friends with our MVP Kids as they grow up with your kids in Sophia's multiple series for preschool, elementary, and teenage years. Megan Johnson is the MVP Kids Writing Director and the author of many of our MVP Kids book series. Megan has a BA in Education with additional studies in linguistics and counseling. As a homeschooling mom to five children, including special needs and adoptions, Megan seeks to provide families with accessible tools to build a caring, inclusive community. Megan and her family love living in sunny Arizona. Stephanie Strouse is MVP Kids Creative Director and the illustrator for many of our Real MVP Kids books. Stephanie received a BA in Visual Communications Design from Virginia Tech, developing a passion for communicating through illustration and color. Stephanie loves seeing real life versions of the MVP Kids out and about in real life, reinforcing her desire to make a lasting impact in children's lives through her creative works. Stephanie currently resides in Ohio. For more on Sophia, Megan and Stephanie, visit www.MVPkids.com.