Manchester Christmas: A Novel (Paraclete Fiction) (Hardcover)
General Info
McIntyre's Books operating hours are 10am to 5pm Wednesday through Sunday. We are located in Fearrington Village, halfway between Chapel Hill and Pittsboro on US 15-501.
Please note that any and all orders placed on our site are available for in store pick up AND curbside service; we will inform you when your order is ready for pick up.
For those visiting our store in person, we know you will be entering wearing masks as per Governor Cooper's mandate. We are also asking all visitors who are browsing and picking up books to wear gloves which we make available at our entry.
Please call 919.542.3030 if needed. If you reach our answering maching during our open hours, don't fret. Call us back within a minute or two or we will call you back as soon as we can.
We cannot thank you so very much for supporting a local small business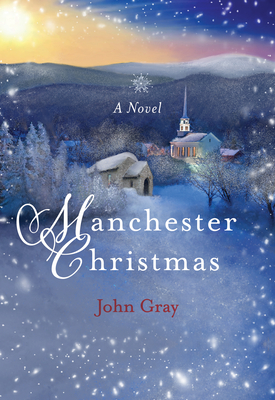 Email books@fearrington.com or call for price (919) 542-3030
Description
---
"Sweet, romantic, and suspenseful, Manchester Christmas is an unexpected gift."
—Richard Paul Evans
#1 New York Times Bestselling Author of The Christmas Box

A young writer is drawn to a small New England town in search of meaning for her life. Soon, she encounters kindness, romance, and is pulled into a mystery centered on an old, abandoned church and the death of a special girl. Are the images that only she can see in the church's stained-glass windows a warning, or is someone trying to reach her, to help heal this broken community? Manchester Christmas illustrates how God often uses the most unlikely among us to spread grace and healing in a wounded world. Full of love, hope, and forgiveness, this debut novel from an Emmy-winning writer will touch your heart and have you longing for Christmas in Manchester.
 
About the Author
---
John Gray is an Emmy Award-winning television journalist and columnist in upstate New York, and the author of three popular children's books, God Needed a Puppy, Keller's Heart, and Sweet Polly Petals, and his debut novel, Manchester Christmas. John's books have captured the hearts of readers around the world. His heart shines through his uplifting stories, teaching children that kindness is the path to happiness. John donates a generous portion of book sales to help others; he has given $30,000 to more than 50 animal shelters around the country. John is a father of three and lives in upstate New York with his wife, Courtney, and their five dogs; three of which are rescues.
Praise For…
---
"Sweet, romantic, and suspenseful, Manchester Christmas is an unexpected gift." —Richard Paul Evans, #1 New York Times Bestselling Author of The Christmas Box

"Stuffed to the seams with wholesome holiday cheer, Manchester Christmas is an adorable Christian romance set in a snow globe-worthy small town in Vermont. At the beginning of the fall, Chase, a cute-as-a-button writer, drives her convertible from Seattle to Manchester with her adorable dog, hoping to fulfill her deep yearning for pastoral life. Within moments of arriving, Chase is embroiled in a love triangle with two of the town's most eligible bachelors: Owen, a widowed real estate agent and single parent to a boy on the autistic spectrum, and Gavin, a hunky farmer with a master's degree. Their tight-knit community doesn't believe in privacy, and soon, Chase's love life is the talk of the town. Then she rents a rehabbed church and discovers that its rare Tiffany glass windows have the ability to communicate with her. As she grows to trust the windows' messages, Chase enters a new relationship with a God, who has her best interests at heart. For all of its crisp maple leaves, perfect waffles, aww-shucks dialogue, and shabby chic descriptions, Manchester Christmas also takes on serious questions about what "home" means to Chase. She's depicted as independent, sassy, and in search of a sense of belonging; one of the novel's most satisfying turns is in her budding bond to the god she sees in the church windows. This is an apple-pie-sweet Christian romance, complete with tender kisses, fireflies, and just the right amount of conflict, as well as a distinctive cast of supporting characters who nudge Chase along as she figures out what she wants, and who she's living for. Manchester Christmas is a seasonal fantasy that doesn't worry too much about reality as its characters find new ways and reasons to rub noses in the snow." —Foreword Review