The Goldenacre (Hardcover)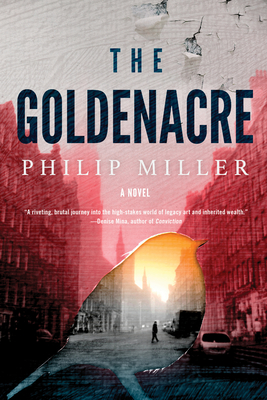 $26.00

Probably On Our Shelves Now! Wait for us to confirm availability.
Staff Reviews
---
Art is in the eye of the beholder, especially when you're an inspector of provenance working for the British government. Which is what Thomas Tallis is when he is sent to Edinburgh to assess a painting that has been in the hands of one family since the 20's. But when he finds the family unwilling to allow him to inspect the painting on his term and then threats start arriving at his desk it gets him to thinking. Then a local reporter tenuously ties two murders, a local artist and a city councilor, to the family. But it's only when his boss tells him to back off that he begins to seriously wonder what is going on and redoubles his efforts to see the painting and complete his report in spite of the dangers he is facing. This is a gorgeously bleak, wondrously written, story that brings Edinburgh alive in ways that would make Ian Rankin, the king of Edinburgh noir, jealous, and proves once again that sometimes the best travel guide is a good mystery.
— Pete
Description
---
A bitter journalist and troubled art expert risk their lives to find the connection between a legendary painting and a series of rash murders in this "riveting, brutal journey into the high-stakes world of legacy art and inherited wealth" (Denise Mina, author of Conviction).

Thomas Tallis, inspector of provenance, has just arrived in Edinburgh, Scotland, to authenticate The Goldenacre, a masterpiece by iconic Scottish architect and painter Charles Rennie Mackintosh. Still dealing with a miserable divorce and the fallout from a disastrous job in London, Tallis is eager to sign off on the painting and leave. It should be simple, as the painting has been owned by one noble family since the '20s. But then a horrifying parcel arrives on Tallis's desk, and the threatening message is clear: someone doesn't want him inspecting the painting. Now that Tallis sees lives are in danger, he has no choice but to stay until the investigation is complete.

Meanwhile, gruesome murders are plaguing Edinburgh. First, a Scottish painter of great renown. Next, an Edinburgh City Counsellor.  Battle-hardened newspaper reporter Shona Sandison is on the case, even as her beloved industry shrinks around her. Shona doesn't care who she steps on to get the best story, and she soon uncovers a link between The Goldenacre and the murders. As Tallis's personal crises reach a fever pitch, Shona struggles to enlist his help in understanding how the painting is mixed up in all this violence before either one of them becomes the next victim.

Pensive, lush, and tragic, The Goldenacre is a heartbroken love letter to Edinburgh, and an unpredictable, gorgeously plotted mystery to savor.
About the Author
---
Philip Miller lives in Edinburgh and grew up in County Durham. He was a journalist for twenty years, including being Arts Correspondent for the Scotsman, the Sunday Times in Scotland, and the Herald; he was twice named Arts Writer of the Year at the Scottish Press Awards. His previous novels include The Blue Horse and All the Galaxies, and his poetry has been published in One Hand Clapping, The North, Poetry Birmingham Literary Journal, and Gutter Magazine.
Praise For…
---
Praise for The Goldenacre

A Free Lance-Star Best Book of 2022
An Air Mail Best Mystery Book of 2022
Nominated for the Beltie Mystery Prize
A CrimeReads Most Anticipated Crime Book of Summer

"The Goldenacre features a dense cast of vivid characters, not least Tallis, a tortured pilgrim worthy of a Graham Greene tale. The book—which explores through prose the interplay between light and darkness in the physical and moral worlds—is an ambitious and wonderfully realized work."
—Tom Nolan, The Wall Street Journal

"This terrific art mystery is as twisty and dark (even a wee bit gruesome in places) as the 'crooked medieval lanes' and the 'brooding bulk' of St. Giles' Cathedral in Edinburgh, where this exceptional novel is set."
—Carole E. Barrowman, Star Tribune

"One of a kind and loaded with original plotting."
—Toronto Star

"A literary masterpiece. So many layers to peel back in this mystery."
—Mystery & Suspense

"A literary thriller in the tradition of The Goldfinch or All the Light We Cannot See, but better! In The Goldenacre, the suspense is real, the stakes are high, and the mystery actually gets resolved . . . [An] enjoyable thriller that is part cerebral and part noir."
—Deadly Pleasures Mystery Magazine

"A moving meditation on beauty, loss, and the bonds of family. John le Carré would have sympathized with its doomed hero, art expert Thomas Tallis, and the noble futility of his effort."
—Air Mail

"It is the magic way oddly juxtaposed words manage to convey the essence of a scene, the feelings of a character, or the ugliness of an act, more vividly than any dictionary-precise language, that makes The Goldenacre a thoroughly worthwhile read."
—Portland Book Review

"Unputdownable."
—Milwaukee Journal Sentinel

"As a novelist, he [Philip Miller] constructs an intricate and intelligent plot and peoples it with richly imagined and deeply realized characters. As a poet, he composes strikingly crafted descriptions . . . And as an experienced journalist, he captures the continuing diminution of print newspapers as they pursue 'digital transformation.' An authoritative work on art and an accomplished work of art, The Goldenacre also represents a shrewd study of family dynamics and a splendid sample of literary crime fiction."
—The Free Lance-Star

"[The Goldenacre] is mesmerizing in its use of atmosphere, poetic language, and ingenious plot construction . . . Overall, this fine example of Scottish noir was atmospheric and gloomy yet at times sardonic and droll."
—The Santa Fe New Mexican

"The Goldenacre is infused with the grey atmosphere and stylish lingo of its Edinburgh setting . . . [A] complex art thriller."
—CrimeReads

"Tartan noir hobnobs with the art world in The Goldenacre, Philip Miller's clever, complex and improbably touching thriller set in Edinburgh, a city whose reputation for quiet elegance and relative calm gets quite a workout."
—Shelf Awareness

"[The Goldenacre is] undeniably a powerful and enjoyable read, and places Miller among the must-read authors who bind the tragedy of their crimes to Scotland's cities and feudal history."
—Kingdom Books

"A first-class thriller."
—The Times (UK)

"Its vivid sense of location is one of this engaging mystery's great strengths."
—The Herald (Scotland)

"Like its namesake, The Goldenacre occupies its own unclassifiable space, as much a meditation on beauty and loss as it is crime fiction."
—Air Mail

"Fans of Scottish-Grit crime writer Ian Rankin will love this twisty mystery . . . [The] plot is ingenious, and the atmosphere—both sinister Edinburgh and the embattled newsroom—is brilliantly evoked."
—Booklist

"Outstanding . . . In a style recalling the brutal dreariness of le Carré, Miller describes a pivotal character as 'sharp and severe as a snapped bone.' It's also an apt description of this biting tale of society in decline. Noir fans won't want to miss it."
—Publishers Weekly, Starred Review

"Superb . . . A prime example of Scottish noir."
—Gumshoe Review

"Unusual and elegant, Philip Miller's third novel [The Goldenacre] takes the Tartan Noir genre in some new and unexpected directions."
—The Scotsman

"This excellent well-plotted noir thriller pits unique characters against the hard-edges of modern life."
—Stop, You're Killing Me!

"A riveting, brutal journey into the high-stakes world of legacy art and inherited wealth."
—Denise Mina, author of Conviction and the Garnethill trilogy

"A pacy tale of crime and deception set in the world of fine art. beautifully written, with a brilliantly vivid sense of place and a killer twist, The Goldenacre is one to savor."
—Liam McIlvanney, author of The Quaker

"Art, music, politics and murder, set against a backdrop of one of the most beautiful cities in the world—what's not to love? A complex and compelling plot, with intriguing characters."
—Lesley Kelly, author of the Health of Strangers novels

"A gritty, propulsive and moving thriller that makes important points about art, wealth and class."
—Kirstin Innes, author of Scabby Queen

"Phil Miller's Edinburgh is a city of secrets, an introverted place filled with characters so real in their humanity and yet somehow askew, imbued with the touch of supernatural shadows but also unshakeable goodness. Elegiac, moving, but always richly humane, The Goldenacre is a welcome addition to Scottish noir."
—Jackie Copleton, author of A Dictionary of Mutual Understanding, longlisted for the 2016 Women's Prize for Fiction

"Philip Miller's latest novel is a triumph of plot and character, a whirligig of twists, connections, and secrets written in an engaging and confident style. In the crowded world of Scottish crime writing Miller has carved a unique, thrilling niche for himself by blending hard-boiled journalism and the smiling treachery of the art world. Miller puts the art in Tartan Noir."
—Iain Maloney, author of The Only Gaijin in the Village

"An intriguing plot . . . Miller is an excellent wordsmith."
—Library Journal

"A promising, tear-stained debut."
—Kirkus Reviews