Don't Know Tough (Paperback)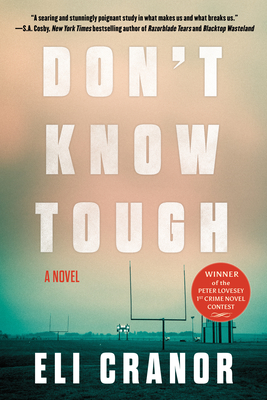 $16.95

Coming Soon - Available for Pre-Order Now
Staff Reviews
---
Eli Craner is the real deal! 
I read this in one sitting. Started around 11pm one night when night thinking I'd read for a couple of hours waiting for the eyelids to droop. But, nope, didn't happen. Only problem was this darn story about a troubled high school football player, his messed up family life, and his coach's attempt at redemption struck a hook in that wouldn't let go until 5:30 the next morning. Now I'm writing this at work, yawning every other minute while Keebe, my boss, gives me the stink eye. But, you know what? It's all worth it, every minute, every page turned, every yawn... Like I said, Eli is the real deal.
— Pete
Description
---
Friday Night Lights gone dark with Southern Gothic; Eli Cranor delivers a powerful noir that will appeal to fans of Wiley Cash and Megan Abbott.

In Denton, Arkansas, the fate of the high school football team rests on the shoulders of Billy Lowe, a volatile but talented running back. Billy comes from an extremely troubled home: a trailer park where he is terrorized by his unstable mother's abusive boyfriend. Billy takes out his anger on the field, but when his savagery crosses a line, he faces suspension.

Without Billy Lowe, the Denton Pirates can kiss their playoff bid goodbye. But the head coach, Trent Powers, who just moved from California with his wife and two children for this job, has more than just his paycheck riding on Billy's bad behavior. As a born-again Christian, Trent feels a divine calling to save Billy—save him from his circumstances, and save his soul.

Then Billy's abuser is found murdered in the Lowe family trailer, and all evidence points toward Billy. Now nothing can stop an explosive chain of violence that could tear the whole town apart on the eve of the playoffs.

WINNER OF THE PETER LOVESEY FIRST CRIME NOVEL CONTEST
About the Author
---
Eli Cranor played quarterback at every level: peewee to professional, and then coached high school football for five years. These days, he's traded in the pigskin for a laptop, writing from Arkansas where he lives with his wife and kids. His fiction has won The Greensboro Review's Robert Watson Literary Prize and been a runner-up for The Missouri Review's Miller Prize. Eli also writes a nationally syndicated sports column, "Athletic Support," and his craft column, "Shop Talk," appears monthly at CrimeReads. His debut novel, Don't Know Tough, won the Peter Lovesey First Crime Novel Contest. Eli is currently at work on his next novel.
Praise For…
---
Praise for Don't Know Tough

A USA Today Best Book of the Year (So Far)
CrimeReads Best Books of Year (So Far)
An Amazon Editor's Pick
CrimeReads Most Anticipated Books of 2022
New York Post Top Reads for the Week
CrimeReads Best New Crime Fiction of March
An Arkansas Center for the Book "Arkansas Gems" Selection

"Eli Cranor's top-shelf debut, Don't Know Tough, is Southern noir at its finest, a cauldron of terrible choices and even more terrible outcomes . . . There is a raw ferocity to Cranor's prose, perfectly in keeping with the novel's examination of curdling masculinity."
—Sarah Weinman, The New York Times Book Review

"Readers may think they know what happened, but Cranor has some twists in store—in a plot that calls to mind Megan Abbott's depictions of claustrophobic competitive cultures. A former quarterback who coached for five years at an Arkansas high school, Cranor brings an insider's understanding of the game, the region and human nature."
—Paula Woods, Los Angeles Times

"Compelling . . . Don't Know Tough leads to an astounding, perfectly noir finale as Cranor shows that sometimes good intentions are thwarted by reality. Cranor is an author to watch."
—Oline Cogdil, The South Florida Sun-Sentinel

"[A] brilliant debut . . . which is less "Friday Night Lights" and more a Daniel Woodrell Ozark gothic noir . . . Don't Know Tough takes the adage of "Faith, Family, and Football" and reveals it to be a vicious canard, or at least a decent cover for the common failings of god and men, the violence on the field an acceptable proxy for the violence that exists behind closed doors. A major work from a bright, young talent."
—USA Today, **** out of **** stars

"At once a crime novel packed with violence and desperation, a modern Southern Gothic tale drenched in darkness, and a touching, brutally honest take on football as religion."
—Gabino Iglesias, Southwest Review

"Vivid . . . [Cranor] draws the major characters with depth, and an empathetic but simultaneously clear eye. And his startlingly original prose often causes the reader to pause and revel at its wisdom."
—The Free Lance-Star

"Don't Know Tough is love, ambition, survival, football – and much more."
—Jackson Clarion-Ledger

"Imagine a noir Friday Night Lights written by a cross between Megan Abbott and Harry Crews, and you'll get close to what Eli Cranor's pulled off in Don't Know Tough. It's propulsive, twisty, and unputdownable. Cranor cracks open the complex world of high school football in small town Arkansas, giving us characters who are at once savage and tender and tragic, who are capable of acts of great bravery and betrayal. This is a book that shocks us into a new way of seeing. It's lean, muscled up, no-holds-barred noir. I feel lucky to have read it." 
—William Boyle, author of Gravesend, The Lonely Witness, A Friend Is a Gift You Give Yourself, and City of Margins
 
"Don't Know Tough really packs a punch. I enjoyed reading between the lines, dreading the trouble Billy was bringing on himself and his fragile life-chances. At the heart of the book is the pull of loyalties—the football team, the family and religion. The characters involved in all the stresses and strains are well drawn and convincing. It's tough reading, but the humanity shines through."
—Peter Lovesey, author of the Peter Diamond mysteries, in his adjudication of the Peter Lovesey First Crime Novel Contest
 
"Eli Cranor knows the underbelly of Friday night lights in this stunning debut that bleeds authenticity and raw emotion. This young author is a new voice of the South to watch."
—Ace Atkins, New York Times bestselling author of The Fallen and The Sinners

"Don't Know Tough is a searing and stunningly poignant study in what makes us and what breaks us and ultimately what brings us to a place of peace. Eli Cranor is that rare writer who can make you gasp, cry and cheer often in the same paragraph."
—S.A. Cosby, New York Times best selling author of Razorblade Tears and Blacktop Wasteland

"Don't Know Tough is a powerful and moving debut. Eli Cranor's writing is honest and unflinching. But what ultimately elevates this novel is its surprising tenderness. I read it in one sitting, and it'll stay with me." 
—James Kestrel, author of Five Decembers, Edgar Award Finalist for Best Novel

"Don't Know Tough is a gripping novel about rage and trauma, redemption and damnation, football and family and brutality in close quarters. Cranor's characters bristle with desperation and frustrated masculinity, a volatile cauldron of emotion that brings tension to every page."
—Steph Cha, author of Your House Will Pay

"I loved this book. Cranor blends noir and football masterfully, with the deft touch of Megan Abbott and the hardboiled punch of Ace Atkins. This is the sports crime novel I've been desperate to read, and I'm now unable to shake from my mind. Eli Cranor's debut crackles with voice and power. Don't miss this one." 
—Alex Segura, award-winning author of Secret Identity, Star Wars Poe Dameron: Free Fall, and Miami Midnight

"Eli Cranor rockets to the top of the writer-to-watch lists with this debut. Gritty, emotional writing and a deep knowledge of the pain and pride that play out beneath Friday night lights make Don't Know Tough a gripping, memorable read. I can't wait to see what Cranor does next."
—Michael Koryta, New York Times bestselling author of Never Far Away

"Debut novels as good as this are a rare and special thing. Eli Cranor's electrifying prose has me wanting more, and more, and more."
—Adam Christopher, author of Made to Kill

"Artistically ambitious . . . Cranor has a great ear and empathy enough to make us care about these characters, no matter how repellent, duplicitous or self-defeating their actions are. In that regard, he puts me in mind of Larry Brown, the great Mississippi writer who never condescended to the flawed and sometimes pathological characters he wrote about."
—Arkansas Democrat-Gazette

"Complex and compelling . . . It's as though young Southern Noir kingpins Ace Atkins and S.A. Cosby decided they needed a third badass to complete a supergroup of Deep South crime fiction beyond measure."
—The Day

"In the tradition of the greatest "sports" books of all time (think DeLillo's End Zone, Lardner's You Know Me Al, etc.), Don't Know Tough is hardly about football, really. It's about family, expectations, love, growing up, abuse, addiction, and small-town American society; football is merely the means through which author Eli Cranor talks about these issues. That isn't to say a true football fanatic wouldn't get a kick out of this book; if you have any in your family, this is the perfect novel to get them over the hump until September."
—Local Voice (Oxford, Mississippi)

"A searing exploration of the toxic heart of Southern high school football culture, including the human price of winning at all costs; think Friday Night Lights with extra darkness. Readers of Daniel Woodrell and Allen Eskens will appreciate the visceral detail in this Ozarks noir."
—Library Journal

"Searing Southern Gothic."
—Neil Nyren, BookTrib

"Don't Know Tough explores the nexus of class, race, language, and poverty in pushing ordinary teens to brutal acts, and ordinary coaches towards brutal commands. A star player is causing problems for his new coach, who's got one last chance to make it back into his coaching star father-in-law's good graces. The coach thinks he's mentoring the kid. What he's actually doing is far darker."
—CrimeReads

"The comparison to 'Friday Night Lights' will jump out at readers of this hard-as-nails debut thriller, but, in fact, beyond the thematic link to high-school football, the two stories live in very different worlds. In the celebrated TV show, there is a sense of possibility; in Cranor's novel, as in the best genuine noirs, there is only inevitability."
—Booklist, Starred Review

"A first novel bristling with dangerous energy . . . Friday Night Darks."
—Kirkus Reviews