I Hear You're Rich (Hardcover)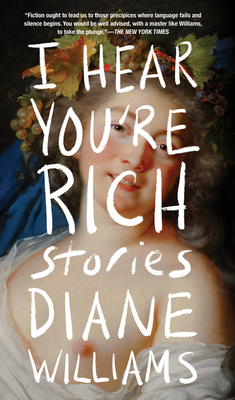 $20.00

Probably On Our Shelves Now! Wait for us to confirm availability.
Description
---
Diane Williams, "godmother of flash fiction" (The Paris Review), returns with 33 short, brilliant stories.

In Williams' stories, life is newly alive and dangerous; whether she is writing about an affair, a request for money, an afternoon in a garden, or the simple act of carrying a cake from one room to the next, she offers us beautiful and unsettling new ways of seeing everyday life. In perfectly honed sentences, with a sly and occasionally wild wit, Williams shows us how any moment of any day can open onto disappointment, pleasure, and possibility.
About the Author
---
Diane Williams is the founder and editor of the distinguished literary annual NOON, the archive of which, as well as Williams' personal literary archive, was acquired in 2014 by the Lilly Library. She is the author of eleven volumes of short fiction. She lives in New York City.
Praise For…
---
Praise for I Hear You're Rich

A Vulture Best Book of 2023 (So Far)
A Lit Hub Most Anticipated Book of 2023

"Reading each tale in Diane Williams's I Hear You're Rich feels like looking into the deep, expressive eyes of a person who doesn't speak much: A great deal is left unsaid . . . We can never know the full story; we can only ever get a glimpse. Layered together, these glimpses result in a haunting feeling, telling us less about the world and far more about the eyes through which we are seeing it."
—The New York Times Book Review

"You might call Diane Williams's plots dreamlike — they proceed according to their own mysterious logic, interrupting themselves — but they're not hazy . . . [Williams] turn[s] the everyday stuff of realist fiction into props for existential fun houses . . . I Hear You're Rich will please fans of Lydia Davis and David Lynch."
—Vulture

"Stories that offer glimpses into the mundane and exhilarating beauty of everyday life."
—The Millions

"Guaranteed to shift the world around you, if only for a moment."
—Lit Hub

"Every event, thought, image, phrase, and word are given equal opportunity to claim or elude your attention. Turn the pages and see what stands out to you. You might be surprised."
—Chicago Review of Books

"Williams's sentences are syntactically flexible, spasmodic, surprising . . . Flip to a random page and you'll likely find at least one question. The world for Williams's characters is an endlessly baffling place—which might be another way of saying it's endlessly interesting."
—Southwest Review

"It takes a master of the short story form to craft truly incisive slice-of-life fiction, and Diane Williams proves that she's among the best with her latest collection, I Hear You're Rich . . . In each brief story, we see the entirety of the human experience bubbling underneath."
—West Trade Review

"Mesmerizing."
—Tertulia

"How much can one writer do with how little? Her stories have been asking this for decades and, because Williams is so intelligent, fearless and tough, she does extraordinary things within the constraints of her own stringent rules."
—Times Literary Supplement (UK)

"Spry, sly and spirited, Williams' very short stories — most are a couple of pages long — are brilliantly unsettling."
—Daily Mail (UK)

"[Williams] writes an unmistakable type of story: short, tightly wrought, each sentence a small masterpiece – a three-act play in miniature."
—The Spectator (UK)

"Williams delights . . . What a treat! Life is rendered immediate and fresh through her eyes as she takes on the simplest of subjects – affairs, a request for money, the act of carrying a cake – with precision and gusto."
—RUSSH Magazine

"These 33 stories, a few as short as a paragraph, pack inordinate complexity into tiny spaces and take unpredictable turns toward unexpected conclusions . . . From the elusiveness of love to the desire for escape, the themes here are hard to mine in flash fiction. That Williams does so is a tribute to her talent."
—Shelf Awareness, Starred Review

"It's nearly impossible to categorize Williams' work . . . In story after story, she upends what readers have grown to expect from traditional narratives—a beginning, middle, and end, to say the least—sometimes leaving us without any of those elements at all. A Williams story might be made up of a fragment of dialogue, a thought, a description, or some combination of these . . . Mysterious, gemlike, and strange."
—Kirkus Reviews

"Williams's blend of precision and understatement make her insights on her characters' fears and limitations cut deeply while leaving the stories open to interpretation. This will leave readers aching in all the best ways."
—Publishers Weekly

Praise for Diane Williams

"I would describe Williams as the writer who saved my life—or my soul, if one believes such a thing exists . . . [Williams'] stories, many no longer than a page, suggest that what is left unsaid between people remains more powerful than what they have the capacity to articulate. Although Williams studied with Gordon Lish (and before that, with Philip Roth), her minimalism is distinctive for its sublimity and its spirituality, its ability to evoke the laws of a world apart."
—Merve Emre, The New Yorker

"Williams can do more with two sentences than most writers can do with two hundred pages."
—The New York Review of Books

"Full of funny, libidinal and invigorating enigmas . . . Readers who love the arresting phrase, the surprising word, will gravitate to her . . . It's perfect to leave on the bedside table, to be consulted before one's dreamlife begins."
—The London Review of Books

"This book will rewire your brain."
—NPR's Pop Culture Happy Hour

"Not a single moment of the prose, here, is what you expect, and even the ordinary is, in the context created by Diane Williams, no longer ordinary: it is fresh, happy and peculiar—or is it we who are refreshed, happy and more peculiar than before after reading her?"
—Lydia Davis